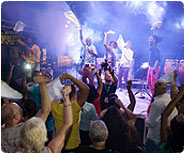 The Untangled Diaspora of Rock, Electronica, and Roots: Veteran PR Firm rock paper scissors 1st SXSW Showcase Takes Place 03/15
Featuring A Tribe Called Red, K.i.T., Kumbia Queers, Taj Weekes, Dudu Tassa and the Kuwaitis, and TriBeCaStan at Austin's Russian House
In the chaos of a world buzzing with sound, deep eclecticism is a guiding principle that embraces the wild, thrilling search for new connections that gleefully defy time and space. It's an approach that can handle the quirks of today's hyper-collaborative world, without throwing out the depth of yesteryear.
It's how rock paper scissors hears the planet, and it's what the leading publicity firm for global music and technology is bringing to SXSW 2014, in a showcase night designed to open ears, tickle fancies, and pack the dance floor.
On March 15 at Russian House (307 E 5th, 21+ only), progressive messages will tangle with scathing beats. Diasporic sounds will flow from Africa, the Middle East, Aboriginal and Latin America, and downtown Manhattan (by way of outer space), in a new-to-SXSW venue whose Eastern European décor, menu, and infused vodka menu round out a transformative musical experience.
"We're just staging what happens everyday for us and for the artists we champion. It's a live taste of the eclectic edge of global music," explains rock paper scissors founder Dmitri Vietze. "Where else at SXSW will you ingest rock, hip hop, electronica, and reimagined roots music from seven dynamic countries under one roof? The musical synapses created by these six performers will either explode or meld your entire nervous system at Russian House on March 15. Either way, it will be a memorable SXSW night."
rps @ Russian House / Saturday, March 15
A Tribe Called Red: Self-proclaimed "Concrete Indians" from Canada's urban Aboriginal music scene, this trio of DJs, producers, and visual artists hit hard, while skewering clichéd views of Native culture.
KiT (Kuenta I Tambu): Inspired by Afrodiasporic ritual drum and song from the island of Curacao, this Dutch group ups the ante by effortlessly incorporating the beats and bubbles of the Netherland's club scene.
Kumbia Queers: Mexican and Argentine girls go wild for the rolling, bouncing cumbia, in all its genre-bending electro and acoustic glory.
Dudu Tassa and the Al-Kuwaitis: Israeli pop star gets gritty after discovering and revamping his Iraqi Jewish grandfather's big hits. Rock drive with Middle Eastern vibes.
Taj Weekes & Adowa: Lush reggae with serious soul from St. Lucia, a little-known outpost of Caribbean sounds, led by Weekes' crystal-clear voice and fervent messages of inclusion regardless of gender and sexual orientation, his calls for children's rights, and for unity.
TriBeCaStan: This otherworldly lower-Manhattan band of a thousand instruments can move from stately and complex to wacky and out there, in the space of a few bars of 11. Space music from an imaginary country.
Set Times:
8 PM TriBeCaStan
9 PM Taj Weekes & Adowa
10 PM Dudu Tassa and the Al-Kuwaitis
11 PM Kumbia Queers
12 AM KiT
1 AM A Tribe Called Red