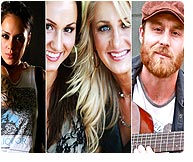 If Kickstarter Contributors Could Bring Bands to their City: Showkicker Connects Fans and Bands to Increase Touring Profits with Demand-Based Booking
Booking Spring Concerts for 3 Alumni of NBC's The Voice: Jordis Unga, Justin Hopkins, & 2Steel Girls
If you've ever considered purchasing overpriced scalped concert tickets, you've probably wondered where the extra money goes. As you've probably guessed, it goes into the pocket of the scalper and none of that money makes it to the artist. That thought process is what spurred a group of music-loving economists to start Showkicker (www.showkicker.com), a website where fans and artists connect to book concerts based on local demand.
"What a scalped ticket says is that demand greatly exceeds supply," explains chief marketing officer Carley Dillon. "The secondary ticket market—the ticket agencies and scalpers—is a $6 billion a year industry. We're turning that on its head and creating a Kickstarter for live shows." Not only is Showkicker a way to forecast fan demand, but it also solves the problem of booking undersold shows due to insufficient demand."
"Musicians can't live off 'likes' or 'thumbs up,' alone" adds creative director Wyatt Boyd, who holds a Master's degree in economics from Columbia University and has worked as an environmental impact economist in Washington D.C. "This is a way for fans to interact directly with artists and put real dollars on the table. Artists have to be able to live off their live performances since they can no longer rely on music sales. Showkicker gives the power back to the artists to get the shows they want to play."
"With Showkicker, an artist or fans can initiate a 'kicker' for a show, set ticket prices, and elevate the show experience with custom merchandise and experiential packages," says Dillon. "We can't make you good musicians, but we can help you leverage your fan base. It's simple economics: the more demand there is for a specific artist, the more money that artist stands to make on a live show. We showcase that demand on the Showkicker platform and make it easy to share, pledge, and ultimately become the superfans that support our favorite artists."
Fans can bring artists to their hometown if the kicker boasts enough pledges, or artists can create kickers to fill in empty dates or seed a tour. When a pre-determined level of ticket sales has been reached, artists then negotiate a date and time with a venue, who then has the confidence of making money before the concert is announced on their website. Artists are happy because they know they'll fill a venue and see more money—up to 70 percent more money per show as opposed to the usual 40-50 percent per show—while the venue is thrilled because they're guaranteed an audience and can therefore plan their staffing and alcohol pre-purchases accordingly. Showkicker takes a small percentage for facilitating the show, and a slightly higher take if they act as the booking agent.
It's empowerment for fans and for bands, where simply getting a foot in the door with venues can be tricky. And that doesn't only apply to independent artists; it's even hard for those with a bump from a previous major label deal or appearances on television shows like NBC's The Voice.
In fact, Showkicker has had great success with alumni from The Voice. Justin Hopkins, a finalist in season two, was already a seasoned musician before appearing on the show. He'd self-released two CDs and spent a decade on the road, playing more than 2000 shows, as well as worked with producer Babyface and played a stint in the house band on the Carson Daly Show. But after the birth of his daughter he abandoned music to work on a start-up in the solar industry until The Voice came along.
"I developed a rep among the other acts as the business guy," he says. "Most people were coming off the show with no manager. Coming off a reality show, there's no career ahead of you. I told them we need to do it ourselves." A longtime friend of Dillon, he's now part of the Showkicker staff.
"I keep in touch with the other artists; we talk every week. I told them about Showkicker and both Jordis Unga and 2Steel Girls immediately understood the value of the concept."
Jordis Unga has had great success with Showkicker. In less than 60 days, the Minnesota native, who has 15 years of musical experience under her belt, was able to raise over $5,500 dollars in fan pledges, secure a venue, and crowdfund a profitable show (which is taking place April 26 in Minneapolis/St. Paul). With a Kickstarter-funded debut album, A Letter From Home, about to be released, she also has another 30 fan-generated Showkicker events across the country, from California to New York, from Oregon to Florida.
Nashville-based mother-and-daughter country duo Allison and Krystal Steel—known as 2Steel Girls—have signed a record deal with PCG Nashville since their time on season three of The Voice.
"They said they wanted to work with Showkicker to revolutionize the way country shows are booked," Hopkins says, "and we're doing that."
Showkicker has also helped book gigs by Kingston 530 and another Voice alumnus, Seattle's Mycle Wastman. "Showkicker helped immensely in connecting with fans in a new region," says Wastman. "It's a great way to book shows without all the hassle. It's as simple as supply and demand. The fans demand a show and vendors and musicians supply a place to play and music."
Touring is a tough and expensive proposition these days; Showkicker eliminates the grey areas and lets musicians work with a level of certainty they haven't experienced before. It also builds the relationship between fan and artist. Fans are directly involved in setting up a show, which tightens that bond.
"We don't eliminate promoters, but we do make their job easier," says road veteran Hopkins. "Our fans trust us. And when they're supporting us this way, they feel they have an investment in our careers."