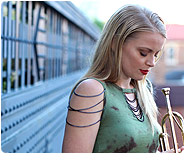 Putting Your Love Out There: Gritty, Witty Vocalist and Trumpeter Bria Skonberg's Intimate Take Coalesces in the Universally Appealing Songs on Into Your Own
"I love problem solving, getting a bunch of different variables and finding a way to make them fit," reflects Bria Skonberg. "I want to appeal to people who like to be a bit challenged, but still want to bop around to good music." The singer, trumpeter, and composer comes up with the perfect solution to this equation and dives headfirst into a very personal, highly catchy set of songs with bravado and confidence on her new CD, Into Your Own (Random Act Records; release: May 13, 2014).
Her affability on-stage, coupled with her husky singing voice and furious trumpet chops, have made her a darling of trad-jazz audiences. Her talents have caught the attention of the mainstream jazz press, garnering Bria a "Rising Star" spot in DownBeat Magazine's 2013 Critics Poll, an "Up and Coming Star" nod from the Jazz Journalists' Association, and accolades from far and wide. The gigs are steady, with Bria appearing at nearly 100 shows at clubs, festivals, schools and concert halls all over the U.S. last year.
All that activity leads to new experiences and new influences. An endlessly curious and hardworking composer, Bria spends quite a bit of energy finding ideas to mix and match. A move from her modest hometown in Canada to The Big Apple a few years ago only opened the world of the possible even more.
"The first ten years of my career, I did a lot of re-creation, very traditional jazz," recalls Skonberg. "Then I started taking risks… and then some more risks, and then doing some serious re-imagining. New York is about putting yourself out there, being in this big pond and hearing there are ten people who do what you do." It made her look around the wide-open world of music, and realize that there was more room for her own voice in her music.
In addition to the international membership of the group (two Canadians, one Aussie, and Americans from New Orleans and the Ozarks), world influences appear in the recent addition of percussion to Bria's band. Played on Into Your Own by Mino Cinelu, the French percussion master whose credits include work with Miles Davis and Weather Report, the very varied rhythmic approach to the album bespeaks of Bria's search for the hip and modern.
It's not just an instrumental approach. As World meets Jazz meets Pop on Into Your Own, Bria's vocal stylings provide much of the album's modern sensibilities- she goes from jazz club smoky to stadium style belting in the blink of an eye, and sang all of the harmonies and overdubs. "I'm proud of the range of voice that is shown on this album, both stylistically and note-wise."
Bringing to the fore the fresh, instantly engaging side of jazz comes naturally to Skonberg. "I like wit," she muses. "I was brought up in a traditional jazz music culture where that was what the performers did; they had a bit of a schtick without compromising musicianship. There's a big emphasis on entertaining people. I hope I'm able to make the subject of jazz more approachable to a general audience."
Skonberg could not stick to the shtick, or to traditional approaches. The use of percussion and her penchant for running her trumpet through a fuzz pedal to create an almost other-worldly distorted wail certainly shake things up, but it's the underlying inspirations for the songwriting, the artists who sparked moments on Into Your Own, which show a true, firm departure from more traditional ideas. "My favorite singer is Lauryn Hill. She tells the truth as she sees it," explains Skonberg with a laugh. "The artists that I gravitate towards—Lauryn, Steely Dan, Stevie Wonder, Joni Mitchell—created their own style, a pop format with jazz flexibilities and different interests." Into Your Own excels at making new ideas feel like welcome, familiar tunes.
It's a productive approach, especially as Skonberg hones in on personal experiences, yet uses her songwriting skills to cast them in a universal light: "I keep looking for non-specific spirituals. Something that makes you feel uplifted, a gospel number without directly mentioning religious figures," explains Skonberg. "How do you deal with those feelings, with things like mortality and abiding love?" "Break My Fall", a light rock ballad with a serious gospel tinge, is one answer, along with the trad-jazz vibe of "Six More Weeks."
Yet the strongest statement of this kind comes with "Go Tell It," a funky Bo Diddley-esque romp with a consequential edge, a spiritual-inspired call for love, acceptance, and expanded understanding. "I've learned to trust those ideas that come to me, my instincts. What comes to you when your mind is clear. Then you have to go hash them out on the piano," she states. "'Go Tell It' demanded concentrated effort, because of what the song says. I thought of 'Go Tell it on the Mountain', of Martin Luther King and the Civil Rights Movement. And then I thought of the LGBT movement, the civil rights movement of our time."
For Skonberg, supporting this movement is about more than writing a catchy tune. Skonberg and her label, Random Act Records, take this commitment seriously, and 10% of the proceeds from sales of Into Your Own will be donated to the Human Rights Campaign, an organization dedicated to achieving gay, lesbian, transgender, and bisexual equality. It's a cause she and Random Act's President, Scott Elias, are happy to support.
"We wholeheartedly agree with Bria's assessment – Everyone is equal, or everyone is not. It's that simple," states Scott. "Her songs speak to everyone about the excitement of love, what it means to be alive here and now. They're paeans to LIFE!"
More intimate matters also inspired Skonberg, though the spirit of the songs remains the same. A family member's recent health problems had Bria thinking about age and mortality—something John Lennon unfortunately knew about all too well. Bria's breathy, dreamy version of Lennon's "Julia" stands on its own as a look into personal loss.
The bouncy Brit-Pop-goes-to-New-Orleans "All My Life," sums up the sentiments that hit at the heart of the album. "I was dreaming about the future," Skonberg says. "I wanted to create something positive, something people can sing along to, a little anthem."
You'll find new favorites to sing along with, as Into Your Own brings the trad and modern together to a comfortable, loving place. As Bria says: "That is really the vibe of this album: accepting people and putting your love out there."
<< release: 05/13/14 >>