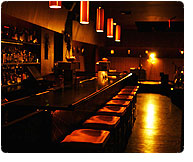 Dancefloor Utopia: Meridian 23 Embraces Global Aesthetic
Meridian 23 is a bar with a utopian streak. It's a neighborhood hang out, but with planetary scope. It's a place where surface pleasures—a cool sound, a good bite—have deep roots.
It's a rare nightspot in Chelsea that shoots to foster creative community and take on cultural context, to harness local artisanal and global artistic vibes. It's a rare music venue that embraces both traditional sounds and global electronica, with a well-finessed, menu that gives a nod to street food from Africa to South America and with cocktails built from fresh ingredients.
Born from a collaborative friendship between two alums of NYC's United Nations International School, Ferdinand Galvis and Stefan Andemicael, both with cross-cultural backgrounds, Meridian 23 will welcome some of the city's most vibrant but orphaned scenes. With excellent sound, a sophisticated yet warm vibe, and an open ear and eye for eclectic creativity, Meridian 23 hopes to be a globally minded hub, an incubator of the kind that many, now lost NYC clubs and venues were for the city's music and art lovers.
A space that has housed several clubs got Ferdinand dreaming, imagining more for the space. "It was happenstance, the way we got started," explains Ferdinand. "I had been toying with the idea of opening a bar for some time. From the start, I wanted it to have an international theme." Ferdinand reconnected with Stefan. The two hit it off, spent months talking through a vision for the space, and the concept behind the club evolved. "We started interacting and the project grew."
"The delays from the rigors of opening a bar in NYC have actually given our ideas a chance to evolve. Context is a big part of what we're trying to do, and every detail is a connected choice," notes Stefan. "It's a big part of anything I do. I need to know why I'm doing it, my choices have to have a sense of place."
The background for the multi-year effort behind Meridian 23 goes deeper than Native New Yorkers Ferdinand and Stefan's multi-cultural heritage (Ferdinand's roots are Colombian and German; Stefan is half Eritrean, half Austrian). The vision driving the club sprang from the current state of New York City nightlife, where a thousand scenes may bloom—from electro-cumbia to West African griots, from funk to Brazilian forro—but live-music clubs, at least in Manhattan, are faced with a crescendo of struggles.
"At the point in time where I started to conceive of opening a place, I wasn't consciously trying to do it in response to the gentrification of the city," Ferdinand reflects. "I was trying to do something cool and interesting. Gentrification is a byproduct of economic growth in Manhattan, and it has driven a lot of smaller, unique establishments out. Chains have moved in. I have fond memories of the city, when it was a relatively derelict and scary place. That in and of itself fostered a certain kind of environment, where artists could take risks."
At the same time, Meridian 23 is riding a wave of genre-busting music making and listening, the continuous breakdown of boundaries that once felt iron clad. The main thing, believes Stefan, is to find the unifying groove that can unite an eclectic set. "For me, seeking that feeling comes from my experience as a DJ. When I am on the decks, I span the globe, and that used to meet some resistance, except at Brooklyn's Bembe, my DJ home for 10 years running. Otherwise people tended to seek specific genres. Now an eclectic mix is more appreciated. The audience has caught up. Cross-culturalism is a genre onto itself. Cross-culturalism is the core concept for Meridian 23."
Meridian 23 wants to be more than a place to play and hear music, however, or a bar that uses music to sell drinks. Looking back on their respective experiences at the United Nations International School, Ferdinand and Stefan imagine a place where artists based in diverse cultures interact, and yet none predominate. "We both grew up surrounded by people from more than a hundred countries at school," recalls Stefan. "There was conflict at times, but it was a very different experience from what was going on elsewhere. The power of one culture over another was really obvious outside school walls. But inside we were all thrown together and coexisted just as a bunch of kids. More so…we thrived."
It's just that kind of community Ferdinand and Stefan are yearning to encourage. On top of providing a new home in Manhattan for already existing musical communities, Meridian 23 will reserve one night every three months for its artists, in hopes of fostering a new set of ties and collaborations. "The idea is that a sense of community blossoms when artists feel a sense of belonging in the place, and the place belonging to them," Stefan says. "The bar will throw a party for the talent. People who haven't met each other but who are part of something here will get a chance to hang out," adds Ferdinand.
Meridian 23 morphed and developed organically over several years, an unusually extended gestation period for a Manhattan club. Growing a community of his own around the club's evolution, Stefan had a chance to hash out ideas with a slowly expanding circle of important contributors. His brother, Menkerios Andemicael, for example. "We spent many long sessions brainstorming," recalls Stefan, "finding subtle but meaningful ways to express our ideas." Many of these ideas coalesced visually. The interlocking Venn diagram-like logo reflects the current spirit of cultural overlap and interdependence, of permeable boundaries, as well as the lines of connection, the meridians, suggested by the club's name. The name was the first piece that Ferdinand built long before the first hammer and nail. Artist Kerri Ferrara took inspiration from Menkerios' designs for a sensual mural in the room downstairs.
Meridian 23's menu reflects the club's ethos, and was thoughtfully crafted by consulting chef Pierre Thiam, a Senegal-born, NYC-based pioneer of championing Africa's diverse culinary traditions in mainstream America. Pierre has brought together flavors from around the planet--from ceviche to red rice balls to wontons--that capture the pleasures and flavors of the world's street foods, without hitting the deep fryer. Simple, elegant, and flavorful, making the most of regional ingredients, Pierre's cuisine highlights dishes that have yet to break into the foodie pantheon, from parts of the globe that remain terra incognita.
The drinks are no less carefully crafted. Experienced mixologist and barman Corey Lima with help from frequent collaborator John Trockel, has assembled a cocktail menu that playfully circles the globe, with spice, sweetness, and sour goodness in equal measure. Acai and tamarind, hot pepper infusions and green tea, bring notes of deliciously distant lands to classic cocktails like the Manhattan (of course) and the margarita.
The club's long evolution allowed Stefan to research the current state of New York music and nightlife, an almost ethnographic endeavor, by talking to a multitude of different musicians, DJs, visual artists, and listeners. One major takeaway: Have good sound.
"We thought of Meridian 23 as a performance space first," recounts Ferdinand. "With that in mind, I paid a lot of attention to what would make the room sound good. If the sound isn't great, it doesn't matter how great the band is. We want the people to appreciate the performances, and anything less would be doing the artists a disservice."
Meridian 23's founders exhibited the same painstaking care when it came to designing the club's interior. Ferdinand spent months uncovering layer after layer of former clubs, stripping away what was extra. "Our goal was for people to feel good in the space, a refined warmth, connections to each other with the space as the vehicle," Stefan states. Ferdinand pursued that goal by completing much of the hands-on work himself [and his right hand man, Charlie].
A central theme of Meridian 23's interior is the mask, a feature of most cultures and a perfect reflection of how a gorgeous surface relates to thought-provoking depths. A series of masks, some custom made, from diverse cultures hang from the walls, many of which pay homage to New York's many layers of cultural history. For example, Stefan sought out an Iroquois false-face mask from a master in Ontario and commissioned a Puerto Rican Vejigante carnival mask from a Chicago-based specialist.
Like the club's other facets, the masks, like the cultures that made them, can be taken at pleasurable face value—or can provoke a more profound experience for the viewer. "No matter who you are, or where you come from, you come to Meridian 23 and don a virtual mask," muses Stefan. "You are who you are, and at the same time, you can participate in what an artist is doing and be from their community. You simply need to be open."