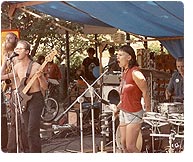 The Year of Living Almost Famously: Stick Against Stone's "missing link" sound is finally found
Plenty has been written about the Reagan-Thatcher era and the almost daily fodder it provided to inspire, if not incite, the roiling punk rock underground of the early '80s. From London to Los Angeles and everywhere in between, spontaneous music scenes were taking on an insurrectionary fervor. These were vibrant hubs in a do-it-yourself network of artists, writers, filmmakers and musicians, tapped into the same philosophical switchboard of resistance and flipping the collective bird at authority.
It was all happening, and for every band that "made it," it was understood that thousands more wouldn't—but the harsh reality of the everyday grind never deterred them from trying. For the members of Stick Against Stone, a hungry, percussive Pittsburgh band that in 1981 boarded a near decade-long rollercoaster ride of triumphs, setbacks and tragedies, the grind was sometimes their only fuel. By 1984, they'd already been through several lineup changes and relocations, eventually winding up in Eugene, Oregon where they proceeded to cultivate an infectious post-punk sound that merged art-rock, funk, reggae, Afrobeat, agitprop and group improv into a bubbling hot stew of abandon. And you could dance to it.
"We rehearsed as a band like crazy," lead singer/percussionist Sari Morninghawk recalls today. "We were playing at least four days a week together. We were so tight. That's part of the reason we were really good right then. We worked at it."
All that woodshedding comes through on The Oregon Bootleg Tapes –(MediaGroove; release May 20, 2014), a long-thought-lost live set, recorded in the summer of 1985 at Eugene's outdoor Saturday Market, that captures the raw energy of the five-piece Stick Against Stone collective in full mash-up mode. Sounding like a "missing link" between post-punk, funk, no wave and world music – the set is propelled by founding drummer Richard Vitale and groove-heavy bassist David Soule. Together, the band burns through punk-funk ("Cramphead," with guitar slinger Daniel Ramirez sounding as angular as Vernon Reid in his Defunkt prime); joyful, mutant ska ("The Hopping Frog," which mimics its title in the call-and-response between Morninghawk and saxman Robert "Xeres" Shepard); industrial samba infused with dystopian alarm bells and Doppler horns (on "Rhetoric"); no-wave reggae (on the politically charged, Talking Heads-like "Products Throughout the Store") and a whole lot more.
"For me, it was perfect," Ramirez says, still marveling at the band's range almost 30 years after the fact. "Our songs and our lyrics were always socially and politically in your face, and I think we were all really on the same wavelength when it came down to style. I was into Nile Rodgers, and I admired those funky, soulful guitar rhythms, and Richard was well-versed with African drummers and reggae beats, and we were all pretty radical, you know? When punk hit Eugene, we were all pretty much in alternative lifestyles, so the music just fit that."
The band had certainly come a long way from its Pittsburgh roots. In its earliest incarnation, SAS was loosely fronted by the charismatic singer-songwriter John Creighton, and acquired a cultish following on the Iron City underground scene (as heard on the 2010 MediaGroove releases The Index of Directions and 2012's Live at Danny's Pub – two slabs of horn-heavy, tribally-minded studio and live cuts from 1981 and '82). But Creighton's dream of a band as "leaderless democracy" soon became real, and reached its logical conclusion: the band broke up. By the summer of '83, a retooled lineup eventually relocated to Brooklyn without him (behind the wheel of a large automobile - a used 25' yellow school bus), where they met up with Bad Brains brothers H.R. and Earl Hudson, sharing a practice space in Bed-Stuy that was occasionally visited by the (then) very young Beastie Boys.
"I didn't know John real well, but I had met him on several occasions in Pittsburgh," Morninghawk remembers. "At the time, I was a little active in left-wing politics. I got together with Stick Against Stone because I was a roadie on this Rock Against Reagan tour with the Yippies. We got to Pittsburgh and something just clicked, and I ended up staying there. When the band went to New York, that's when I started performing with them."
Morninghawk's first gig was at the punk mecca CBGB, and she found she fit right in as lead singer. "It did feel natural for me," she says. "I'd always wanted to do it, and then finally there was an opportunity. I mean, CBs was a real dive by then, so it was just punk rockers playing there—I think this was August of '83. Even though we weren't a punk rock band we were thrown in with them a lot because that audience was open-minded and would listen to us. We were trying to do something a little different."
As tightly rehearsed as they sound on The Oregon Bootleg Tapes, this particular version of Stick Against Stone channeled an instinctive leftfield bent for global beats, punk-jazz colors and other offbeat musical styles, meshing them seamlessly with a politicized message. "Who Are They?" — takes on the cabal of state-sponsored surveillance and power-mad leaders via winking comparisons ("Ronald Reagan…Sauron the Dark Lord..") — while churning up a dieseling bass & percussive frenzy that's in a league with James Chance and the Contortions or a live LCD Soundsystem track. "The Cosmic Spy from Turkistan" (a standout gem from that summer's Oregon Country Fair) says everything it needs to in its title. And the militantly funky "Leonard," which shines a light on the hot-button (and still relevant) cause of Leonard Peltier, reflects not only Morninghawk's awakening to her Native American roots, but the youthful thirst for freedom—creative, philosophical and political—that the band sought to quench on stage at every opportunity.
Shortly after these songs were recorded, Stick Against Stone played a sold-out show at Eugene's WoW Hall—the city's most popular venue, and at the time a frequent stop for rock bands that toured the west coast. A few weeks later, SAS packed up and moved to San Francisco, and within a couple of years (without an album or a record deal) they slipped off the radar again, this time nearly for keeps. The remainder of the story (GET IT ALL OUT – sharing the same title as 2013's Stick Against Stone Orchestra release) is being developed as an interactive documentary by former soundman/manager Will Kreth, the founder and entrepreneur behind the MediaGroove label, but for now, The Oregon Bootleg Tapes offer a vivid snapshot of a band that had tapped into something primal, energetic and above all, timeless in its groovability.
Saxophonist/flautist Robert Shepard puts it best: "We just wanted our music to be heard," he says. "I don't think anyone had any illusions about it. But we believed in the music, and it seemed like lots of people enjoyed it. The goal was simply to let the music take us wherever it wanted us to go. If we raised some awareness of this or that social problem, that's great. But I think mostly we got some people to dance and listen to some good music. And on a personal level, the band members achieved the experience of a lifetime, and the friends to go with it."
- Bill Murphy
<< release: 05/20/14 >>