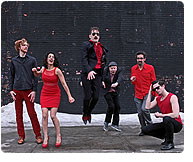 Heart of the Wild Monster: Golem Returns, Ready to Tanz
As the story goes, when the Jews of 17th-century Prague feared for their lives, their rabbi went down to the river where he collected clay and fashioned it into the shape of a man. It came alive, and the golem was born. But the rabbi's creation was all too human and too wild to control: The rabbi removed the spell and the clay figure crumbled to pieces.
But in the 21st century, this mythical being has found a new form in the backrooms and clubs of New York City: Golem has returned, now bringing its fourth album, Tanz (Corasón Digital; release: May 13,2014).
"We chose the name Golem," explains singer, accordionist and bandleader Annette Ezekiel Kogan, "because we play Jewish music like a wild, uninhibited monster. But the Golem has a heart, and we too have great reverence for tradition."
This reverence leaves ample room for changes, this time around. Instead of bringing old songs into the modern age as the band has done for most of its career, the focus is firmly on original material. And in Tony Maimone (Pere Ubu, They Might Be Giants), Golem has found a producer who can truly capture their raw, Klezmer-punk sound. Their live chutzpah. The cry of the Golem.
"He recorded us all playing together in one room. He recorded us like a rock band – for example, he had my accordion going through two amps simultaneously," Kogan recalls. "Tony helped us realize our desire to expose our wild edge."
Although they play acoustic instruments, the result is utterly electric, with that wildness deliciously untamed. And they push all the way with the addition of guest guitarist, New York's Brandon Seabrook, whose virtuosic weirdness takes tracks like "Freydele" and "Tum Balalaika" spiraling far over the edge and into the maelstrom.
Much inspiration for the original material comes from the contemporary experience of former Soviet Jews in America, as Kogan knows intimately from her marriage to a Ukrainian Jew who immigrated to New York in the 1990s, a refugee from anti-Semitism.
"It was an exact mirror of my grandfather's experience a century before," she says. "I'd been looking to the past and here it was, happening right now, and I could write songs to reflect that."
And so there's the title cut of Tanz (the word translates from Yiddish as "Dance"), based on the experiences of Roman Blum, the Holocaust survivor who became a millionaire, a man who relished life and loved to party, and who died last year without leaving a will. Or "7:40," the story of Kogan's husband's cousin, whose only means of going to medical school as a Jew in the USSR was to serve in the Soviet military, with its rampant antisemitism. The aspiring doctor then took out someone's eye in response to an antisemitic slur. (The cousin now lives in Chicago, having realized his lifelong dream of following his faith as an Orthodox Jew.)Then there's "Mikveh Bath," where the band wanders into dub territory as the lyrics explore the possibility of sexual excitement within an arranged marriage.
"Tum Balalaika" does give a nod to the past, with a frantic, racing cover of a famous Yiddish song, and "Poletim" is a bullet-like version of a piece by underground, gutbucket Russian songwriter Arkady Severny. Golem might describe the Jewish experience—even though half the members are not Jewish—but they're playing for the now, not the then.
Over the course of their 14 years together, Golem has put in the work for their success. They've toured across North American and Europe, playing clubs and festivals. Their music has been in the films Russen Disko and Generation P, and later this year it will be featured in The Return, a documentary about contemporary Jewish life in Poland.
Closer to home, the band itself will be appearing in an episode in season 4 of Louis CK's acclaimed television show, Louie, airing this spring (this information is embargoed until June 25).
Tanz runs as wild as the band's namesake, but the ripples of surprise extend far beyond the music. The album is being released on a Mexican label known for traditional music. "It sounds a bit strange, but it makes perfect sense," Kogan points out. "Just like us, they're going into new territory with Corasón Digital. They've put out albums by some big names who aren't Mexican, and we're opening ourselves up with this release. We're going further than we've ever done in the past."
The label has a long record of making history and zigging instead of zagging. Discos Corasón produced the first ever CD by Eliades Ochoa and the last by Chavela Vargas. They were in Havana when the Buena Vista project recorded (they represent the project in Mexico), and they've worked closely with Serbian composer and Balkan music giant, Goran Bregovic. They made the first ever Mexican recording in Africa (the result, 'Kassi Kasse' by the Malian singer Kasse Mady Diabate was nominated for the Grammy in 2004).
"We programmed Golem in a festival we organize in Mexico, and we were impressed by the impact their great music had on the public—2,000 people went crazy," recalls label head Mary Farquharson. "Corasón opens a new chapter with Golem and Tanz, which we are distributing worldwide through The Orchard. Future releases include Mixtecan circus music, traditional violins and the new Goran Bregovic album, among others." In short, Tanz is a perfect fit.
<< release: 05/13/14 >>