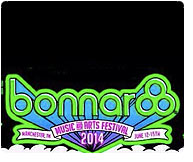 Ears and Hearts: globalFEST Teams up with Bonnaroo to Bring Cutting-Edge Global Sounds to the Preeminent Summer Music Festival
"Sounds from all over the world are seeping into the mainstream," explains Isabel Soffer of globalFEST. "We're here to introduce global artists to new audiences through a festival that is known for its impressive programming, where 80,000 festival goers are particularly open to new sounds. Bonnaroo is a place for discovery, much like globalFEST, so we know the artists we bring will resonate and connect."
Future and already dedicated fans will get a chance to hear the genre-defying sounds globalFEST is known for at this year's Bonnaroo Music Festival, on June 13, 2014. It's a perfect match, as the Tennessee music festival is built around musical exploration.
"An essence of the Bonnaroo experience is musical exploration and discovery, and the globalFEST team are the ultimate tour guides to some of the most exciting music being created on the planet," says Ashley Capps, CEO of AC Entertainment and Bonnaroo co-founder and producer. "This collaboration offers fans a musical journey around the world in a single afternoon. It's one of the many unique experiences that sets Bonnaroo apart."
globalFEST @ Bonnaroo 2014 Line Up
Seun Kuti & Egypt 80: This unstoppable Afrobeat scion shows his innate showmanship and musicality, leading the band his father Fela Kuti carefully put together before his death.

The Master Musicians of Jakouka led by Bachir Attar featuring Billy Martin, Marc Ribot, DJ Logic, and Shahzad Ismaily: This masterful ensemble brought Sufi trance music from its Moroccan village beginnings to the world, mesmerizing everyone from William Burroughs and Ornette Coleman to Mick Jagger and Sonic Youth's Lee Renaldo. This time, they will appear with a diverse crew of representing the leaders of New York's creative music scene.

DakhaBrakha: Deep Ukrainian roots with an avant/punk edge, where percussive elements and dramatic visuals meet lush polyphonic singing, in what the band calls "ethno-chaos." DakhaBraha were breakout performers at globalFEST's 2014 Webster Hall flagship event.

La Santa Cecilia: Joyous Pan-American rhythms fueled by Los Angeles' unfettered, sunny musical worlds, this Grammy winning Latin Alternative band is fronted by powerhouse vocalist La Marisoul, who can channel Janice Joplin and Celia Cruz.

A Tribe Called Red: Self-proclaimed "Concrete Indians" from Canada's urban Aboriginal music scene, this trio of DJs, producers, and visual artists mix beats and pow wow vocals in their hard-hitting club tracks, all while skewering clichéd views of Native culture.
(see globalFEST.org for more details)
globalFEST started as a one-night event showcasing a dozen artists each year, but the annual festival has expanded to become a not-for-profit service organizations (co-directed by Soffer, Shanta Thake, and Bill Bragin) with activities including curating and consulting for major festivals like Bonnaroo, Festival d'Ile de France, and SXSW, administering the globalFEST Touring Fund which supports alumni artists facing the financial challenges of touring in the USA, and helping to strengthen the network for global artists in the U.S..
globalFEST has also released its first album this year, globalFEST Selector, a jubilant sampling of twelve previously unreleased tracks by artists globalFEST has championed over the last eleven years.
"When we started globalFEST, we were trying to move global sounds to the center of the performing arts world. The reality is that many of the artists we work with move back and forth between performing arts venues, festivals and commercial nightclubs. Our collaboration with Bonnaroo has really helped propel our artists more deeply into the popular music world, where they can grow their audiences among active and curious music-lovers of all types," added Bragin.
"We talk about infiltration, though more and more music fans are listening to the kinds of artists we have been supporting, without worrying too much about what genre the music fits into," Thake notes. "We make this trend explicit, and bring artists to the table that are ready and willing to capture ears and hearts."
About globalFEST:
globalFEST is supported by a grants from the National Endowment for the Arts and the Ford Foundation. Additional support for is provided by the New York City Department of Cultural Affairs. Support for this program is provided by a grant from the National Endowment for the Arts. Additional support for globalFEST is provided by the Ford Foundation.
About Bonnaroo:
The Bonnaroo Music and Arts Festival is a four-day, multi-stage camping festival held on a beautiful 700-acre farm in Manchester, Tennessee every June. Bonnaroo brings together some of the best performers in rock and roll, along with dozens of artists in complementary styles such as jazz, Americana, hip-hop, electronica, and just about any contemporary music you can think of. In addition to dozens of epic performances, the festival's 100-acre entertainment village buzzes around the clock with attractions and activities including a classic arcade, on-site cinema, silent disco, comedy club, theatre performers, a beer festival, and a music technology village. For its peaceful vibe, near-flawless logistics, and unrivalled entertainment options, Rolling Stone magazine named this revolutionary entertainment experience "one of the 50 moments that changed the history of rock and roll."