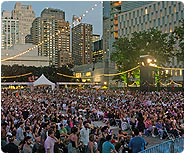 globalFEST Out of Doors: Taking Over New Spaces, Bringing Back Beloved Sounds at Lincoln Center this July
globalFEST (globalfest.org), North America's premier springboard organization for world music, hits the great outdoors, thanks to its upcoming collaboration with Lincoln Center Out of Doors (LCOutofDoors.org) on July 27, 2014. Festivities will include a selection of international music-related documentary films, an early afternoon family-oriented program, and a literally underground global bass stage.
The day-long festival-within-a-festival will bring globalFEST's beloved approach to a fresh, admission-free context. The organization has honed its unique vision of the planet's music, creating a structure that gives listeners a chance to move from set to set, from continent to continent, as eleven acts perform on three different stages.
The setting will be new—right down to the underground club music space underneath Lincoln Center's main plaza, a subterranean spot used for performance for the first time. Many of the artists will be new to the festival, and to NYC, such as cult figure of Indian electronic music, Charanjit Singh, making his New York debut, on a stage also featuring a sound system / live PA set by BaianaSystem (as Baiana Play Som) and sets from two of Dutty Artz' most creative DJs, DJ Ushka and DJ Ripley.
Yet the globalFEST aesthetic, its high artistic quality and wide-open ears, remains. Traditional forms continue to inspire and have a powerful presence (the Arab-Andalusian song of virtuosic cantor Emil Zrihan). Some of the artists are returning to play under the globalFEST banner, such as Red Baraat, Emeline Michel and M.A.K.U. Soundsystem.
About globalFEST
globalFEST is a 501(c)3 nonprofit organization generously supported by The Ford Foundation, National Endowment for the Arts, New York City Department of Cultural Affairs, and dedicated individuals. Read more about globalFEST's activities and artists at globalfest.org.
ABOUT LINCOLN CENTER OUT OF DOORS
Inaugurated in 1971, Out of Doors began as a small festival of street theater in collaboration with Everyman Theater (co-founded by actress Geraldine Fitzgerald.) Over its 43-year history, Out of Doors has commissioned more than 100 works from composers and choreographers and presented hundreds of major dance companies, renowned world-music artists, and legendary jazz, folk, gospel, blues and rock musicians. It has highlighted the rich cultural diversity of New York City with its annual "La Casita" project which offers poetry and spoken word, along with music and dance performances. Out of Doors has partnered with dozens of community and cultural organizations including the Caribbean Cultural Center African Diaspora Institute, Lincoln Square Neighborhood Center, Center for Traditional Music and Dance, and the Chinese American Arts Council. Since 2008 the festival has been produced by Lincoln Center's Director of Public Programming, Bill Bragin, with Producer Jill Sternheimer. For Lincoln Center Out of Doors schedule visit: LCOutofDoors.org
Lincoln Center Out of Doors is a presentation of Lincoln Center for the Performing Arts (LCPA) which serves three primary roles: presenter of artistic programming, national leader in arts and education and community relations, and manager of the Lincoln Center campus. A presenter of more than 3,000 free and ticketed events, performances, tours, and educational activities annually, LCPA offers 15 series, festivals, and programs including American Songbook, Avery Fisher Artist Program, Great Performers, Lincoln Center Books, Lincoln Center Dialogue, Lincoln Center Festival, Lincoln Center Out of Doors,Lincoln Center Vera List Art Project, Midsummer Night Swing,Martin E. Segal Awards, Meet the Artist, Mostly Mozart Festival, Target Free Thursdays, and the White Light Festival, as well as the Emmy Award-winning Live From Lincoln Center, which airs nationally on PBS. As manager of the Lincoln Center campus, LCPA provides support and services for the Lincoln Center complex and the 11 resident organizations. In addition, LCPA led a $1.2 billion campus renovation, completed in October 2012.
Lincoln Center Out of Doors is sponsored by Bank of America.
Schedule: Sunday, July 27, 2014
1:00 pm - globalFEST films - Film Society's Elinor Bunin Munroe Film Center Amphitheater, 144 West 65th Street
1:00 pm - Brasslands, USA, 2013, 88min - A New York City brass band travels to a tiny Serbian village to compete in the 50th anniversary of the world's largest trumpet competition. The first Americans to attend, Slavic Soul Party meet the Serbian champs and the tough competition from a Roma band, all with different reasons for wanting to win.
3:00 pm - The Last Song Before the War, US/Mali, 2013, 90min - The 2011 Festival in the Desert in Timbuktu draws musicians and audiences from all over the world. The film captures stunning performance and the concerns of the participants on the uncertain future as the Islamic militants threaten from north. Featuring Tinariwen, Khaïra Arby, Vieux Farka Touré, Tartit and more.
5:00 pm - Journey to Jah, Germany/Switzerland, 2013, 92min - Two European musicians find a new home in Jamaica after their separate searches for authenticity bring them to this politically and economically torn island. "Gentleman" from Germany and "Alborosie" from Italy thrive in the contradictions and connections they find in reggae—rebel music that unites.
Free and open to the public. Complimentary tickets will be distributed at the Elinor Bunin Munroe Film Center box office starting one hour prior to each event. Limit: One ticket per person. Please note that while tickets will not be distributed until one hour prior to each event, the line may form in advance of this time.
Presented in collaboration with Film Society of Lincoln Center
Additional screenings coming to Sound+Vision in August! Check filmlinc.com in July for details.
----------
1:00 pm - globalFEST for Families - Hearst Plaza
Banda de los Muertos - Brooklyn jazz cats march to the beat of the oompah-ing heart of the Mexican state of Sinaloa, known for its emotional and raucous brass band music.
M.A.K.U. Soundsystem - Afro-Colombiana and electronic-tinged rock, street smarts, and immigrant beats join forces in this percussion-loving crew.
----------
5:00 pm Damrosch Park Bandshell
BaianaSystem - The guitarra baiana, the little wonder guitar that powers Northeastern Brazil's carnival, makes it big with this Bahian group's high-intensity balancing act between Afro-Brazilian roots, Jamaican dub, and hip hop.
Red Baraat - The pioneering "bhangra and brass" band from Brooklyn, conceived by Sunny Jain, has drawn worldwide praise for its singular sound that merges hard driving North Indian bhangra rhythms with elements of jazz, go-go, brass funk, and hip-hop.
Emeline Michel - The reigning queen of Haitian song, Emeline Michel is a captivating performer, versatile vocalist, and one of the premier songwriters of her generation, beloved for combining diverse styles like compas, twoubadou, and rara with social, political, and inspirational lyrics.
Emil Zrihan - The spectacular Morocco-born, Israel-based countertenor marries Arabic mawal and Jewish cantorial music as he soars through Sephardic and Judeo-Andalusian songs with riveting passion and breathtaking improvisional flights.
Emil Zrihan presented with support from the Consulate of Israel in New York.
----------
5:00 pm - Jaffe Drive/Toll Porte-cochère
Charanjit Singh (New York Debut) - Anticipating the birth of acid house, a Bollywood keyboardist got his hands on an 808 drum machine in 1982, making a brilliantly ahead-of-its-time cult album, the synthesizer-fueled "10 Ragas to a Disco Beat." Finally recognized for his pioneering rethink of Indian music, the electronic musician makes his NYC debut.
DJ Ushka (Dutty Artz) - Ushka is a Sri Lankan-born, Thailand-raised, Brooklyn-living global bass DJ who crafts sets that move from soca to kudoro to South Asian rhythms, with both cross-cultural activism and the dancefloor in mind.
Baiana Play Som - Deep psycho-dub bass and EDM rhythms interplay with live percussion in BaianaSystem's sound system set studded with their signature "guitarra baiana" and rap/toasting vocals plus Afro-Bahian, samba, and reggae influences."
DJ Ripley (Dutty Artz) - An insightful scholar and a seasoned DJ, Ripley spins wreckstep raggaphonics, mixing sounds ranging from dubstep and dancehall to glitched-out breaks and bhangra.
----------
5:45 pm - Hearst Plaza
M.A.K.U. Soundsystem - See above for information.
Banda de los Muertos - See above for information.
Debauche - Ages before punk, devil-may-care Russian songs told gritty underworld tales of shady characters and Mafia glory. This era rages on thanks to this New Orleans-based septet.
All events presented in association with globalFEST Inc.
globalFEST at Lincoln Center is supported in part by an award from the National Endowment for the Arts. Art Works.