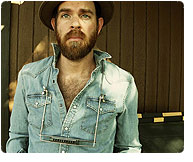 Joe Purdy's Analog Independence: A Prolific Hillbilly Songwriter Moves to the City
Eagle Rock Fire Releasing July 8, 2014 on Mudtown Crier Records
When Arkansas songwriter Joe Purdy was told to evacuate his California home because of nearby forest fires, he didn't pack up his dog Smalls and a couple favorite guitars. Instead he sat down and started writing a song: "Warn all the horses, warn all the riders, that the fire is coming down." He finished the song and the evacuation warning passed. The song is the title track on Eagle Rock Fire, his thirteenth record and is being released on his label Mudtown Crier Records on July 8, 2014 with an iTunes preorder June 4th and exclusive starting June 10th. It turns out Joe Purdy is not easy to evacuate.
"All I want to do is make good music," says Purdy, age 34, who runs a staunchly independent music career in spite of getting major TV placements and having sold over 1,000,000 singles so far. "Anything that gets in the way of making good music, I cut it out." On Eagle Rock Fire, he's taken an analog stance. Not only did he make the record on tape, mix on tape, and cut the lacquer mastered from these tapes, he had all computers removed while recording and mixing down the record. "We didn't want any screens in the room," says Purdy. "It allowed us to just use our ears." Fans can choose to hear his latest album untouched by digital processing on vinyl. Or they can download it for free from his website until June 3.
This is Purdy's second time living in the Los Angeles area. He had moved back to the comfort of Arkansas living, but a couple years ago realized he just couldn't stay away from a city where people really valued making art. He found himself a hilltop spot surrounded by Pine trees—a place that feels a little like Arkansas in the heart of a creative city—and spent the past few years carefully collecting vintage audio equipment and working with bassist and analog audiophile "Matty D" DelVecchio painstakingly restoring each component. They even got pedal steel guitarist "Jolly" Chris John Hillman—who Purdy met while touring with Billy Bragg—soldering on the porch.
The three are the only musicians featured on the new album, whose songs tell of the life of a country boy living in the city. A song like "L.A. Livin" has Purdy barely holding back starting a bar fight with loud punks not respecting a singer's performance. In "Ba' Girl," Purdy's heart is broken when a girl runs off to join the Blue Man Group. He sings, "I used to like watching hippies dance till mine traded me in for Burning Man; chances are it wasn't meant to be. So I'll keep writing cowboy songs and being me." Purdy sings what Johnny Cash would if he was 30-something in L.A.
It's no wonder Purdy did not heed the fire alarms. Finally being able to record music exactly the way he heard it in his head is not something he would let go easily. "I looked outside and didn't see any fire," Purdy says matter-of-factly, "so I figured it would probably be alright." This sober attitude is infused throughout the album and throughout Purdy's career. He takes the hardworking, practical perspective of living in the country, combined with the highest standards of songwriting. He was so excited about his just-completed, dream analog home studio that he put the entire album on his website for free for within days of its completion.
"I just want people to hear it and I hate how money gets in the way of that," says Purdy, a prolific songwriter who sometimes records three full records in a year. "If it's free, people get to decide about it for themselves. They can throw it away if they want to or come out to a show. It's a thank you to the people who are already fans. They are the only reason I've got a career."
When asked about how the business side of his music developed, Purdy reflects, "I suppose at some point I got a reputation for turning down money in exchange for my artistic freedom. Even back when there were sweet major label offers, I had this sort of naive hillbilly confidence. I didn't want to be told what to do." Purdy partnered with manager Brian Klein, who Purdy considers "the other half of the equation." The business half. "We get to use these old tape machines and guitars and Brian gets to use the computers," Purdy says with a sly smile. "He's why I am able to do what I want."
Purdy takes none of this for granted. "We've had so many earthquakes lately and so many fires," says Purdy. "It makes you constantly think about things. What you got, what you'd have to leave behind. But the truth is none of that matters when the fire comes. You just gotta go."
<< release: 07/10/14 >>