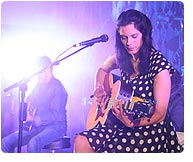 I Am from the River: Singer-Songwriter Mónica Giraldo's Music Flows from Latin Sources into a New Acoustic Colombian Sound
Mónica Giraldo is a woman walking two paths. The first is taking her deeper and deeper into the heart of Colombian music, surrounded by the power of her native land's traditional rhythms. The other leads her out and away, following melodies and harmonies from overseas. These two paths converge on her new album Que venga la vida (Let Life Come; US release: July 1, 2014, Polen Records), and her journey takes a giant step forward.
"I want to bring a new sound to Colombian music," Latin-Grammy nominated singer-songwriter Giraldo explains. "There's so much strength and beauty in our tradition. That's important to me, I want to build on that and give it something new."
Giraldo's music continues the history of guitar and voice that's so entwined with her family's hometown of Medellín. It's a love she inherited from her father, a singer of Latin standards, who started her playing the guitar when she was just five years old.
From there, her passion for music kept growing. Giraldo studied it, along with architecture, then moved to the U.S., where she completed a degree in voice, songwriting and performance at Boston's prestigious Berklee College of Music. Returning to her homeland and settling in Bogotá, she was ready to realize her vision for Colombian music, the mission that's still her passion.
"I put together a group of musicians to explore acoustic sounds," she recalls. "We made an album (Muy Cerca) and played in art galleries around the city. I wanted quiet spaces, not clubs or concert halls – new places that weren't associated with music."
And Bogotá brought its own character to bear on Giraldo's music.
"It's a city in development," she observes. "It's very international, and you can take that or turn your back on it, and find inspiration and beauty between brick walls."
From there, her journey took a new twist. After Dennis Murcia heard her music, Giraldo signed with the traditional Codiscos label, which sent her to Miami, Florida, for the Billboard Awards, where she took part in – and won – the We Hear the Future contest. Her sophomore album, Todo da Vueltas, brought her a Latin Grammy nomination and tours overseas.
But the disc also contained a song she'd written for the Puerto Escondido festival, a tune based around the ancient bullerengue rhythm. And in that piece was the one of the seeds for her future. Giraldo was invited to write and perform with the Orquesta Filarmónica de Bogotá, and it gave her the chance to appear with one of her idols, Totó la Momposina, one of the great interpreters of traditional Colombian music.
"I first saw her perform when I was a teenager and I couldn't believe her strength, the richness and depth of her sound."
She studied drumming with Momposina's son, and when she began writing songs for Que Venga La Vida, gave one, "Así Lo Canto Yo," to him to pass to his mother, hoping she'd agree to be on the disc. A year passed, and Giraldo was beginning to record, when Momposina said yes.
"I wrote the lyrics for her and she loved them!" Giraldo says. "There was just one change: I wrote 'I come from the river' and she said it should be 'I am from the river.' She's right. Totó is like nature itself,"
Que Venga La Vida was a year in the writing, a blank page that was filled very slowly. But as always, everything began with that special mix of voice and guitar.
"It's not a traditional record, but the Colombian tradition, the rhythms, are the heartbeat," Giraldo notes. "And this is a sweet way of listening to them. But I like popular music from all over the world, and that's here, too."
That's quite apparent on the sweet invitation of the opener, "Tal Vez" or the soft ache that runs through "Otro Momento." Then there's "Deja," written by Sidestepper, a band that's also involved with renewing the Colombian tradition and collaborations with Diego Amorocho from the band Vietato and Santiago Prieto of Monsieur Periné.
With a new drummer on board to add to the spark, and reunited in Polen Studios with producer Felipe Álvarez, who'd worked on Muy Cerca, the songs took shape and Que Venga La Vida took wing.
"I don't like to compromise. I try to do something of value and make the best music I can," Giraldo says. This music is her passion, and she follows it, wherever the journey takes her. Mónica Giraldo's soul is in the traditional music and rhythms of Colombia, and with Que Venga La Vida she's adding her own new vision to them. "This continues that path, it's another step."
<< release: 07/01/14 >>