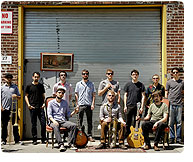 No Discount, No Holds Barred: Zongo Junction's Hard-Grooving Afrobeat Trip from Accra to Brooklyn
Every journey, they say, begins with a single step. For Zongo Junction, that first footfall came in the Bay Area, when drummer and West African music explorer Charles Ferguson was young. His drum teacher began to show him the wide world of music that was waiting out there. It might have been a long trip since then, and sometimes a strange one, but it's brought the band all the way to the sinuous Afrobeat grooves of their second release, No Discount (release: July 15, 2014; Electric Cowbell Records). The band is touring the West and East Coasts this summer and autumn in support of the album.
"My teacher exposed me to everything," Ferguson recalls. "He'd played with jazz greats like Don Cherry and Joe Henderson, but also recorded with guys like Tupac and Taj Mahal. My problem was that I couldn't fit into a niche; I wanted to try everything."
Studying music at the New School in New York, Ferguson's solution was to spend a semester in Ghana, studying traditional music from that region. "It seemed an obvious choice. I already loved West African music, and there's such a rich history and heritage of drumming there," Ferguson explains, and the music he soaked up during his travels changed his entire sense of what he to achieve. The dedicated drummer dug into an instrument that bridges melody and rhythm, the Ghanaian Gyil or wooden xylophone, with young but accomplished teacher SK Kakraba Lobi. It not only broadened his compositional skills, but also brought to light Afrobeat's many Ghanaian connections.
"[Fela drummer] Tony Allen has Ghanaian roots," explains Ferguson, "and Ghanaian highlife was a major influence on Fela. There are so many connections to Ghana, and hearing Fela drummers like Ghana's Sisi Frank in person on his home turf, with his loose style, really helped me get deeper into Afrobeat."
This first-hand experience lit a fire under Ferguson, and when he got back stateside, he knew what he had to do. "Before I left, I wanted to form an Afrobeat band," recalls Ferguson. "I began to hear the music in a new way after I returned in 2009, and so a friend and I got some of our strongest musician friends together to really dive into the music," friends who played with everyone from Antibalas to TV on the Radio.
For the first year of its existence, the 11-piece Zongo Junction played covers by the master of Afrobeat, Fela Kuti, immersing themselves in the feel of the music until it became second nature, and completely a part of their DNA. After their woodshedding, they began to work on original material, releasing Thieves! a year later, with former Fela sideman Leon Kaleta Ligan-Majek as a guest on the album.
No Discount finds them further down the road, in a place where musical adventure and the chops of the members can sit naturally next to sweaty Afrobeat drive. That's a feel so perfectly captured on the opener, "The Van That Got Away," where a swirl of psychedelia bubbles under an improvised baritone sax solo, while the bass and drums keep the relentless groove cooking.
The album is the product of four years of experimentation and bringing new elements into the sound, so that touches of funk and the avant-garde sit easily over the beat, while electronica and the boom of dub bring startling, unique textures to the music. During that time, there's been constant gigging and filling the dance floor, taking their time to work up and refine new material, and performing with what the Village Voice calls "sheer energy, with the force of a tractor-trailer that roars with power and noise."
For a band so used to playing live, an approach reminiscent of Fela Kuti and his sons' extensive live experimentation with compositions, it seemed perfectly comfortable to record No Discount live in a studio in Brooklyn, home to the members, and where they're part of a large community of diverse and creative artists. Zongo Junction packed into the same room, just as they came off the high of a long tour. The approach brings a natural analog warmth and vibrancy to the sound. But the sessions themselves were only the beginning. Guitarist Mikey Hart, who produced, then spent 18 months fine-tuning everything, fretting over every detail, overdubbing percussion and adding layers of synthesizers and tape delay until the record was absolutely ready.
And No Discount justifies all the time spent on it. The music explodes in a massive sound, embracing a range from Fela Kuti to Albert Ayler to Dirty Projectors, everything fitting together as if it was simply meant to be. There are no stars, no egos; this is a group album. "We write as a collective," Ferguson says. "Someone will bring in a skeleton of an idea or a groove, and we'll workshop it. The songs have character, every member has an impact on them. It's a challenging process, and very democratic."
But it's also rewarding. No Discount is evidence that Zongo Junction feel Afrobeat at a cellular level; it's at the heart of all the music they make. Yet it's what they add that makes them unique, like the way the five-piece horn section tosses around the swell and shimmy of "The National Zoo," for instance, or the bop influences that bounce over the groove on "21 Suspects In Medina." It's a record that's more than the sum of its parts.
To celebrate the album release, the band will be undertaking its sixth West Coast tour. In many ways, they're just as much at home there as they are in Brooklyn, one of the world's hubs for Afro-hybrid music. "Two-thirds of the original band came from the Bay Area," says Ferguson, "and we'd go home for the holidays. It started out with a New Year's gig that some of us did in San Francisco when we were home. Even though some of the personnel has changed, it has still kept building there, getting bigger and better with every return."
Along with the 9-date California trip, Zongo Junction will be staking out new territory, with shows in Colorado, Utah and New Mexico, as well as a debut in Las Vegas, where they'll share the stage with reggae icon Jimmy Cliff on July 22.
East Coast or West, and all the place in between, the band will light its unique Afrobeat fire. In a digital world, that sense of playing together, of working to get feet moving of taking everything higher, might seem old-school, but they don't care.
"We're a little retro," Ferguson admits proudly, "but we want to do something different, to be unique. The music we make deserves that. We feel like we're just getting started on this, just getting warmed up."
<< release: 07/15/14 >>