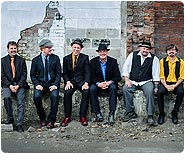 From the Ashes: The Outsider Cabaret of Seattle's The Bad Things Bursts Back to Life After the Inferno
Seattle. The whole world knows the bands that word conjures. But they only tell one small fragment of the city's musical story. Hidden by the noise of electric guitars and the sweet scents of gentrification, a strong, vital underground scene still flourishes. A junkyard cabaret inhabited by the underdogs and freaks, caught in the sudden glare of burlesques and little jewel box clubs. A place filled with the joyous outcasts, of celebration and commiseration. And that's where The Bad Things live. It's the space they illuminate on their new album, After the Inferno (release: September 16, 2014 on Silent City Records).
"There's definitely a history of outsiders in Washington State," explains the band's singer and accordionist, Jimmy 'The Pickpocket' Berg. "For over a century, people with radical minds have been coming up here. Seattle had America's only general strike, back in 1919, Woody Guthrie was here writing songs in the '30s, and there's still this tradition of people who speak out, who aren't happy in the mainstream."
And The Bad Things are happy to continue that tradition. Formed in 2002, they began in the best Seattle way, busking in the city's historic Pike Place Market and letting their sound, a mix of Balkan fire and desert heat, all generously steeped in weirdness of twisted imagination, slowly take shape. As a six-piece band (instrumentation includes accordion, banjo, guitar, upright bass, trumpet, keys, drums, and mandolin) they performed in the dives and cabarets dotted around town, recording three CDs, culminating in 2008's It'll All Be Over Soon.
"We'd intended to make this album long before this," Berg recalls. "But in 2012, our practice space burned down. It had been our home for a decade, a lot our equipment was there, our P.A., everything. We had to start over. And just when we were recovering, two good friends of ours were killed in a shooting in town, so all our energies went to their memorials. It's taken us a long time to recover and get back to business."
"Death of the Inferno," the album's title song, is one inhabited by the ghosts of those who've gone. The band had originally recorded it years before on their debut 2004 release, but this new version, performed too often lately at memorials and funerals, has taken on an entirely new, deeper resonance, not only filled with the past, but hope for the future.
"It's now so tied to those difficult times," Berg agrees. "We brought in a lot of people we know – people who are part of our musical family – to sing on it. We wanted everyone there to add the arms-locked, sing-and-drink-a-long feel that the live version has."
Sorrow is a part of living, but so is joy, and there's plenty of that on the album, too, from the bumpy Southwestern ballad of "Young Emily Rose" to the mandolin-driven "Bonnie To My Clyde" or the Balkan romp of "Grifter's Life." It's a celebration of outsiders, punk rock propelled by a tumult of accordions and banjos.
And The Bad Things' junkyard is a place with ample space for everything, from the tequila desert of "Jalisco Serenade" to the "Green Grass" that covers so much of Washington.
"It's a document," Berg says. "The band's gone through plenty of musical and emotional changes in the last few years. We've ventured into new musical styles, and all our lives have changed – we've lost loved ones, some of us have had to quit drinking, I've become a parent. So After the Inferno is aptly titled. It's a rebirth for us. We're going into a future that's not easily pigeonholed, and we prefer it that way."
Part of this journey has seen them join an alliance with Danbert Nobacon, a former member of the British anarcho-pop band Chumbawamba, who now makes his home in a small town in Washington.
"I loved that band," Berg remembers. "I first came across them when I lived in Germany, and they became a big influence on me, the way they articulated things. So I was astonished when I saw Danbert's name on the listing for a festival here. I emailed him, we began to collaborate and eventually, he became the MC for an event I curate called Punk as Folk. It turned into a friendship and The Bad Things (not to be confused with California synth-rock band Bad Things, with whom they share a co-exist agreement) backed him on his album Woebegone in 2010. He comes to Seattle to do shows regularly, and we occasionally go up to play in Twisp, where he lives."
Out in Washington State, lurking in the underground, The Bad Things have found their place in the world. Out of the junkyards, After the Inferno, they've been reborn.
<< release: 09/16/14 >>