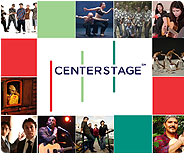 Center StageSM Brings Vibrant Contemporary Performers to U.S.—and Cultural Diplomacy to Main Street
Diplomacy doesn't just happen in conference rooms or at embassies. It can burst out in classrooms and dance studios, on town greens and at local landmarks, in coffee shops and arts centers, moving from person to person, between artist and arts lover. Center StageSM (www.centerstageUS.org) is a groundbreaking program designed to bring diplomacy to Main Street by bringing ten striking foreign performing ensembles to the U.S. for month-long tours from June-December 2012.
Sufi-rock bands from Lahore…master Haitian troubadours… puppetry and Hip Hop collectives from Yogyakarta… power-house contemporary dance companies from Port-au-Prince and Padang… Acclaimed at home but little-known to many Americans, performing artists from Pakistan, Haiti, and Indonesia will tour the U.S. from June through December 2012 as part of Center StageSM.
The tours include a range of community engagement activities in over 60 different towns across the country, including performances, workshops, discussions, artist-to-artist exchanges, and community gatherings. The Center StageSM website and social networks will make on-tour activities accessible to thousands of others in the U.S., in the artists' home countries, and around the world.
The ten ensembles are:
Arieb Azhar (Islamabad, Pakistan): Global sonics bring new eloquence to age-old traditional poetry, thanks to this artful singer-songwriter and his band.
BélO (Pétion-Ville, Haiti): Haiti's outspoken groove innovator, interweaves the Afro-Caribbean depths of Haitian tradition with a progressive voice for social and political transformation.
Compagnie de Danse Jean-René Delsoin (Pétion-Ville, Haiti): This company's gorgeously entwined movement and sound embraces Haitian roots drumming, ballet technique, and modern dance aesthetics
Jogja Hip Hop Foundation (Yogyakarta, Indonesia): Spirited, artsy hip hop crew puts new spin on ancient Javanese poetry and traditional music
Nan Jombang (Padang, Indonesia): West Sumatran contemporary dance company burst open ethnic traditions and modern cultural tensions with body percussion, martial arts, and bold movement.
noori (Lahore, Pakistan): Pakistan's premier power quartet busts through local convention and international rock barriers with brainy English-language and Urdu songs.
Papermoon Puppet Theatre (Yogyakarta, Indonesia): Non-verbal multimedia performances unravel Indonesian culture and history with appealing, challenging graphic boldness.
Ti-Coca & Wanga-Nègès (Port-au-Prince, Haiti): Light-hearted traditional acoustic music sways, seduces, and evokes a late-night dance rural party, no matter where the performance.
Very Live (Karachi, Pakistan): Comedic masterminds share their unique experience and their trademark send ups of stereotypes and international relations from a Pakistani perspective.
Zeb & Haniya (Lahore, Pakistan): This female singer/guitarist duo's ingenious folk renditions and elegant originals span Central Asia with savvy warmth.
Center StageSM will bring 10 ensembles from Haiti, Indonesia and Pakistan to the U.S. for month-long tours from June-December 2012, connecting artists with diverse communities across the country. Residencies will include performances, workshops, discussions, people-to-people exchanges, and community gatherings. Keep up with Center Stage by liking the program on Facebook (http://www.facebook.com/CenterStagePage) and following us on Twitter (@centerstageus).

Center StageSM is a public diplomacy initiative of the U.S. Department of State's Bureau of Educational and Cultural Affairs. It is administered by the New England Foundation for the Arts in cooperation with the U.S. Regional Arts Organizations, and with additional support from the Robert Sterling Clark Foundation, the Asian Cultural Council, and the Doris Duke Foundation for Islamic Art. General management for Center StageSM is provided by Lisa Booth Management.