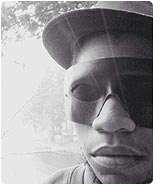 No Feeling, No Note: Maverick Musician Willis Earl Beal's Personal, Universal Songs of the Elevated Everyday and the Present Past
Some artists dive so deep into the oceans of their inner worlds that they eventually land on universal territory, mapping the secret currents and hidden crannies of the heart. In a quiet, intuitive way, Willis Earl Beal has found this path. He makes songs out of his inner world, feeling his way carefully toward what he, and he alone, wants to hear.
The results, however, have a striking resonance. From inner monologues and banal details rises the soulful, evocative music of Experiments in Time (CD Baby; August 8, 2014), Beal's return to his own unique sound and process. Loose beds of dreamlike keys, raw guitar, bass, piano, and found sound create beautiful frames for Beal's uncanny, emotional voice and multifaceted philosophical perspective. Crafting each track layer by layer, moment by moment, Beal envisioned the album as a contemplative whole.
"I have a rigid standard for what is right and what is wrong," he notes. "I didn't start out with the intention of creating this album. Each note I play or sing, each lyric comes directly from a feeling. If there is no feeling, the note cannot come."
Now an independent musician, as well as a writer of fiction and a visual artist, Beal plays the key role in the upcoming Tim Sutton film, Memphis, set for release in September.
[full story below]
"All recording is an experiment with time," explains Beal. "You have a moment in time. Then time passes and you listen to it, and there's this place, this room, your voice. You may have three different rooms captured in one song. And then you're listening in a different time. That's four different time periods. I felt that experiment, as I made this album. Here are these emotions, and here I am again, re-transmitting them to myself. The more I listen to it, the more I feel the same. Time has and simultaneously has not passed."
Beal wrestles with wrenching flights of philosophical consideration, and longs, he says, to write a lo-fi symphony. His impulse to create pushes forward, despite the mismatch he feels between his lack of training and his artistic visions: "I have high taste and low ability." He develops songs from a phrase, or improvises a vocal melody based on a surge of emotion, or simply, he admits, the desire to sing something, anything. Using whatever sounds he can make and build up via overdubs, he maintains a personal rigor about his work, and knows what he wants to hear.
"I've figured out a way to sound very fine and very clear," Beal recounts. "I listen very, very hard, and very frequently to my own music. I see the shape and color of sound, and this is a grey and white album, like the sound of radio static or tape hiss," the sound that open and closes Experiments in Time.
Beal may be humble about his musical skill, but his real gift hits home from the first listen: His voice. As sweet and lilting as Aaron Neville's or D'Angelo's, as unexpected and emotionally powerful as Jimmy Scott's or Bob Dylan's, Beal's sound and phrasing elevate his visions beyond the idiosyncratic to the sublime. Songs like "In Your Hands" and "Same Auld Tears" shiver with intimacy and sanctity.
Much has been made of Beal's past as a non-musician who first assembled music from bits and pieces on karaoke machines and old tape desks, the way a hip hop producer might put together beats. Introduced to the indie-rock scene via his early street performances with a reel-to-reel and his connection to Found Magazine, Beal's first release won him a cult following. His subsequent experience with a major independent label, a professionally produced album, and a whirlwind tour sent the artist spiraling in new, sometimes unwelcome and unwholesome directions, a harrowing experience for Beal he discussed at length with music journalist Matt Fink in a recent interview for Under the Radar.
Some past chroniclers of the musician's career have muddied the waters by labeling Beal an "outsider" musician, or comparing him to some mythical wandering bluesman. But Beal is no Moon Dog or Bingo Gazingo, and Beal doesn't play the blues, even if his music sometimes touches the outer edge of folk, soul, gospel, and R & B. Beal strives to follow in the footsteps of curious, adventuresome storytellers like Tom Waits, Nick Cave, and David Lynch, artists whose peculiar view of things renders even the most ordinary aspects of life strange and unnervingly emotional.
One example: the masks Beal likes to don in photos. They are familiar and yet wonderfully disorienting. "The mask throws people off," Beal reflects. "You see my face and you see a black man. But then all of a sudden you see the mask. You have to think differently about the man before you. He's crazy, or he's not a black man, and you have to ask what is that man doing?"
Beal imagines his tale and doings in near-allegorical terms: "You're walking through a cornfield, only to find you're on the shores of the ocean. You're walking through a desert, in the middle of a vacant city." Beal draws on this inner record of the past throughout Experiments in Time, returning to tracks and rendering them in radically new ways ("Monotony") or revisiting poetry or melodies from years of lonesome notebooks, internal debates, and intense contemplation.
"I can't talk to anybody most of the time. I feel very alone, with the exception of my wife. I have boundless energy but sometimes it gets to the point where it curdles like milk," reflects Beal. "I want to make the listener feel as if they are having a conversation with me. I make music for the people who hear it and get it and instantaneously have a connection with it. I want people to feel they have a friend or companion."
Beal points to a stultifying stillness he feels at the heart of life, behind consciousness's dizzying streams, and many of the songs on Experiments in Time hover around a sonic center. This feeling flows from a realization that's haunted Beal since he was a boy: That all the surface fury of life hid a big nothing-much. "It's been there ever since I could distinguish between myself and the world. I guess it happened when I was in the back of my dad's Cutlass. I was six years old, looking at my knees. I knew I felt things, that I was an individual. But I realized that nothing much happened in life. It seemed like a lot of things were happening, but really, nothing was happening."
Though many of Experiments in Time's songs are dreamlike, floating past the ear, "Slow Bus" and "Waste It Away" find a molten shuffle and groove. "I Am" feels like the reeling confession of a philosophical crooner in some lost cabaret. "Heads or Tails" is Beal's nod to the ballads of Sinatra and Nat King Cole. "Now is Gone," reminiscent of Rain Dogs-era Tom Waits, was recorded as Beal worked on the upcoming Tim Sutton film Memphis, where he plays a musician character eerily like—but not identical to—himself. Beal captured the piano and birds on the track on an old-school tape recorder, ending the album on an enigmatic, rustling note.
"The whole record is like one dream. I always wanted to put something together that was meditative and that could never interrupt your life. You can play it while you're having dinner, and you won't be bothered," Beal says. "It had to happen organically. I couldn't have done it outright, if I had set out to do it. I can't do things that way."
<< release: 08/08/14 >>