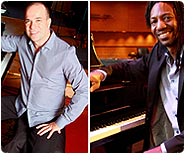 Mini Steps: An Ambitious New Festival Aims to Bring New Latin Jazz Artists Into the Spotlight
"There is a whole new generation of Latin Jazz players, from all over the world," enthuses Emerson Bran, the founder of the iLatin Jazz Mini-Festival (August 26-27, 2014), a new endeavor in Los Angeles to spotlight these artists. "They are playing at a ridiculously high level, and they have the right vibe and charisma to reach a wider audience."
The festival, debuting this year, strives to do just that, bringing fresh, artful work by younger Latin jazz performers to Catalina's Jazz Club. It gives a vivid glimpse of Latin jazz's cosmopolitan scene, featuring sets by New York-born master pianist Oscar Hernández and his new ensemble Alma Libre (with a special guest appearance by sax man Bob Mintzer of the Yellowjackets); Cuban piano wunderkind Elio Villafranca (whom Wynton Marsalis called "dynamic and visionary"); and the world premiere of Panamanian roots-meets-jazz project Puente Del Mundo, led by Grammy-nominee and hard hitting percussionist Giancarlo Anderson.
Bran founded iLatin Jazz Mini-Fest for one reason: He wanted the many emerging and undersung players to get the recognition they deserve, musicians who came after the groundbreaking midcentury boom in Latin influence on mainstream jazz.
Of Latino heritage, Bran is no stranger to building a musical endeavor from the ground up. A fan of house and club music as a young Marine, he discovered the joys of Latin music thanks to a DJ who spun killer Salsa music sets. Off the dance floor, he got to know the DJ and took on promoting his new friend's club night. He handed out flyers and hobnobbed, until he got hooked on the music scene and business, eventually learning the ropes of production, bookings and management. He saw what he wanted to do: He wanted to support Latin musicians, and especially Latin jazz players, and help them break into wider circles, to reach broader audiences.
"We're still a step-child to jazz," remarks Bran. "I want to open doors and demonstrate there's a strong market, and always has been, for this incredible music." Bran points to Latin jazz's venerable history and mainstream appeal: "From Desi Arnaz on, you see there's real interest and response to this music. We want to remind people of that."
The iLatin Jazz Mini-Fest is an extension of another project Bran spearheads at Whittier College, Inside Latin Jazz, an initiative to document the work and lives of Latin jazz artists via live interviews. "With the festival and the Inside Latin Jazz series," Bran says, "we hope to contribute to reinstate Latin jazz to its rightful place in music history."
iLatin Jazz Mini-Fest
Catalina's Jazz Club
6735 Sunset Blvd.
Los Angeles, CA 90028
Ticket info: (323) 466-2210 or (310) 295-4259 x 703
Tuesday $15, Wednesday $20
Artists of iLatin Jazz Fest 2014
Oscar Hernández's Alma Libre (Tuesday, August 26)
Alma Libre is the latest project from renowned world-renowned pianist, arranger, and producer Oscar Hernández. Beginning with his work with the Grammy Award-winning salsa group Spanish Harlem Orchestra, Oscar has established himself as a standard bearer of contemporary Latin music. He now liberates his own Latin jazz sound with this new quintet Alma Libre ("Free Soul"). The ensemble highlights the rich history and the soulful and free-spirited Latin American influence on jazz music. Joining Hernandez are the premier players in today's Los Angeles Latin-jazz scene: Christian Moraga (congas), Walter Rodriguez (drum set), Rene Camacho (bass).
Puente Del Mundo (world premiere; Wednesday, August 27)
Jazz and the music of Panama have always gone hand in hand, with such gifted musicians as Luis Russell, Randy Weston, Eric Dolphy, and Billy Cobham having Panamanian roots. The eclectic new quintet Puente Del Mundo ("Bridge of the World") celebrates this rarely heard but addictive fusion. Led by multi-Grammy nominated Panamanian percussionist Giancarlo Anderson, the group plays between the worlds of jazz and Panama's musica tipico (folkloric music), the beautiful rhythms of Saloma, Mejorama, Punto, and Congo. The group features veteran drummer and percussionist Ricardo "Tiki" Pasillas, who brings with him over 25 years of experience, performing and touring with artists ranging from Marc Anthony to Santana to Michael Jackson. Adding an international flavor to the group are Puerto Rican pianist Natanael Molina and Mexican natives Jaime Covarrubia on bass and Fabian Chavez on saxophone and percussion.
Elio Villafranca (Wednesday, August 27)
Elio Villafranca is at the forefront of the latest generation of remarkable Cuban pianists, composers, and bandleaders that for several years has been making major creative contributions to the international development of modern jazz. In 2010, he was nominated for a Grammy for Best Latin Jazz Album of the Year, for his performance, composition and coproduction of Things I Wanted To Do by Chembo Corniel. He's currently touring and promoting his latest recording "Caribbean Tinge".