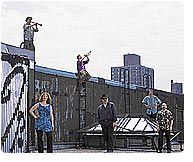 The Possessed Jews with Horns are Back:
The Klezmatics Rise Up!
There is a saying: "If Yiddish is dying, well, it should die for another hundred years." Its accompanying music, Klezmer, also suffered a long mournful near-death until it was reincarnated by possessed Jews with horns who defined and defied the genre since they formed.

The group is The Klezmatics and their latest outing—Rise up! Shteyt Oyf! (May 13, 2003 by Rounder Records)—continues the unlikely combination of ancient shtetl party music with an innovative consciousness that could only arise from the experimental and intellectual East Village. As the liner notes say, "The world of Jewish spirit is a world of eternal tradition, and ever-shifting reinvention." Is there anything more Jewish than historically minded adaptation?

Samples from a 1948 Jewish archive combine with avant horn riffs. A homoerotic love song sits beside traditional Hasidic songs. And the CD title comes from a powerful gospel-tinged revision of Holly Near's "I Ain't Afraid" in both Yiddish and English. Not the repertoire of your grandmother, and yet it may be the very bridge connecting us to the past. The Klezmatics began performing "I Ain't Afraid" for their post 9/11 concerts. "We see it as part of our purpose to be a link in the chain of all the activists who work for a better world," explains trumpeter Frank London. "This song is one way of expressing this."

The Klezmatics are known for blurring the lines of tradition with a modern sonic aesthetic, but the only sound sample on Rise Up! is the voice of Shmerke Kaczerginsky on "Barikadn," a song written for Bund youth workers in the '20s which resonates with the band's anti-globalization and worker's rights tendencies. Kaczerginsky, a Vilna poet and Jewish partisan who saved 8,000 archives from Nazi confiscation from the YIVO library where he worked, used his library job to obtain and smuggle arms to the Vilna ghetto's resistance. In an odd twist of historical wizardry, lead vocalist Lorin Sklamberg serves as the Sound Archivist at the YIVO Institute for Jewish Research where the saved archives now reside.

"We always try to go back to the source of these things as much as possible," explains Sklamberg. "If you start from a place before the words or music have layers of interpretation, there is more room to make the thing your own. We can interpret it for ourselves." This is what they did with well-known song "Loshn-koydesh" starting with the full original poem and shifting the gender of the song's subject.

"Tepel" comes from a live recording of a wedding in the early '60s in the YIVO archives, from the wedding repertoire of notorious Klezmer clarinetist Rudy Tepel, who was known for his raw-edged playing and his predilection for carrying a pistol to gigs in his clarinet case. "That song came from a working tape of a producer for a now-defunct Jewish record label from the '60s," Sklamberg says. "We haven't heard a recording of it anywhere else. It was a lucky find."

The band also expands the Jewish repertoire into sister genres from neighboring cultures. "Yo riboyn olam," sung in Aramaic, features pianist Myra Melford just back from India, accompanying Qawwali-style on the harmonium. This and two other songs demonstrate the band's fascination with the ecstatic spiritual/mystical side of Jewish music, particularly that of the Hasidim, the religious Jews who believe that you can realize a direct communion with God through singing and dancing. "Kats un moyz" draws on Frank London's work with NYC's Salsa and Latin jazz bands and features Latin-Jewish pianist Steve Sandberg in an Eddie Palmieri-ish Meringue/Klezmer solo turn. This is one of four songs on the CD that London composed for Pilobolus Dance Theater's exploration into Jewish dance.

The title song to the Pilobolus piece, "Davenen," demonstrates the group' effort to compose to their players' strengths as they have done for new band violinist Lisa Gutkin. Similarly, Matt Darriau's composition "Di gayster," an Eric Satie meets Klezmer tune composed for Tony Kushner's "A Dybbuk," showcases his unique style. The band is rounded out by David Licht, who quickly became part of the second wave of the Klezmer revival in the mid-80s, listening and learning from vintage 78 rpm recordings, which continue to be his biggest influence; and Paul Morrissett on bass, a collector and accomplished player of traditional folk instruments of the Balkans and Scandinavia.

From ecstatic songs of praise to Yiddish carnival songs, from a kick-ass workers' march to slamming Klezmer tunes old, new, frantic and mysterious, The Klezmatics rise up once again on what may be the musical feast of their 17-year career.