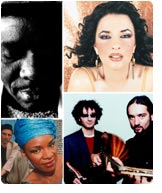 View Additional Info
Vive La World! Festival Tours North America

World Music Caravan Features Natacha Atlas, Electro Bamako, DuOud, So Kalmery
In spite of the current political freeze between France and the United States, it cannot be denied that France is often the transmitter of global sounds that reach this side of the Atlantic. Many of the "world music" hits in North America are licensed from France—crossroad of the world and its music—and Paris has become the hub for dozens of noteworthy performers from Africa, the Middle East, and beyond. This sonic multiculty Gallic essence is the core of the annual Vive La World! tour of North America.

Born in 1997 in Central Park—the heart of NYC—Vive La World! is a nomadic festival designed to introduce North American audiences to the diversity of music produced in this dynamic France, focusing on world music and electro-world sounds. VLW helped launch the careers in America of such artists as Cheb Mami, Alabina, Rachid Taha, Orchestre National de Barbes, Amadou et Mariam, and Les Nubians. The VLW artists selected bring new sounds together with older traditional forms of music. This year's caravan will stop in eight cities and draw a total audience of 100,000 people. VLW 2003 features Natacha Atlas, Electro Bamako, DuOud, and So Kalmery.

Thanks to her huge popularity in France, Natacha Atlas—a Belgian-born belly-dancing singer with ancestry from Egypt, Palestine, and Morocco—headlines this year's VLW! Atlas first took the world by storm with Transglobal Underground, but lately has been focusing more and more on her solo career. She spends as much time as possible in Cairo, strengthening her bonds with her roots, immersing herself in shaabi, Egypt's indigenous bluesy pop music. Her latest and sixth solo release, Something Dangerous (Mantra/Beggars Group), features a duet with Sinead O'Connor. Her sultry voice has been enlisted by dozens of bands including Jah Wobble, Talvin Singh, Nitin Sawhney, Banco de Gaia, the Indigo Girls, as well as being featured in films such as The Truth About Charlie, Stargate and Die Another Day.

DuOud takes the lute-like oud into new territory combining African roots while absorbing elements of contemporary French music. Break beats, jazz grooves, and metal guitar are all invited to join the party. Tunisian-born Jean-Pierre Smadja was trained as a jazz musician and sound engineer with two MELT 2000 releases. Algerian-born Mehdi Haddab is known as one third of Parisian-based trio Ekova, who specializes in the sort of global-meets-electronic-fusion that thrives in Paris. The oud is commonly heard in Turkish, North African, and Middle Eastern music, but DuOud takes the instrument into a different context. With the electronic expertise of Smadj and the virtuosity of Mehdi Haddab on DuOud's latest CD, Wild Serenade, (Label Bleu), the oud is immediately brought into the 21st Century.

Electro Bamako (Palm Pictures) is a cyber-cultural collaboration between French pop musician Marc Minelli and Malian Mamani Keita, former-singer for Salif Keita, whose powerful voice proves her as a headline in her own right. This partnership began with Keita shipping digital tapes of her voice to Minelli, who went about constructing new compositions following a Western pop song structure. The music uses techniques borrowed from Techno—digital beats, loops, sampling, etc.—but with a much more organic sound. While some electronic productions cannot translate to a live stage, in this case, the freedom of performance allows the musicians to expand beyond the limitations of a recording.

Born in former Zaïre, So Kalmery learned music from his father who played in a local brass band and for the local church. Kalmery first composed songs at the age of nine. Soon after his father was killed during the anti-Lumumbist repression, Kalmery moved with his family to Zambia and was kidnapped by a local orchestra leader who brought him on tour through Burundi and Kenya. He escaped one year later and traveled all over Africa. By age 16, he made his first record for EMI. In 1982, after touring Belgium, Kalmery settled in Paris, where he has led a fruitful music career of sweet melodies and catchy rhythms, such as those featured on Bendera (Tinder).

So put down your freedom fries and hit the global solidarity dance floor.
Additional Info

Vive La World! Festival Tours North AmericaWorld Music Caravan ...


Natacha Atlas

Electro Bamako Electro-Bamako Ping Pongs Mali and France

DuOuD

So Kalmery
Top of Press Release