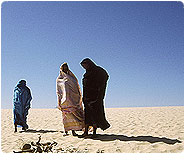 View Additional Info
Electric Guitars, Camels, and the World's Stage in the Sahara

Festival in the Desert CD Features Ali Farka Touré, Oumou Sangaré, Tinariwen, Lo'Jo, and Robert Plant
[purchase cd from World Village/Harmonia Mundi]

Imagine a community celebration so remote it could only be reached by camelback or 4x4. Add to the picture a day filled with camel racing, impromptu jam sessions under camel-skin tents, and a stage full of electric guitars. You are starting to get a picture of what it must have been like to attend Le Festival au Désert or The Festival in the Desert in the Sahara in January 2003.
Highlights from the 2003 Festival can be heard on Festival in the Desert (World Village / harmonia mundi), a CD to be released on October 14, 2003. The recordings were made on a 24-track recorder during this remote festival, which featured 30 acts from North Africa, Europe, and North America. American media hailed the 2003 Festival as "one of the most surreal ever staged" (Boston Phoenix) and "the most thrilling music festival experience of my life" (Afropop Worldwide). World Village expects to release a Festival in the Desert DVD in early 2004.
It may not have meant as much to the local Tamashek people that Led Zeppelin singer Robert Plant performed at the event, with a schedule filled by legends of Saharan and Malian music. The CD captures Tidawt, who made the 1000-kilometer journey from their home in Niger to perform. And Sedoum Ehl Aïda—Mauritania's pioneer of electric guitar—who arrived with his full band, having only heard about the Festival 20 days prior and knowing there was no room on the bill, nor money for his show. Mali's global ambassadors Ali Farka Touré and Oumou Sangare were expectedly well received. But Plant's live rendition of "Win My Train Fare Home"—also on the CD and backed by guitarists Justin Adams and Skin and members of Lo'Jo—will certainly go down in rock history.
The recording features three central spokes of the event: French band Lo'Jo, electric guitar nomads Tinariwen (whose manager, Mohammed 'Manny' Ag Ansar, is the festival director), and Justin Adams. All three have recent CDs on World Village. The stage was graced by known African performers like Afel Bocoum—Ali Farka Touré's prodigy—and Tartit, and dozens of artists lesser known to the world stage. A historic pan-tribal meeting took place when Navajo punk band Blackfire, from the Arizona desert, took stage in traditional regalia before hundreds of Tamasheks.
The CD's simultaneous diversity and seamlessness—with the high quality of footage from such a remote site—stand out. Charlie Gillett of BBC Radio has already called it "The best live album I've ever heard." From Takamba Super Onze's earthshaking opening traditional rhythm based on the gait of a camel, to the unlikely collaboration between Tamashek guitarist Foy-Foy and French rapper Kwal, the impossible combination of artists could have existed at no other place or time.
The Festival's significance grows in light of the history of this region where civil war prevailed only a decade ago. The celebration manifests what was envisioned in the 1996 "Flame of Peace," in which 3000 guns were publicly burned to signify the beginning of the reconciliation between the nomadic and sedentary communities of the southern Sahara. EFES, a Tamashek association whose aim is to develop the region, hit on the idea of grafting the Festival onto the great traditional gatherings of the Tamashek people on a grand scale. For centuries these gatherings have provided an invaluable opportunity for the nomadic Tamasheks to meet and celebrate with various forms of Tamashek song, dance, poetry, ritual sword fighting, games, and other ancient cultural traditions. EFES opened the event to the entire desert region, to the whole of Mali, and eventually to the world.
U.K. music critic Andy Morgan writes in his comprehensive, awe-inspiring liner notes, "Bambara and Manding musicians... to whom Timbuktu and the Sahara were feared no-go regions… suddenly found themselves walking amongst ferocious looking Tamashek nomads without trepidation or concern. Oumou Sangare's rendition of the Malian national anthem was so much more than an inconsequential piece of enforced protocol. It was a heartfelt hymn to the peace and prosperity of an African nation, united, in music and feasting… Ali Farka Touré just beamed a forty-eight hour smile and kept repeating over and over, 'Je suis très content, très fier!' ('I'm very happy, very proud!')."

Watch footage of the festival from the BBC

[purchase cd from World Village/Harmonia Mundi]
Additional Info

Electric Guitars, Camels, and the World's Stage in the ...


Festival in the Desert: Quotes from the Press & Beyond
Top of Press Release