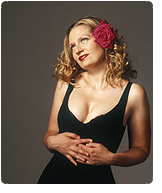 View Additional Info
Two Weeks of Wine, Cigarettes, Coffee, and Old Vinyl

Avant Chanteuse Leah Callahan Goes Sweetly Solo
The Bartok came from a skeptical piano teacher that agreed to take on a child as young as three. The tin pan alley and '20s pop came from the heyday of a 70 year-old singing teacher. The new wave and punk came from teenage years of listening to 1980s college radio. And the receptivity to any and all sounds came from Leah Callahan's propensity to "listen to anything that would clear a room."
"Growing up, my friends and I were interested in being challenged by the music we listened to," explained Callahan, who releases her first solo album, Even Sleepers, on October 7, 2003. The new CD is the culmination of diverse influences from living on the fringes of society, from a meager childhood in an immigrant-neighborhood to immersion in an underground music scene.
Dave Nelson invited Callahan to sing in Boston avant-noise band Turkish Delight, whose homemade instruments and unorthodox playing built a diverse, national fan base. Next up for Callahan was Betwixt, a band that was also hard to pin down. The press called Callahan a sexy chanteuse and the music beautifully strange pop; siren-esque funky, polka-influenced; disarmingly playful, oddly sinister.
After a third band called Butterfield 8, Callahan—who kept "losing musicians to a wife or a child or a masters degree program"—got weary of building up another band that would fall apart. Local Swamp rock musician Shaun Wolf Wortis (formerly in Slide) took an interest in Callahan's newly emerging acoustic songs. When she sang him two new a cappella songs (Love Some Thing and Vampire), Wortis—who had studied ethnomusicology at Tufts—"was fascinated with the elements he heard in my songs; things like Klezmer, Tango, Brasilica. He said if I could come up with seven more songs like that, he would produce and arrange them for me." So she did.
"I had this bizarre idea to listen to music for two weeks straight," she continued. "I use music as a way to expand my brain to be open to other influences, and I had a house to myself for two weeks and a friend with a used vinyl store who let me borrow anything." She locked herself in from the world with her wine, coffee, and cigarettes and listened to music every day for twelve hours and wrote songs.
A lot of the music came from the used vinyl store: Bulgarian women's chorus, Hungarian and Polish music, fado, and flamenco. "I researched women who were popular in their own countries," she said. "Like Oum Kalthoum and Amalia Rodrigues. I had records from Iraq, Iran, a 1930s Turkish recording from the Attaturk era when women were first allowed to sing publicly. I was listening to things that would somehow shake me up. When music is produced for religious or cultural purposes, not solely for profit, it is music in its purest form. Like folk or blues recordings from the '20s, a lot of this music was recorded in everyday environments, not in studios and not completely dominated by canned top 40. This music is so powerful that I have found it can affect me profoundly—even when I don't understand the literal meaning. The soul of a people is in it's music and listening can be a very mystical experience."
Callahan went on to write seven of the songs on Even Sleepers in nine days. Shaun Wolf Wortis spent six months transcribing and arranging music for the songs. "For the most part, Shaun didn't change the songs. He built a frame to go around them and help people put it in a musical context," described Callahan. "Like what a jeweler does with a stone."
The instrumentation on Even Sleepers is sparse and precise. The lyrics meld the personal and the political, the emotional and the universal. Callahan's songs are inspired by music, film, fiction, or life experience. The opening Valentine, with its Klezmer/Berlin 1930's cabaret feel, takes on the voice of the Girl from Ipanema in response to why she "looks straight ahead not at he." It draws inspiration from a twisted rendition of My Funny Valentine in the film The Talented Mr. Ripley. Callahan thinks of the The Red Eye as a "Dorothy Allison-esque tribute to the joys of growing up in Lowell, Massachusetts in the 1970's and 1980's" in the spirit of a macabre Appalachian folksong. The song Vampire remains true to its title with a Hungarian/Gypsy-sounding melody; its meaning is a many layered metaphor about the fascination with violence and evil and how it manifests itself in the world and day-to-day interaction. "I think about a character like Erzsbet Bathory—a very powerful 16th century countess who bathed in human blood—and I compare it to my own complacency in a world that validates things like war, a human race that has been capable of things like genocide," said Callahan.

Even Sleepers is eerie and melodic, and approaches songwriting in a way only someone like Leah Callahan can. The songs have a beauty and an honesty that is surprising and sometimes unsettling; they are oddly familiar and at the same time strangely foreign.
Additional Info

Two Weeks of Wine, Cigarettes, Coffee, and Old Vinyl Avant ...


Even Sleepers Lyrics and Song Notes by Leah Callahan

Media Acclaim for Leah Callahan
Top of Press Release