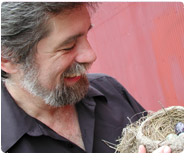 View Additional Info
Crooked Melodies, Cuckoo's Nests, and Intergenerational Tractor Journeys

The Essence of Irish Flutist Grey Larsen on New CD and in New Book

Any bird expert will tell you, there is no such thing as a cuckoo's nest. The cuckoo is one of the few birds that lays its eggs in another bird's nest and leaves its young to be raised by someone else. Grey Larsen learned the old traditional Irish tune called "The Cuckoo's Nest" when he himself had fallen into a surrogate nest rich in Irish tradition. Larsen learned the tune in Ohio and transcribed it for his unprecedented 450-plus-page tome The Essential Guide to Irish Flute and Tin Whistle to be released on November 20, 2003 by Mel Bay Publications.
Beginning in the '50s, a dozen blue-collar immigrants met weekly in Cleveland to play Irish music. Once farmers or coalminers, they came to America for a better life. The Cleveland Irish Musicians' Club was not a public affair, so it was a bit of a surprise in 1974 when a few longhaired Oberlin students appeared.
"When we walked in, there was this stone cold silence," remembers Larsen. "Politically we were miles apart, but once we started playing together, we became great friends." The weekly 40-mile trip to Cleveland was when Larsen—whose CD with Paddy League, Dark of the Moon, will be released on Sleepy Creek Music on November 3, 2003—first began his musical migration to the Irish flute. The cuckoo's nest is like a metaphor for Larsen's own musical rearing, as if dropped into a nest of Irish immigrants and given the task of preserving old melodies and playing techniques.
Larsen learned one tune on Dark of the Moon in 1979 at the home of County Sligo flute player Josie McDermott. "That was my first trip to Ireland and I wanted to learn everything the same way traditional musicians had in the old days," recalls Larsen. "So I didn't bring a tape recorder. I thought I could be so focused I would remember it all. Josie McDermott played me these great tunes. But, in the end, I only remembered one. I hummed it to myself over and over as I got a lift on the back of a tractor." For years Larsen called the tune "Ride on the Tractor." On the new CD, it is listed as "Josie McDermott's Reel."
Larsen learned other tunes on the new CD from melodeon player Michael J. Kennedy (1900-1978), a former Irish farmer who settled in Larsen's hometown of Cincinnati. He gave Larsen his first taste of "crooked tunes" or melodies with extra beats added to their structure. "Crooked tunes are very uncommon in Ireland today," Larsen explains. "Some of the older players had a lot of tunes like that. I think there was a lot more crooked Irish music 100 years ago. Somehow the music got kind of tamed."
A highlight of Larsen's new book is the final chapter of 27 transcriptions from some of the most important flute and tin whistle players. Interestingly, both the earliest and latest transcriptions are crooked. The first one, "The Corry Boys" (also on Dark of the Moon), was transcribed from John McKenna's 78-rpm record issued in 1925. "Fire Patrolman McKenna"—as he's listed on the first of 30 recordings he made in his adopted home of New York City—established the flute as a prominent instrument in Irish music. The last transcription is of Grey Larsen's own playing of "The Cuckoo's Nest"—which he learned from Michael Kennedy.
Larsen's book covers everything from history to playing techniques. But the bulk of it is dedicated to ornamentation, a major element of Irish music critical to the flute player's unique expression. These embellishments descend from the Irish bagpipes. Since a bellows powered these pipes, the only way to initiate a repeated note was with a special finger articulation. This led Irish pipers to evolve an elaborate vocabulary of fingered embellishments. This language was inherited by the Irish flute and whistle, and never before Larsen has anyone so thoroughly explained on paper the complete range of these ornaments and how to play them. One chapter is dedicated to the artistry of knowing when to take a breath, since, as the only human-blown Irish instruments, the flute and whistle must create breathing places by thoughtfully omit notes. Larsen combines the highly technical and his spiritual tie to the instrument.

"The flute is really magical," Larsen exclaims. "Your breath is producing the sound. Not wood. Not a metal string. You can't see what is making the sound. It is very ethereal. It's such a direct route into your soul."
Additional Info

Crooked Melodies, Cuckoo's Nests, and Intergenerational Tractor ...


Praise for Grey Larsen's Recordings and Books

Insights and Stories

The Making of Dark of the Moon

What will appear on the back of "The Essential Guide to Irish Flute ...
Top of Press Release