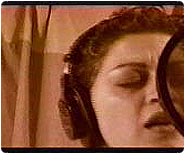 View Additional Info

An Armenian Renaissance Emerges from Earthquakes, Blockades, and War:
Cascade Folk Trio Connects Diaspora via Songs of the Past with a Modern Twist

"We always start with the melody line," says Cascade Folk Trio's Arman Aghajanyan, "The melody must be Armenian." Many dispersed cultural groups struggle to maintain ties to their heritage. So this is no surprise considering the wave of genocide that forced millions of Armenians into exile in the early 1900s. But the Trio—one of the best in the Armenian Diaspora—was affected as much by more recent history.

Armenia has struggled. In 1988, an earthquake left 25,000 people dead and 500,000 homeless. When Armenia seceded from the Soviet Union, a war with Azerbaijan erupted in the East, while in the West, Turkey established a blockade, and from Georgia in the North, gas pipelines were cut off. The mid-'90s saw brutal winters with weeks without gas or electricity. Only in recent years has the economy finally turned. Out of this milieu springs a musical renaissance, differentiating the emerging nation's soul from the outside powers that have dominated daily life for decades.

On their new CD, Old Street (Bandaz Records), the Cascade Folk Trio evokes a rebirth of Armenian folk music with a modern twist. Folk music underwent a prior renaissance in the early 1900s thanks to renowned musicologist Komitas. His contribution was to articulate the true essence of Armenian music. Komitas penned over 3,000 compositions and nearly cracked the "code" of the khazer, a lost, ancient form of musical notation.

Early in the 20th century Armenia fell victim to a horrible genocide, brought on by a nationalist government in Turkey, bent on uniting the region under their newfound dictatorship. Artists, writers, and priests were the first targets. After massacres in 1915 and the burning of almost all of his work, Komitas succumbed to mental distress and never recovered. Many Armenians fled their homes for safer cities like Beirut, Alexandria and Paris. In the late 1990s, almost a century after this violence, vocalists Arman Aghajanyan (composer), Ohanna Mtghyan (lyricist), and Armen Papkiyan (vocal arranger) left for America in a new wave of dispersion.

The Trio, which keeps one foot in this profound history and one foot on the pulse of the future, joined forces in NYC. Although inspired by the diverse rhythms of the City, the group found relief from their homesickness through Armenian music. In Armenia, they listened to the likes of Louis Armstrong, Duke Ellington, and Earth, Wind and Fire, and each experienced individual success as pop stars. They joined Artur Grigoryan's State Theater of Song—which cultivates new music whose essence is Armenian. Nine of the songs on Old Street are original, but all of the arrangements balance preservation and contemporary creation, many of which are credited to one of Armenia's most acclaimed arrangers Karen Margaryan. The Trio pays tribute to the historic voice of their folk music, uniting it with the sounds of American R&B, Jazz, and other worldly voices.

The group's name is from a district in the capital city of Yerevan, known as a meeting place for young lovers. "Cascade is one of our favorite areas. The falling water from the cascade fountain produces a certain breath and sound that creates its own melody" says Aghajanyan. "Falling in love is a significant theme in Armenian music" says Aghajanyan, as is evident on the CD. "Gentle Boy, Graceful Girl" tells of two young people meeting and falling in love. "Lingering Return" finds the girl longing for her lover's return. In "You are a Doe" the man yearns for the grace of his lover, and when he finds her, greets beauty with beauty, picking for her a bouquet in the song "Garden Flowers"—a song written in the style of the great troubadour Sayat Nova. Now known as the King of Songs, the music of this "peasant" born in 1712 became so influential that he negotiated a coalition between Georgia, Armenia, and Azerbaijan against Persian domination. Never before has anyone attempted such a gospel-tinged arrangement of "Bad Days"—written by folk singer Djivani (1846-1909)—as is featured on this CD.

Complementing the deft use of their 5000-year-old language is the prominence of essential Armenian instruments. The duduk—one of the world's oldest double-reed instruments—has been around for over 2000 years. Its melancholic sound came to prominence in America thanks to Peter Gabriel, Djivan Gasparyan, and Zena, Warrior Princess. With centuries of cross-cultural sharing in the region, the duduk is one of the only instruments to have truly Armenian origins. Armenian duduk-makers use Apricot wood to produce a tone that mimics the human voice, whereas elsewhere it is made to produce a nasal sound. Armenian weddings and celebrations are not complete without a duduk or the zurna—another instrument prominent on the CD, along with the sounds of the dhol, zarb, shvi, kyamancha, and kanun.

With Old Street, the Cascade Folk Trio keeps Armenian culture strong. Says Arman, "we want to provide descendents of Armenia with what they had forgotten about Armenian folk music." They may be the first in the Diaspora to achieve a balance that appeals to both Armenians and a broader fan base.
Additional Info

An Armenian Renaissance Emerges from Earthquakes, Blockades, and ...


Learn more about the instruments on Old Street
Top of Press Release