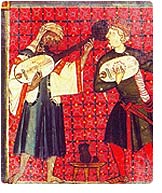 View Additional Info
Modern-Day Griots, Pop Culture Scholars, and Ecstatic Music:

Afropop Worldwide Wades Hip Deep into Profound History with New Series-Within-a-Series
The first national world music radio program is re-inventing itself. Afropop Worldwide launches Hip Deep—a "series within a series" that taps into renewed public interest in history, an emerging wave of pop culture scholars, and the best production techniques available to radio. For 17 years, Afropop Worldwide has been turning listeners on to the music of Africa, Latin America, the Caribbean, and beyond. Now, Hip Deep shifts the focus to the often-untold histories behind the dance crazes, love songs, and myriad grooves that Africans have helped to create around the world. Just as community elders and griots hold a special place in African societies, Afropop Worldwide's Hip Deep is tracking down modern-day storytellers to connect the dots, creating a new sense of who we are as a society.
Afropop Worldwide, hosted by one of Africa's most familiar voices, Cameroon's broadcast legend Georges Collinet, is broadcast on over 100 Public Radio International affiliate stations, and retains its characteristic mix of music, voices, insights, and flavor. Hip Deep will be broadcast as an occasional part of the regular Afropop Worldwide time slot. The difference? An expanded focus on ideas, with skilled commentary from the world's top experts, woven into the tapestry of sound and music. Listen to a Real Audio sample here.
"As you go deeper into a subject," says Afropop Worldwide founder and Hip Deep co-creator Sean Barlow, "you find new mysteries. In trying to solve those mysteries, you discover all sorts of surprising connections."
For many, the popularity of recent jazz and blues series is evidence of the public's enthusiasm for history. Afropop Worldwide has been breaking down music from historical and cultural perspectives since its inception in 1988. Hip Deep enhances this effort by presenting thinkers, scholars, artists, and researchers who bring fresh information and perspectives. Tie-ins with important new books will keep radio listeners current on the world of ideas that relate to the music Afropop Worldwide has always covered.
"Everywhere I go, I talk to music lovers who want to know more about history and culture," says Hip Deep co-creator Ned Sublette, author of Cuba and Its Music: From the First Drums to the Mambo (Chicago Review Press). "There's a great deal of curiosity among thinking people about who we are, why our society is the way it is, and why our music sounds the way it does. Especially in the U.S., our popular media tends to suggest that five minutes ago is the distant past. People are hungry to get beyond that, to be able to flesh out ideas that they normally get in sound bites or in fiction."
"So much that is said about world music performers just gets repeated over and over and you never get below the surface," says Banning Eyre, author of the much-praised In Griot Time (Temple), and another co-creator of Hip Deep. "When you can devote an hour to an artist's career, a period of history, or a train of thought, you can really grapple with the ambiguities. These Hip Deep programs cut much closer to the bone. They have the power to surprise people and make them hear music in a new way."
The development of Hip Deep has been supported by a grant from the National Endowment for the Humanities. This, says Barlow, "allows us to broaden our shows to take more time for research and include more contributions from scholars, writers, thinkers, and commentators," says Barlow. Meanwhile, he says, "our work will always be music-focused, and we'll always include artists' voices."
"It's an exciting moment," Sublette says. "It's always been an honor for me to be part of the public radio program that brings the greater world of music to American listeners. Now Afropop Worldwide is also giving something to the under-served public that wants to travel not only beyond our place on the globe, but beyond our moment in time. It's a challenge to present ideas in depth while still maintaining the fast pace of a contemporary radio program, but the Afropop Worldwide crew has over fifteen years of experience doing just that."
"It's rare that a humanities scholar would have the opportunity to present a researched story to a wide audience through radio," says Tulane University professor Christopher Dunn, author of Brutality Garden: Tropicalia and the Emergence of a Brazilian Counterculture, and who just completed a Hip Deep profile on samba funk pioneer Jorge Benjor.
Other Hip Deep programs include:
· "Tarab: The Art of Ecstasy in Arab Music," in which UCLA ethnomusicologist A.J. Racy—whose book has the same title as this episode—explores tarab, the ecstatic feeling associated with great Arab music;
· "The Liberation of the Drum," the story of Black Cuban music's emergence fifty years ago, by Ned Sublette, author of Cuba and its Music: From the First Drums to the Mambo;
· "The Musical Legacy of Al-Andalus," in which Eyre and Granada-based scholar Dwight Reynolds explore the profound but under-recognized impact of Moorish Spain on European civilization;
· "South African Artists Reflect on Their Tenth Anniversary of Freedom," a three-part series featuring interviews in South Africa by Sean Barlow with leading and emerging musicians talking about the major issues the society faces, from identity to reconciliation and integration.
"We have this huge archive of material, a lot of which hasn't ever aired," continues Eyre. "With the development of our website, we are more conscious of the longer shelf-life of the shows. At some point, they will be available on Afropop.org indefinitely, and if someone is interested in one of the Hip Deep subjects they will really find some amazing primary documents not available anywhere else." A recent grant from the Recording Academy will help in preserving the archive of programs and making them available on Afropop.org.
These new programs will be heavily supplemented with exclusive companion materials at www.afropop.org—transcripts of complete interviews, historic photographs, discographies, bibliographies, related links, and fair-trade digital downloads of exclusive music available for purchase. Meanwhile, the classic sound of Afropop Worldwide continues challenging and delighting public radio listeners. Hip Deep and www.afropop.org are prime examples of Afropop Worldwide's evolution, keeping up with a changing world yet deeply rooted in authentic traditions.
Afropop Worldwide's Hip Deep series is produced by Brooklyn-based World Music Productions. Major funding for Afropop Worldwide comes from the National Endowment for the Arts, the National Endowment for the Humanities, the Rockefeller Brothers Fund, PRI Affiliate Stations, ChevronTexaco, and Merck & Co. Inc.
Additional Info

Modern-Day Griots, Pop Culture Scholars, and Ecstatic Music: ...


Afropop Worldwide's New Hip Deep Series Program Abstracts
Top of Press Release