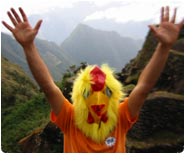 View Additional Info
Zemog, El Gallo Bueno Pioneers Salsa From a Chicken Coop

The Sound of a Headless Rooster, a Heavy Metal Childhood, and the Puerto Rican Jungle
Abraham Gomez-Delgado—founder of Zemog, El Gallo Bueno—first had dreams about roosters as a child. Growing up in rural Puerto Rico, he watched his grandfather chop off the head of a rooster followed by the cliché headless frenzy. His grandmother plucked the bird and chopped it open. Upon watching the guts spill out of the rooster, Gomez heaved like never before. "It was the first time I saw death up close," remembers Gomez.
Soon, his family moved to the U.S. and, by coincidence, lived in a house converted from a chicken coop. From his bedroom he could climb into the attic and see the original coop roof. He began having dreams that he was a rooster that could hover. "The first time I woke up believing that it was real. The second time, again I was fooled," says Gomez. "Each time I was disappointed when I could not hover. The third time, in my dream I woke up and it was real. So when I really woke up I was thwarted once again."
The tale comes to life on Zemog's self-titled, debut recording (January 14, 2003 on Aagoo Records). The album's Animate, says, "Get ready! Because the rooster is flying on his faith." The song is a plena—a rhythm originating around the time the U.S. invaded Puerto Rico, and which became a musical newspaper for the people. "We recorded as if it was outdoors in that era. But in another galaxy." On stage, the band crows like roosters. One player dons a rooster costume. "In the spirit of Sun Ra," explains Gomez.
Rumba Pa'la Niñas is Gomez' favorite song on the record. Gomez cross-pollinates the rumba by tapping a Van Halen-inspired mozambique beat, a Cuban rhythm which was first introduced to the United States by Eddie Palmieri in the 1960s. Zemog's culture clash is central as the typically male-dominant style provides the foundation for lyrics that say "Hey rumbero! The rumba is for the girls. It's for them to play as well!"
The sound of Zemog, El Gallo Bueno—which is "Gomez" spelled backwards followed by "The Good Rooster" in Spanish—starts with Gomez's quirky tastes. "I really love roots music from Puerto Rico. Like mountain music and field recordings," says Gomez. "It's so raw… it's like rock and roll. Crazy nasally screaming." The band's repertoire is a direct result of Gomez' bicultural experience, his musical past, and the rest of the band members' expertise. Crucial to Gomez's musical development was his earlier band, Jayuya, which had similar influences, but was a four-piece rock/salsa band. Zemog's instrumentation is that of a nine-piece salsa band, but lyrically stays close to the rock-n-roll stream of consciousness approach.
"When I came here, there was the culture outside and the culture inside of my house… always a big culture clash," explains Gomez. "My friends had me listening to Metallica. My sisters were listening to salsa and disco. My brother got me into Kraftwerk. And my dad was listening to Bach and Mozart. I still love it all."
"I started bumming out, because we were different and there was a lot of racism. I'd ask, what's wrong with being Puerto Rican? Why am I fighting everyday in school? Instead of getting down on it, I started celebrating it. I'm not just Puerto Rican and Peruvian. I'm American and I like Motley Crue. I still like the pleasure of rocking out. I have always been a freak on both sides. So what! Let's celebrate it and let's laugh about!" What became the foundation for Jayuya's sound, no lives in the big band body of Zemog, El Gallo Bueno.
The players in Zemog are not just any musicians. They are the cream of Boston's salsa and avant-garde jazz scenes. These stalwart players form a beefy back bone to Gomez' wacky and post-salsa sound. Where else can you hear an Ornette Coleman sound morph into mambo?
"In 1898 when the U.S. took over Puerto Rico, they created all these brass bands, so they could be more Americanized. I have a record of them playing traditional mountain music on brass. I love that sound. The awkwardness… being on the verge of this completely insane thing. It's the same cultural clash," Gomez concludes. "The uncomfortableness… it either works or it doesn't."
Additional Info

Zemog, El Gallo Bueno Pioneers Salsa From a Chicken CoopThe ...


Song Explanations

Abraham Gomez-Delgado's Artist Statement
Top of Press Release