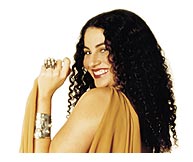 View Additional Info
Putumayo Presents Latinas: Women of Latin America Tour and New Women of Latin America CD Present Depth and Diversity of Latina Voices
Women have long played an essential role in the music of Latin America. Their voices carry tradition through lullabies sung to sleepy children or tunes brought forth during times of celebration. Now the festivities come to audiences around America as Putumayo World Music stages the diverse and exciting music of Latin American women with the concert tour Putumayo Presents Latinas: Women of Latin America. The tour is being produced in conjunction with the September 21 release of Women of Latin America.

The Putumayo Latinas tour will feature three extraordinary divas representing an exhilarating cross-section of contemporary and traditional Latin American music. Chile's Mariana Montalvo blends her country's traditional music with the lush poetry of nueva canción, bringing to mind such greats as Victor Jara, Violeta Parra, and Mercedes Sosa. Living in exile in Paris since the 1974 military coup led by Pinochet, Montalvo draws on a musical spirit of both happiness and sadness. Montalvo's new CD Piel de Aceituna will be released on September 14 by World Village. Her album Cantos del Alma was released by Putumayo.

I sing but I know not what I say / Perhaps I'll tell you about her / The girl I never met / My crazy words / Will perhaps tell you about her / And she may come to life in my voice. – Mariana Montalvo's "India Song," featured on Putumayo's Women of Latin America CD. Montalvo was also featured on Putumayo's Latinas collection.

Totó La Momposina hails from Mompos island in Colombia's Magdalena River, a place where the cultures of Native Indians and escaped African slaves converged. As a young woman, she traveled from village to village researching the rhythms and dances along the Atlantic Coast. Her magnificent performances are supported by the blasting horns of bandas and the percussion-heavy accompaniment of cactus wood flutes, named gaitas by the Spanish.

My name is cumbia / I am the queen wherever I go / No hip can keep still wherever I may be / My skin is brown like the skins of my drum / And my shoulders are a pair of maracas that kiss the sun. – Totó La Momposina's rendition of "Yo Me Llamo Cumbia" (My Name is Cumbia), featured on the Women of Latin America CD. Momposina's most recent CD, Pacantó, was released by World Village. She has also been featured on several other Putumayo compilations including Latinas and Colombia.

Belô Velloso comes from Brazil, and as niece of Caetano Velloso and Maria Bethânia, has been immersed in music from a young age. Growing up in Bahia, where African culture has had a profound impact, the younger Velloso cut her teeth on MPB, samba, and bossa nova.

Every Friday / Everybody is Bahian / Everyone is dressed in white / Every skin is black, and everybody sings / Every sky is magenta / Every song, every girl, every wave is sparkling / Every Friday / All the world is Bahian together. – Belô Velloso's "Toda Sexta-Feira" (Every Friday), featured on the Women of Latin America CD.

From generation to generation, women have helped serve as the collective memory of Latin American musical culture. While the artists featured on the Putumayo Latinas tour reflect many different styles and histories, they share a connection to local traditions. They all reflect the influences of European, African and Native American cultures that are at the heart of Latin American music. And their voices carry a positive message inspired by the past but grounded in the present.

Putumayo World Music was established in 1993 to introduce people to the music of other cultures. Over the last decade, the label has become known primarily for its upbeat and melodic compilations of great international music that are "guaranteed to make you feel good!" By combining appealing music and visuals while supporting its releases with creative retail promotions and marketing, Putumayo World Music has developed a reputation as one of the industry's most innovative companies. The label has produced more than one hundred albums and is considered a pioneer and leader in the non-traditional retail area.

The Putumayo Presents Latinas: Women of Latin America tour represents the first of what will be an ongoing series of thematic concert tours and events presented by Putumayo World Music featuring some of the best live music from around the world.
Additional Info

Putumayo Presents Latinas: Women of Latin America Tour and New ...


The African Drum, the Swing of Bossa Nova, & the New Voice of Belô ...

Exiles and Charangos: Mariana Montalvo Keeps Nueva Canción Alive with ...

Colombian Diva Toto La Momposina Unites African and Amerindian Roots
Top of Press Release