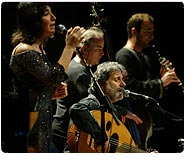 View Additional Info
Marcel Khalife Caresses the World with Depth & Defiance:

Lebanese Composer & Oud Master
Challenges Categories on New CD & Tour
"I do not use the West to get to the West," said Marcel Khalife who is featured on the new CD, Caress/Mouda'aba (Nagam Records), and on a 12-city tour that will hit most major U.S. markets in October and November, 2004. "If the new world order gives me the culture of MacDonalds and Pepsi Cola, I question that. Those things disappear after a short while. What we are doing is a project that will take years and years."

Khalife's mission began before Israel seized his cassettes upon invading his country, Lebanon, in 1982. "Since I was born," he says, "I've felt I had a rebel's soul within me. I rejected things that might be inherited, but that were wrong." Born into a Christian family, Khalife—who plays the oud, an Arabic lute, has always been a voice of reconciliation, peace, and hope. During Lebanon's civil war, he risked his life performing in bombed out concert halls, bringing his music and the great poetry of the Arab world to his war-ravished country.

At the same time, Khalife has been stretching the boundaries of his instrument and Arabic music. Oud playing was traditionally constrained by the strict techniques that governed its playing. Skillful musicians like Khalife have freed the instrument from those constraints greatly expanding its possiblities. About his latest CD and tour, Khalife says, "This work attempts to elevate Arabic music to a level that allows it to express profound human emotions, not by mere performance, but by empowering the music to mature and develop into a universal language of expression.

Khalife's musical career has consistently been marked by two traits. The first is a multi-faceted, category-defying approach to music itself. "My grandfather was a fisherman and he used to sing songs of the sea," Khalife recalls. "Then I used to go to church and listen to Christian music, and also to Islamic recitations of the Koran. In Lebanon we have a marriage of Islamic and Christian culture. That really helped to form my musical awareness." Khalife always drew from diverse musical sources and composed in a variety of settings from oud duos to full orchestras.

His composition is noted for being deeply attached to lyrical text. Through his association with great contemporary Arab poets, most notably Palestinian poet Mahmoud Darwish, he seeks to renew the character of Arab song, breaking its stereotypes and advancing the culture of the society that surrounds it. Millions in the Arab World recognize Khalife as a cultural icon.

"I do not fit in a cultural box, nor do I want to," says Khalife, who now lives in Paris. "I have strived all my life to break free of old traditional constraints, to let music speak for itself unshackled by predetermined traditional rules. I have defied identities and categorizations, which only serve to blind us to the vastness and complexity of humanity. There are no set lenses with which I should be looked at. My music, it all comes together for the sake of humanity."

The second trait has been a consistent message of peace and justice. And this continues today, setting the tone for this Fall's tour. "More than ever, we all have to work much harder for peace," says Khalife. "Peace cannot be imposed upon a people by a certain political power or agenda. Peace is achieved through respect, understanding of others and their culture; it is achieved by giving up fear of others; it is achieved through dialogue."

Marcel Khalife will be performing with Al Mayadine Ensemble, a group that he founded in 1976. Al Mayadine has the double-meaning of "village-square" and "battlefield." Khalife is joined on the tour by his long time premiere vocalist Oumaima Khalil, who has been performing with Khalife since she was 12 years old. Al Mayadine Ensemble also features Yolla Keryakos as second vocalist, Rami Khalife on piano, Peter Herbert on double bass and Bachar Khalife on percussion (riq, tabla, mazhar, vibraphone, congas, bongos).
Additional Info

Marcel Khalife Caresses the World with Depth & ...


Marcel Khalifé's Statement on the Eve of his Fall 2004 USA Tour and ...

Edward Said Introduces Marcel Khalifé

Mahmoud Darwish on Marcel Khalifé
Top of Press Release