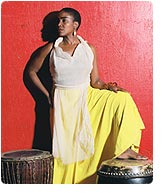 View Additional Info



Haiti's Emeline Michel Carries the Flag of a World Without Borders:
The Positive Voice and Strong Creole Roots of Rasin Kreyol





"Living outside of your own country, you feel you have let your country down," says Emeline Michel, the Queen of Haitian Song, who releases Rasin Kreyol on Times Square Records on October 5, 2004. "Especially while the country is sinking politically. You carry so much love and so many beautiful things about your country you want to put out into the world." That is exactly what her eighth CD does.

Emeline draws on the roots and history of Haiti—the world's first Black republic—in many ways. The intertwined rhythms of the manman tanbou, boula, and katabou—Haitian drums—provide the foundation for original lyrics peppered with Haitian proverbs and positive messages. "Everybody knows that Haiti is in trouble," she says. "Sometimes I feel like I should be there helping! This album is my way to be there. It's my chance to show a side of Haitian culture that is positive."

On Nasyon Soléy (Sun Nation), Emeline sings, "We don't want to die before our children can see our country back on its feet. We don't want to die without going back to Haiti no no no." Even Emeline's three-year-old—heard on the song's intro—is aware of this homesickness. "I ask him what's mommy's dream? He says, 'Mommy wants to find her feet in the warm water,'" explains Emeline. The song continues, "We are dreaming of the sun. We are tired of fighting, tired of the cold. We are not Diaspora, we are just trapped. Sun nation, stand up. Sun nation, stay strong, don't give-up. Sun nation, wherever you go you carry your flag under your skin. Wherever you go your flag is yourself."

At 18, Emeline won a song contest in Haiti, which earned her a year studying music in Detroit. She landed there not knowing a lick of English and became the first in her family to ever leave Haiti. She returned to Haiti and developed a career as the country's most prolific singer/songwriter. Emeline remains one of the few women bandleaders in Caribbean music and Rasin Kreyol is her third CD as record producer. She has lived in France and Canada, and currently resides in New York. She has toured five continents and become one of the best-selling Haitian artists worldwide. "I feel like I am half-nomad," she says. "I feel sad that there is this distance between me and my country. But in making this CD, I have this urgency to live to the max. I want to be respectful of everything that the universe offers me. It's not about feeling pretty or about what's promoted on TV. It's about simply being real. Feeling connected."

Emeline has become a star in the French Caribbean by emphasizing complex themes, conscious lyrics, and a broad palette of musical styles, including the native Haitian compas, twoubadou, and rara. A captivating performer, versatile vocalist, and accomplished dancer, Emeline is beloved by Haitians for combining traditional rhythms with social and inspirational content. You can hear the bellow of the kornet—a long Haitian one-note trumpet—on Ban'm La Jwa (Give Me Joy), a song in which Emeline asks for strength to live a positive life. "Give me joy. Cleanse me from envy and vanity; two powerful enemies who can stop me from moving forward. Give me humility so my pride won't limit me. Give me compassion to give with passion."

La Karidad—a neighborhood in Port-au-Prince—has the feel of an old-style compas on which Emeline reminisces about growing up during better times in Haiti; a time of young love and Tropicana, a romantic big band, which rehearsed nearby. "Like a lot of people," explains Emeline, "we had a big mango tree in our yard where we would take our boyfriends to sit and talk." This song says, "The day a mango tree will talk / Some stories will be told." The song's chorus repeats zipitipitim, the catchy sound of a drum pattern heard by youngsters who would sneak off to Tropicana's rehearsal against their parent's will. "When you hear Tropicana you remember all that good sugary stuff. Your grandmother will say, 'Oh my God!'" Emeline laughs.

When it came to recording Mon Reve (My Dream), originally a full page of lyrics, "I was so tired," Emeline says, "I did a version where I gave up on the lyrics and just hummed it." Emeline tells one story that inspired the song: "When you are crossing the border from one country to another, your heart is going through the mouth. Especially how they treat Haitians. One time I was running with my bags trying not to miss a plane. I gave an official my passport with tons of stamps from traveling all over the world. And he looks at me and says 'Why are you out of breath?' They're automatically suspicious." Over a Haitian vodou doublé nago rhythm and a haunting, Guinean Fula flute, Emeline dreams of a world with all nationalities, living together without borders. She says, "The planet is for all of us and we should make it easy for each other."

"I ended up not singing one word on Mon Reve," recalls Emeline. "And at the end, when I listen to it, I think to myself, 'Stop having regrets on what you haven't done. Start living that dream right now!'"

Additional Info


Haiti's Emeline Michel Carries the Flag of a World Without ...


News from Storm-Ravished Gonaives, Haiti (Emeline's Hometown)
Top of Press Release