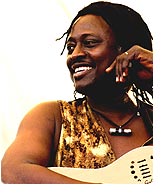 View Additional Info
With One Foot in the Past and One Foot in the Future,Mali's Habib Koité Tours Thirty-five North American Cities--January 28-March 15, 2005
"Nobody really taught me to sing or to play the guitar," says Habib Koité. "I watched my parents, and it washed off on me." Koité was headed for a career as an engineer, but on the insistence of his uncle, who recognized Habib's musical talent, he enrolled at the National Institute of Arts in Bamako, Mali, launching his twenty-year career. Now, with four critically acclaimed albums under his belt, Habib Koité & Bamada returns to North America for a 35-concert tour.
Habib is known for his unique approach to playing the guitar. He tunes his instrument to the pentatonic scale and plays on open strings as one would on a kamale n'goni. At other times Habib plays music that sounds closer to the blues or flamenco, two styles he studied under Khalilou Traoré a veteran of the legendary Afro-Cuban band Maravillas du Mali. Unlike the griots, his singing style is restrained and intimate with varying cadenced rhythms and melodies. His supporting cast, Bamada, is an explosive super-group of West African rhythm section talent.
The name "Bamada" is a nickname for residents of Mali's capital city Bamako, and the word roughly translates as "In the mouth of the crocodile." Mali has rich and diverse musical traditions, which have many regional variations and styles that are particular to the local cultures. Habib is unique because he brings together different styles, creating a new pan-Malian approach that reflects his open-minded interest in all types of music. The predominant style played by Habib is based on the danssa, a popular rhythm from his native city of Keyes. He calls his version danssa doso, a Bambara term he coined that combines the name of the popular rhythm with the word for hunter's music (doso), one of Mali's most powerful and ancient musical traditions. "I put these two words together to symbolize the music of all ethnic groups in Mali. I'm curious about all the music in the world, but I make music from Mali. In my country, we have so many beautiful rhythms and melodies. Many villages and communities have their own kind of music. Usually, Malian musicians play only their own ethnic music, but me, I go everywhere. My job is to take all these traditions and to make something with them, to use them in my music."
Habib's artistry and powerful personality earned him the adoration of fans such as Jackson Browne and Bonnie Raitt, as well as a series of recognized Malian artists, including Kélétigui Diabaté and Toumani Diabaté. They have all done a great deal to support Habib's music, by promoting private events designed to attract new audiences and performing live with Habib on stage. Bonnie Raitt also invited Habib in to record on her latest album Silver Lining.
With one foot in the past and the other in the future, Habib Koité is an artist for a generation that has witnessed the breaking down of cultural barriers. While he respects and treasures the music of his ancestors, Habib also envisions a day when village chiefs will communicate with the world from grass-thatched huts via a computer. Habib's music proves that we do not have to forsake the past in order to develop, and that the modern world, for all of its benefits, needs to keep its links to the folklore, mythology and history of the people in order for it to retain its soul.
Habib has been featured in People Magazine and Rolling Stone, and on The Late Show with David Letterman, WXPN's World Café, PRI's The World, and the House of Blues Radio Hour "Mali to Memphis" special. His breakthrough crossover success Ma Ya (Putumayo) spent an unprecedented 20 weeks in the top 20 of the College Music Journal New World music chart, and broke new ground at AAA rock radio, spending several months in regular rotation on commercial stations across the country. The album has sold 50,000 CDs in North America and 100,000 worldwide, while his last album, Baro, sold 80,000 worldwide. In 2002, Habib won a Kora Award, Africa's Grammy, for Best West African artist.
discography:
Ma Ya (Putumayo, 1998)
Baro (Putumayo, 2001)
Muso Ko (World Village, 2001)
Fôly! Live Around The World (World Village, 2004)
Additional Info

With One Foot in the Past and One Foot in the Future,Mali's ...


Habib Koité joins Oxfam's Make Trade Fair campaign
Top of Press Release