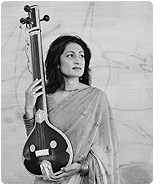 View Additional Info
Kiran Ahluwalia Pursues the Beloved: The Nexus of Ghazal Love Poetry, Canadian Celtic Fiddle, and Time-Honored Pick Up Lines 2005 Album
(For 2007, album click here)
It took many years for Kiran Ahluwalia to find one of the last living masters of ghazal—a form of sung poetry that originated in Persia 1000 years ago and reached India 400 years later. When she met Vithal Rao—her teacher—she was exposed to a bygone era, a time before Indian independence when princes and kings employed court musicians to put music to poetry. In an odd twist of fate, Kiran is now a bridge to this colorful past and—as featured on her new self-titled CD (Triloka Records) and in her March and May 2006 concerts in Berkeley, Santa Cruz, Los Angeles, and Chicago—may be one of the only composers of contemporary ghazals in Canada and even the Western Hemisphere.

Rao—her maestro—entered the palace of the King of Hyderabad as a young boy and, now in his seventies, carries rich memories of those days; memories that he has passed onto Kiran along with the techniques and intricacies of ghazal performance and composition.

Because there is such a vast repertoire of this music today, there are very few ghazal composers, even in India. Singers usually stick to the true classics. But Kiran has long been on a path to mastery so that she could one day compose for the sensual and highly literary poetic form.

It started with learning songs from her parents, both ghazals as well as Punjabi folk songs. "When I was growing up in India, very few people had recordings of any kind," Kiran recalls. "There were state sponsored concerts that people from all over would walk to and crowd into. While some children would get bored, I was perfectly content taking it in, even if I had to stand up the whole time. We had lived in New Zealand for a time and on the way back to India my father bought a reel-to-reel tape player in Hong Kong. We would listen to tapes of Indian music. We would also listen to Bollywood on the radio, and when a song came on that I wanted to learn, my mother would quickly write down the lyrics for me."

Kiran studied classical Indian music from the time she was seven, first in India and then in Canada where she immigrated with her parents. After getting an MBA and launching a career as a bond trader in Toronto, she decided to quit her job and become a full time student of music; her parents were dismayed. "Doors were slammed and tears were shed," says Kiran. "But they saw that I was adamant about it and this was something I needed to do. And before I boarded the plane for India, I had their support."

Kiran spent many years in Bombay studying Indian classical music. She finally discovered the ghazal maestro Vithal Rao and made plans to study with him.

"The next time I went to India I planned to study with my classical teacher for one month and then ask permission to leave and learn from this ghazal master. In India, your teacher has a higher status than a music teacher here would have. There are certain social rules you must follow. I was so afraid of what my teacher would say that I waited four months before I had the courage to ask her. I thought she would say, 'Fine, but never come back through these doors again.' Instead she was very supportive, knowing that this was important to me."

"It was monsoon season in Bombay when I called Vithal Rao," Kiran recalls. "I went into a phone booth—it was noisy with all the rain pouring down as I dialed. I spent three minutes explaining who I was, where I'd come from, and that I wanted to come and learn from him. To this, he simply replied, 'Well, then when are you coming?' And within a couple of days I was on a train from Bombay to Hyderabad."

Kiran also spent much time in her native Punjab, traveling into villages, digging around, trying to find folk musicians who had never been recorded. "I was familiar with Punjabi music from the club scene, bhangra and all of that. But I was more interested in the acoustic roots Punjabi music. And I always had my eyes out for poetry books and scholars for new material that I could compose."

With all of this traveling and searching, quite a surprise was in store for Kiran much closer to home in Toronto. "One day a poet friend of my mother invited us to a recital of various poets belonging to an organization called Punjabi Kalma da Kafla (Caravan of Punjabi Pens)," says Kiran. "This turned into an immensely important night. Imagine how ecstatic I felt; I sing in a genre that emerged in Persia in the 10th century and traveled to India in the 14th century, and here we were in the present day. I was composing music in this genre and I found poets writing beautiful lyrics in this poetic form of ghazals right here in Canada. A huge door opened up for me." Kiran composed for one of the poems she heard that night and she and this circle of poets became a part of the evolution of ghazals, thousands of miles away from the song forms origins.

Kiran's bi-cultural life experience has made her adept at reaching new audiences—something evident in her thoughtful and modern explanations when on stage. To one recent audience, she explained that ghazals explore the many moods of love, from the ecstatic to the despondent, from pursuing the beloved to feeling the restlessness of unrequited love, and summarized by describing a ghazal as a "highly-literate pick up line." Kiran earned a Juno Award in 2004 (the Canadian equivalent of a Grammy). And on her latest CD, Kiran Ahluwalia, she further cements her Canadian roots on two previously unreleased collaborations with Cape Breton Celtic fiddler Natalie MacMaster. "What a thrill to be brought into Kiran's world of Indian music," Natalie says. "Her voice is beautiful, natural and so capable and she is a great talent and a wonderful person. It was a pleasure to have the opportunity and I think we created some very special music together."
Additional Info

Kiran Ahluwalia Pursues the Beloved: The Nexus of Ghazal Love ...


Kiran Ahluwalia Explains the Songs
Top of Press Release