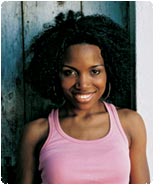 View Additional Info
Lura Exposes Cape Verde's Hidden Music with a Winter 2006 Tour
The music of Cape Verde—an archipelago 300 miles west of Dakar, Senegal—is a music of emigration.  While the island nation's best-known singer is Cesaria Evora, a young singer born and raised in Lisbon's émigré community is presenting once-hidden Cape Verdean styles to American and European audiences. Her name is Lura and she recently released Di Korpu Ku Alma (Of Body and Soul).

The first European colonial town in Africa was founded in Cape Verde in 1462, three decades before Columbus set sail for the Americas. Cape Verde's music reflects the mix of Portuguese and West African roots. But since traveling between Cape Verde's ten islands is expensive, the populations on each island are distinct with their own personality and dialect. Cesaria Evora—from the island of Sao Vicente—is known for the European-inflected mornas and the faster-paced coladeras. Lura is part of a new generation of musicians rediscovering the hidden traditions of her ancestral homeland. Her music is inspired by the styles of Santiago—the most African of the islands, and the island from which her father came; styles such as batuku and funana.

The African musical traditions of Cape Verde are still emerging now because the nation only gained independence in 1975, and prior to that the Church and the colonial government prohibited certain forms. The accordion-driven funana—which Lura performs—was considered too erotic.

Originally a dozen or more women would beat the batuku rhythm on folded stacks of clothes (called tchabeta) held by their knees, while a lead singer improvised poetry lampooning or critiquing community happenings. A very sensual dance called torno accompanied the song form. "The women in Cape Verde spend a lot of time together, working and talking and that is how batuku started; from the women of Santiago," Lura says. "Now I and others are making a kind of batuku, but singing alone, not in a group. I'm a little representation of batuku from Cape Verde."

Orlando Pantera, a young man who died in 2001, and who never released a studio album himself, wrote five of the CD's batuku­-style songs. "When I first heard his music, I fell in love," Lura exclaims. "He expresses daily life of the Cape Verde people in a very unique way. His music and his words are very strong, and very Cape Verdean. I fell in love with him, but I never met him. When I found out he died, I felt this is something I can do for him. So his music lives on."

Drought and economic limitations drive many Cape Verdeans to live abroad. (There are nearly as many Cape Verdeans living in the U.S. as there are Cape Verdeans in Cape Verde!) "In the poems and lyrics of Cape Verde, we speak a lot about immigration," explains Lura. "A lot of people move away to make a better living. We talk a lot about rain because there is so little rain. And we talk about food, because sometimes it is very difficult to get food. A lot of things you have to buy from outside; from Portugal, the U.S., Holland. And we talk about the relationship between parents and their children, because so many families are far apart. But the words talk about immigration in a symbolic way."

"So Um Cartinha" is a song about letters, which are very symbolic in Cape Verde. The song pokes fun at a Cape Verdean custom of asking friends who are visiting Lisbon to take back "a little letter", then presenting them with a fully packed trunk. "At the airport check in line, you can always tell who is going to Cape Verde, because they have the most luggage," says Lura. "You have to bring a lot of souvenirs to everybody. 'Oh Náia' is a funny song about bringing something for everybody but your best friend, who gets mad at you. I am singing that I ran out of money. I did not even have enough money to pay the excise tax!"

While they were on tour together, Cesaria Evora inspired Lura to write "Tem Um Hora Pa Tude" ("There is a Time for Everything"). Cesaria is known for continuing to live a simple life; not impressed by her late-in-life fame, nor by the European and American cities she has toured. The song says, "With my beloved, there's never a time when I don't have everything." A time for everything indeed. And it is time for America to hear the voice and passion of Lura on her new CD.
Additional Info

Lura Exposes Cape Verde's Hidden Music with a Winter 2006 Tour


Lura's Backing Band, Winter 2006 Tour
Top of Press Release