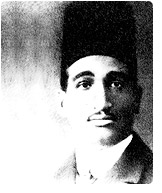 View Additional Info
1920's Egypt Comes to Life on the American Stage:
The Chicago Classical Oriental Ensemble Presents the Music of Sayyed Darweesh, "The People's Artist"
Upon seeing a photo of Giuseppe Verdi, someone once commented to Sheikh Sayyed Darweesh (1892-1923) that he and Verdi looked alike on account of their similar hairstyles. "That is because I am Egypt's Verdi," Darweesh replied. He sold everything he owned to go to Italy to study opera in the last year of his life, but never made it due to a fatal overdose at the age of thirty-one. Even with a mere seven-year musical career, Darweesh composed a repertoire of hundreds of songs and, for many, has earned the title of "the father of modern Arab music." A complex character that might be described as equal parts Verdi, Jim Morrison, religious scholar, and bricklayer, he was the spokesman for a developing Egyptian identity at a key transitional time in history.

Hicham Chami and the Chicago Classical Oriental Ensemble (CCOE) will bring Darweesh to life with a February and March American tour and album, The Songs of Sayyed Darweesh: Soul of a People. The ensemble, whose members come from all over the Arab world and average only twenty-seven years old, will span hemispheres and generations with their repertoire and performance, which includes the venerable vocalist Youssef Kassab, whom Chami calls, "one of the last great voices of the Orient." Musical director and 'ud player Kareem Roustom says, "It's a rare thing in the U.S. for a younger generation of musicians to perform this really old music. It is part of both preserving our Arab tradition, art and culture, and sharing it."

Roustom, Chami, and their Syrian, Lebanese, Moroccan, Egyptian, Palestinian and Israeli Arab associates find common ground in a reverence for Darweesh's musical legacy. In combining Oriental and Western styles, Darweesh was not only a musical visionary, but a social activist and political advocate. His complex character made him a fitting spokesman for a people in the process of forming its sense of self. "It was the tail end of the Ottoman rule, the quintessential era of European influence, and the beginning of the Independence movement and Egyptian national identity," notes Karim Nagi, percussionist on the tour and CD. "Sayyed Darweesh's songs reflect this period and truly represent the essence of Egyptian identity."

A man of humble beginnings, the young Darweesh was trained as a reciter of the Qur'an. Forgoing a career as a religious man, he worked a number of odd jobs, from laying bricks and singing in local cafes, to working as a clerk at a furniture store in order to support his family. In his early forays into music, he was largely met with failure, but even when he began to succeed in his artistic career, he remained humble and maintained his sense of humor. At the height of his popularity, with every theater and coffeehouse in Cairo bidding for his work, he is rumored to have said, "Everyone's playing my music, but I'm broke!"

Through his music, Darweesh crossed boundaries of style, history, geography, and genre. His music suggests a country reflecting on its identity, seeking to reconcile tradition and modernity, multicultural elements, and class and gender disparities. While many of his songs are about traditional folk themes and speak to the common person, a number of his songs also deal with forward-looking themes: women's rights, independence, nationalism, and social justice.

"Darweesh's popular songs used language, such as colloquial Arabic, that was very clever and innovative," says Nagi. "He often invented words and phraseology. He mixed in token English and Greek phrases to capture the multicultural character of Egypt at the time. His subjects captured the mood of a nation in transition and appealed to the masses of Egypt as well as the intelligentsia. The songs spoke of their daily lives, concerns, needs and paranoias. With shocking honesty, he grabbed everyone's attention."

CCOE's tour aims to recreate the ambience of Darweesh's era, giving audiences the experience of sitting in Cairo's coffeehouses and hearing music and ideas that are as relevant today as ever. The acoustic ensemble is composed of Oriental instruments such as qanun (a harp or dulcimer-style instrument), 'ud (lute), riqq (Arab tambourine), nay (flute), and Western classical instruments such as violin and cello, as well as male and female vocals.

Western audiences will be transported to another place and era, while also finding connections to the familiar in part due to Darweesh's love of Italian opera. Few people know that opera was alive and well in Egypt in the 19th and 20th centuries. Verdi's Aida was commissioned by Egyptian officials and first performed at the Cairo Opera house in 1871.

The entire production will be stylistically as close to that of the era as possible, with the ensemble also wearing the typical clothing of the day: European suits and tuxedos with bowties, along with the Tarbush cylinder hat and tassel; and seated on period furniture.

Although Darweesh's music represented a people who were just getting out of hundreds of years of occupation, Roustom hopes that audiences will feel a connection upon hearing that they had the same concern that we do today. "There are a lot of things that people can identify with," he says. "Just to see that someone in 1920's Egypt was thinking like this could reshape thoughts about the Arab world. This tour is about presenting a very positive image, and showing that that is really what the Arab world is like."

Many consider Egypt to be the heart of the Arab musical world. This may have started in Darweesh's time, when identity in the Middle East was simultaneously asserting itself against Western colonialism and looking Westward for inspiration for modernization. Darweesh's music encapsulates this tension in harmony—blending the classical and the modern, political and parody, and entertainment with musical sophistication. He was the first Arab musician to do that, forging a path for many who have come after him.

For American audiences in 2006, Darweesh's repertoire will provide both the familiar and the exotic, drawing them in to the interplay between East and West. With such a vast repertoire and connection to multiple sectors of society, it is no wonder that Egypt chose Darweesh as the composer of their national anthem.
Additional Info

1920's Egypt Comes to Life on the American Stage: The ...


Pre-Commercial CD track listing

List of Ensemble members and their instruments
Top of Press Release