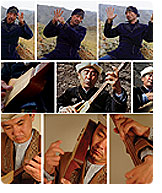 View Additional Info
Exile from Kabul, Fourteenth-Century Poetry in Tajikistan, and the Jimi Hendrix of Nomadic Kyrgyzstan:

The Music of Central Asia on Tour in America and on Smithsonian Folkways
The March 2006 USA tour of Music and Voices of Central Asia features an epic reciter who channels the voice of a warrior in a thousand-year-old Kyrgyz poem thirty times longer than the Iliad (often recited from memory for eight hours or more); a komuz virtuoso whose instrumental acrobatics make Jimi Hendrix look like a lightweight; an ensemble that has resurrected the Sufi-inspired court music of Samarkand and Bukhara; and the most celebrated Afghan rubâb player of his generation, who fled his country after the Soviet invasion, developed a new musical style while living in exile in Peshawar, Pakistan, and now makes his home in Fremont, California.

The tour—presented and curated by the Aga Khan Music Initiative in Central Asia—features three groups of performers: Tengir-Too, from Kyrgyzstan, The Academy of Shashmaqâm, from Tajikistan, and Homayun Sakhi and Taryalai Hashimi, from Afghanistan (via California). All of these performers are featured on Music of Central Asia, volumes 1-3, to be released by Smithsonian Folkways in March 2006. The innovative series, which will eventually comprise 10 volumes, includes a DVD as a part of each release with a documentary film on the featured musicians as well as interactive instrument glossaries and maps.

Until recently, the music of Central Asia has been terra incognito for most Westerners, and little known even among connoisseurs of "world music." Several of the musicians featured in Music and Voices of Central Asia made cameo appearances in the panoramic Smithsonian Folklife Festival of 2002, The Silk Road: Connecting Cultures, Creating Trust. The present tour, however, offers an in-depth look at the rich and diverse musical traditions of a region that is experiencing a cultural reawakening after decades of Soviet rule.

Musicians in Central Asia are more than entertainers. Traditionally, music served to reinforce social and moral values, and musicians provided models of exemplary leadership. Whether bringing listeners closer to God, sustaining cultural memory through epic tales, or strengthening the bonds of community through festivity and celebration, musicians have played a vital role in Central Asian social life. The musicians presented in Music and Voices of Central Asia are the region's leading exponents of their musical genre or style, yet most remain all but unknown in the West.

When Kyrgyz musician Zainidin Imanaliev was first sought out by Western ethnomusicologists willing to make the trek to his hinterland home, he denied that he played the komuz, a three-stringed, fretless lute whose playing is characterized by stylized hand gestures that make Jimi Hendrix look like a lightweight. Like many traditional older musicians in the region who lived in the shadow of Soviet policies that sought to replace folk traditions with nationalized music forms, Imanaliev had traded in his love of music for a love of the flask. After some coaxing, the virtuoso took his komuz out of hiding. This eventually led to a standing-ovation performance at the English National Opera. Now Imanaliev—who appears on Tengir-Too's CD/DVD Mountain Music of Kyrgyzstan—is leading the way with a return to the master-disciple oral tradition, and teaches five live-in students when he is not touring the world.

Tengir-Too. The music of Tengir-Too (Too is pronounced like "toe")—led by Nurlanbek Nyshanov, the 40-year-old innovator on traditional forms—fuses nomadic musical traits such as an emphasis on a nature-based spirituality, the ever-present bard, and epic tales as long as thirty times the length of Homer's Iliad with European compositional techniques. As the Kyrgyz came under the sphere of Russian cultural and political influence, European musical forms and instruments supplanted local styles and traditional folk instruments. Though conservatory-trained, Nyshanov broke away from these Eurocentric models. His breakthrough occurred when he understood that, rather than rely on the academic conventions of ensemble music, he had to let his music "speak" in its own language. "I want to uncover the whole timbral palette of Kyrgyz traditional instruments," said Nyshanov. "So many nuances, so many colors!"

Audiences and listeners also have a chance to see and hear Tengir-Too's dynamic shaman-like epic reciter, Rysbek Jumabaev, as he lets the spirit of Manas—a legendary warrior who united the Kyrgyz—speak through him. The manaschi alternates between a rapid oratorical style for narrating facts and a strongly rhythmic one for depicting dialogue. Dramatic gesture and facial expression are integral to the performance: manaschis use all means at their disposal to hold the attention of an audience.

The Academy of Maqâm. In Tajikistan, the impact of Soviet rule had a different effect on the music. Prior to the Soviet era, musicians in the multicultural cities of Samarkand and Bukhara drew audiences of Tajiks, Uzbeks, and Bukharan Jews. The performers were typically bilingual in Uzbek (a Turkic language) and Tajik (an eastern dialect of Persian). But with Soviet control, came a division of these intermingled cultures, leading to two distinct repertories. The Academy of Maqâm takes its name from the venerable tradition of classical or court music that spans much of the Muslim world from Casablanca, Morocco, to Kashgar in western China.

Located in the Tajik capital of Dushanbe, Abduvali Abdurashidov's Academy models itself on an older ideal of Islamic learning in which music is inseparable from poetry, metaphysics, ethics, and aesthetics. All maqâm traditions consist of suites or cycles organized by melodic mode and meter. The Shashmaqâm (which means six maqâms) includes 250 individual pieces divided into six suites. The music form requires performers to have a large repertory of poetic texts. Many of the texts sung by Abdurashidov and his Academy on the CD/DVD Invisible Face of the Beloved belong to Hafiz, the great 14th-century Persian poet from Shiraz. The rich allegory and sophisticated use of double entendre make Hafiz notoriously difficult to translate. Abdurashidov notes that the Hafiz ghazal text used on "Nawroz-i Sabo" (track 14) was well known among Tajik-speaking Central Asians, not only in cities, but in the most remote villages. "Many people knew these texts from memory," said Abdurashidov, "and often recited them at social gatherings devoted to veneration of the great poets."

Homayun Sakhi. The outstanding Afghan rubâb player of his generation lives in Fremont, California, the USA city with the largest concentration of Afghans. Homayun Sakhi grew up in Kabul where he studied the rubâb under his father in the traditional form of apprenticeship known as ustâd-shâgird. He is heir to a musical lineage that started in the 1860s when a Kabul ruler brought a number of classically trained musicians from India. Over the next hundred years, Indian musicians thrived there, and Kabul became a center for North Indian classical music.

In 1992, Homayun's family moved to Peshawar, Pakistan, a refuge for many Afghans from the chaos that enveloped their country following the 1979 Soviet invasion. The unofficial headquarters of Afghanistan's émigré music community there was Khalil House, an apartment building where thirty or more bands established offices. Homayun rented a room in Khalil House and opened a small music school. "The people of Peshawar—the way they play the rubâb is different," Homayun explained. "I introduced a Kabul style to them. For example, traditionally, rubâb players didn't touch the instrument's sympathetic strings, but I used them a lot, in addition to the melody strings. Before, players just picked down with the plectrum, but I picked both up and down. …I listened to a lot of different things that I found on cassettes, and I wondered, why couldn't I play with these kinds of techniques on the rubâb? …I worked hard and played for long hours every day to create more of a style—a complex picking style that uses rhythmic syncopation and playing off the beat."

After the fall of the Taliban in 2001, many Afghan musicians in Peshawar returned to Kabul, but by this time, Homayun was on his way to Fremont, California. His exceptional talent and dedication have brought him to concert stages around the world. Yet Homayun never appears satisfied with his own performances. He rejected the honorific title of ustâd (master) that fellow Afghan musicians proposed to confer on him, claiming that his abilities represented "only a drop in the vast sea of music and musical knowledge."

Music in Central Asia spans two great axes of Eurasian civilization, the nomadic and the sedentary, which have existed for millennia in an intricate cultural and commercial symbiosis. Each represents a fundamentally different pattern of culture and is linked to distinctive musical instruments, performance practices, and repertories.

Anthology. The "Music of Central Asia" series is a co-production of the Aga Khan Music Initiative in Central Asia and the Smithsonian Institution Center for Folklife and Cultural Heritage. The aim of the series, released worldwide by Smithsonian Folkways Recordings, is to present leading exponents of Central Asia's rich and diverse musical heritage to listeners outside the region. As a new generation of talented performers reinterprets this heritage — much of it ruptured or lost during the Soviet era — older traditions are reanimated and transformed. Music of Central Asia documents the work of musicians who represent both a mastery of their own tradition and a contemporary spirit of innovation expressed through new approaches to performance style, repertory, and technique. Each release includes a DVD with a documentary film on the featured performers as well as a map, musical instrument glossary, and short introduction to Music of Central Asia and the Aga Khan Music Initiative. These intimate, often poignant, musical portraits bring to life a group of remarkable artists whose creative achievements proclaim Central Asia's prominence on any musical map of the world.

The Aga Khan Music Initiative in Central Asia (AKMICA).. The Aga Khan Music Initiative in Central Asia was created in 2000 by His Highness the Aga Khan to contribute to the preservation, documentation, and further development of Central Asia's musical heritage. The Music Initiative pursues its long-term goals both within its region of activity and worldwide. In Central Asia these goals include revitalizing important musical repertories by helping tradition-bearers pass on their knowledge and craft; building sustainable cultural institutions that can eventually be maintained by local organizations and communities; and supporting artists who are developing new approaches to the performance of Central Asian music. Worldwide, the Music Initiative strives to increase knowledge about Central Asia's music and culture, particularly among students, and to nurture collaborations among musicians from different parts of Central Eurasia and beyond. For more information, please visit AKMICA's website.
Additional Info

Exile from Kabul, Fourteenth-Century Poetry in Tajikistan, and ...


Selected Notes from the Field
Top of Press Release