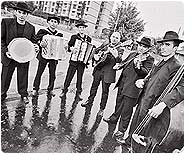 View Additional Info
Kal's Roma Education on the Dancefloor:
One Thousand Years of Adaptation
In every land they have traveled, the Roma (or Gypsy) people have survived on a combination of skills and street smarts. Adaptability is the hallmark of the Roma. Around the world, Romani music is noted for its simultaneous adaptability to local instruments and sounds while maintaining its own identity. The music integrates elements of the long road of Roma culture that stretches between India and Spain and beyond. On their debut self-titled release on Asphalt Tango Records, Kal puts bhangra beats, Argentine tango, waltz, Balkan blues, Montenegran rap, accordion, flamenco guitar, Middle Eastern rhythms, and Turkish clarinets, with dancefloor beats and rock attitude. U.S. audience have the chance to see Kal live on their national tour, September 19 to October 20.
The band takes its name from the word for "black" in the Roma language, evoking the historical and contemporary struggles of their people—racism, exclusion, prejudice, persecution. Since the time their ancestors began wandering west from northern India over 1,000 years ago, Roma have been simultaneously scorned and glorified, rejected and romanticized. They are sometimes treated as mythical and magical beings, representing people outside the confines and mundane realities of the everyday world. Contrary to folk myths, Roma are a real people and part of a real, enduring culture that has managed to survive despite severe obstacles of circumstance and prejudice. Kal is keenly conscious of this legacy, and uses music as a response.

Inspired by their father (to whom the album is dedicated), a schoolteacher who played music and also "the first openly Roma teacher to graduate from teacher's college," the Ristic boys have married Roma pride, education, and music by founding the Amala Summer School, a summer cultural exchange program in their home village of Valjevo, Serbia. The total cultural immersion at Amala, which includes homestays with Serbian-Romani families, helps to "break down the wishful and fearful mythology of the Roma and replace it with actual knowledge of Romani people, language, history, music, and dance."


Kal, featuring music from Bosnia, Croatia, Bulgaria, Macedonia and Serbia, are the young Belgrade-based Romani band whose self-titled album topped the European world music charts on its release in March, 2006, with its dynamic blend of traditional instruments, hard, driving rhythms and soulful yet confrontational style. The disparate sounds of Kal describe a new, post-modern identity that confronts romantic Gypsy clichés. Dragan Ristic, who founded the band with his brother Dushan, says, "We are not living in the past--I'm an urban person, belong to the modern world, [and] go to rave parties--so mixing traditional and urban elements is the best way of presenting our culture." "And I'm a Roma. "Gypsy is pejorative, a misnomer. We've always called ourselves Roms, so I find it distasteful to be called a Gypsy." Today, Balkan music is a sexy girl in a short skirt singing badly over an electric keyboard. Beyond the older generation, like Saban and Fanfare, there's very little quality left. "If Kal succeed, I hope we show young Balkan musicians that you don't have to lose your roots. You don't have to play trash."
"With this album, Kal aims to set an example to the young Roma musicians across the Balkans that you can be both modern and roots at the same time," says Dragan. "So many young Roma are just making pop crap because Balkan society, especially Serbian society, has, after the collapse of communism, allowed the lowest common denominator to rule. Many good young musicians compromise their music because they can't imagine that anyone wants to hear anything but turbo trash. I hope we set an example of young Roma musicians using beats but staying true to Romani culture and music."

Click here for tour brochure, or see the "Links" tab
Additional Info

Kal's Roma Education on the Dancefloor: One Thousand ...


VOR - Romani Routes
Top of Press Release