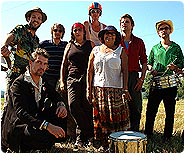 View Additional Info
Squatters in Antwerp, Carnival in Recife:

Think of One's Tráfico Merges Flemish Marching Bands, Avant-Punk Horns, and Brazilian Percussion
Emerging from a squatter's camp in Belgium's Antwerp is a motley band that plays horns with a punk attitude and sings with a Brazilian sensibility. They are called Think of One and for Tráfico, their latest release on Crammed Discs, they went to Recife in Northeastern Brazil, where they recruited four collaborators, a habit they have continued from their early days. Add to the sound big brass roots from Flemish marching bands and big brass branches from Gypsy musicians also at the squatter's camp (not to mention the all-night techno parties there) and their transcultural vision comes into focus.

The squatter's camp was shut down by the local government, so now guitarist and singer David Bovée and family move their RV every few days. It has been nine years since he has lived with a stationary roof over his head. "At first when I stay at a house, I enjoy the cable TV and hot showers," says Bovée. "But after three days, it starts itching. When you are used to having outdoor air under your feet and above your head, and you look left and see outside and look right and see outside, a house feels like a prison."

This lifestyle of transience manifests musically as well, as the band regularly sets up camp for extended stays in distant countries to record with Moroccan, Inuit, Congolese, or Brazilian musicians. They live together, learn each other's musical languages, and melt musical ideas into new forms.

When they are back home, Think of One performs on the back of a sturdy Eastern European Barkas truck that has been converted into a mobile stage. "There's a twelve-volt PA system running on a big truck battery," explains Bovée. "You can just plug mics and electric guitars directly into the truck. The idea is to only do one sound check every season!"

Antwerp has one of the largest ports in the world and a diverse community of immigrants, so it was natural for Think of One to find musical collaborations across cultures. Their Moroccan percussionist arranged for a stay in Marrakech which led to two CDs titled Marrakech Emballages Ensemble (whose name comes from plastic packaging). Years later a film maker showed Think of One reels of Brazilian maracatu ensembles in Recife. "The rhythmical subdividsions of the Morrocan gnawa had lots of elements in common with maracatu music," Bovée says. "So we started dreaming and planning to go there."

"I first saw Dona Cila—who is 66 or even 67 years old now—performing at Carnival four years ago," remembers Bovée. "And she is like the local big star of the neighborhood. She specialized in traditional côco singing, which is mainly percussion and vocals and the girls singing in response. When I saw her on stage my eyes popped out. The impact she has, this energy, for me it was 'Wow!' immediately. Now she is the mother figure of the band." The timbre of Cila's voice makes her sound like she comes from a different era and is a defining element on Tráfico.

All of the Brazilian musicians that collaborate with T.O.O. on Tráfico come from traditional music backgrounds playing côco, ciranda, and forró. Percussion wizard Carranca built his drum kit from old barrels which come on tour with Think of One. Fellow musicians call Ganga Barreto "the bulldozer" because of how hard she hits the drums, and she is joined by Cris Nolasco on vocals and percussion.

"It's always been like this, traveling across the globe to find collaborators" Bovée says. "When the band first started, we all left school because we wanted to go to Senegal. The saxophone player and the bass player were always playing on the streets of the south of France. We met good rappers and worked with them. We were always coming up with ideas and getting into a van and would just go for it. But now sometimes there are even airplanes involved." This time Brazil. Next stop: who knows?
Additional Info

Squatters in Antwerp, Carnival in Recife: Think of One's Tráfico ...


Think of One's David Bovée Talks about the Songs on Tráfico
Top of Press Release