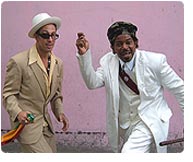 View Additional Info
Ska Cubano Invents a Music that Should Have Been:
How a South London Rude Boy, the Reincarnation of Cuba's Wildman of Rhythm, & Legends of Reggae & Cuban Music Build a Musical Bridge

Before the Cuban Revolution in 1959, Caribbean music styles like Trinidadian calypso were popular in Cuba, and Cuban music greatly influenced musicians of other islands. Legendary Cuban crooner Compay Segundo recorded a calypso album in the 1950s, and early Jamaican ska bands regularly infused Cuban beats into their songs. By the 1960s, however, Cuba and Jamaica went in different musical directions, as Cuban music developed into salsa and Jamaican ska led to the worldwide phenomenon of reggae.

Now a UK/Cuba collaboration called Ska Cubano imagines what would have happened had Jamaica ska blended with the big band blasts of classic Cuban mambo and son. The band hits these shores with the catchy and danceable CD, іAy Caramba!—the debut release on the new Cumbancha label—and a July/August 2006 tour.

Ska Cubano is the brainchild of British entrepreneur and music lover Peter Scott, whose love for classic Jamaican ska and Cuban son and mambo led him to dream of a musical group that could reunite these long-lost musical relatives. Scott enlisted South London singer Natty Bo--a UK ska veteran, the singer with one of London's most popular ska bands, the Top Cats, and a fan of all things retro--to oversee the musical development of the project.

Natty and Scott traveled to Santiago de Cuba to put together the band. Natty was writing songs, but wanted a native Spanish-speaker to sing with him. They looked for singers but had trouble finding someone with enough pizzazz who could cross the Latin and ska rhythms. "I was sitting in an old bar when Beny Billy walked in," recalls Natty. "He started strumming a tres and singing. His voice penetrated the walls. People stopped what they were doing. I knew I had to ask him to join the band."

Not only does Beny Billy have a voice reminiscent of the great Cuban singer Beny Moré, but Billy insists that he is the reincarnation of Moré. Billy—whose real name is Juan Manuel Villy—was raised in Cuba by his Jamaican grandmother. His voice is so similar to Moré's that he was called upon for the soundtrack of last year's "El Bárbaro del Ritmo," a film about Moré.

Ska Cubano put together a live version of the band featuring some of London's best Cuban and Jamaican musicians. Seventy-four-year old Jamaican trumpeter Eddy "Tan Tan" Thornton is a living legend who played with some of Jamaica's and London's best ska and reggae bands, not to mention his session work with the Beatles, the Rolling Stones, Jimi Hendrix, and others. Japanese sax player Megumi Mesaku is a bona fide ska fanatic, and her powerful, behind-the-back solos have earned her fame as one of the best ska saxophonists on the scene. Ska Cubano's musical director is Cuban bass player Ray Crespo, who has played with everyone from Omara Portuondo to Africando.

By the time Ska Cubano got to this, their second, album, not only were they writing and arranging ska, calypso, and son montuno, they had ventured on to Colombian cumbia. іAy Caramba! features a mixture of many different styles. "The song 'Tungarara' is a really strange cumbia," says Natty Bo. "It's a hand-clapping song. A lot of the songs I like are the hand-clapping songs. I love the big band sound too, but I really love the street sounds. The two are linked together. Ska started off as music from the Kingston ghettos, from Trenchtown, a 'voice of the people' as Prince Buster calls it."

Natty Bo is also quick to point out that Laurel Aitken, "the godfather of ska;" tenor saxophonist Roland Alphonso, a founding member of the Skatalites; and prolific pre-ska trombonist Rico Rodriguez were all born in Cuba. He also explains that the Skatalites' "Latin Goes Ska" is an instrumental version of the Cuban song "Pachito El Che." So even though Ska Cubano makes a conscious effort to merge different styles, there is historic precedent.

Natty Bo also takes a special interest in mento, the Jamaican style that pre-dates ska. "The more I discover in mento, the more I realize how many lyrics of modern reggae come from mento songs." On the CD, Ska Cubano takes the risqué mento song "Big Bamboo" and gives it what may be its first ska arrangement.

One thing that the band did not anticipate is how they would appeal to different audiences because of their diverse influences. "The Latin music fans may not have heard ska before, and the people who knew ska might not know about Beny Moré or Colombian cumbia," says Natty. "We had a gig where people from Ecuador came up to us afterwards and said it was the first time they heard of ska and they really love it. At first they didn't know how they should dance to it. But people can dance how they like: ska style, Latin style, or a new style. That's the joy of it!"

іAy Caramba! marks the debut of Cumbancha, a new record label headed by Jacob Edgar, an Ethnomusicologist and compilation producer for Putumayo World Music, one of the most ubiquitous and successful independent record labels. "We used to say at Putumayo that doing compilations was like dating, and signing artists was like getting married," says Edgar. "After years of flirting with some of my favorite artists, it's nice to finally make some commitments and settle down!"

Shortly after notifying Putumayo last fall of his intentions to leave the label and strike out on his own, Edgar's former employer offered to become an investor in his new project and service his releases through Putumayo's enviable network of worldwide distribution. The relationship allows Edgar to continue to assist Putumayo in the development of their popular compilations, while giving Cumbancha releases a powerful presence in over 60 countries around the world.

"Ska Cubano is a perfect example of a group that needs to be heard by a wider audience," says Edgar, "and I'm certain that people of any age and background will find their upbeat music irresistible." Cumbancha will bring the 11-piece band on a North American tour this summer, where they will be appearing at Central Park SummerStage in New York, the Montreal Jazz Fest, Chicago Summerfest, San Francisco's Stern Grove, and the Grand Performances stage in downtown Los Angeles, among other high profile venues.
Additional Info

Ska Cubano Invents a Music that Should Have Been:


Head of A&R at Putumayo to Start New World Music Label: Cumbancha ...

Lyrics (in English translation)

Ska Cubano's producer, Peter Scott, writes about the songs on ¡Ay ...
Top of Press Release