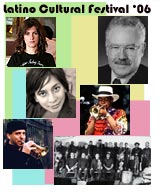 View Additional Info
Ten Years at the Crossroads of Latino Culture:
Queens Theatre in the Park's JPMorgan Chase Latino Cultural Festival Celebrates a Decade of Innovation and Tradition
Emerging voices. Historic icons. Debut American performances. Commissioned modern dance. For ten years, the diversity of Latino and Latin American culture has converged at the JPMorgan Chase Latino Cultural Festival, at which Queens Theatre in the Park introduces and showcases stars from throughout the Spanish-language world to New York audiences. Its ten year anniversary reveals the Festival at its best, bringing back Afro-Peruvian festival favorites Eva Ayllón and Perú Negro, highlighting Latin music icons including percussionist Candido, Colombian salsero Fruko with violinist Alfredo de la Fé, and Chilean stars Inti-Illimani, and introducing the emerging Latina voices of Valentina Gonzalez, MiMa, and Luca Mundaca. And there's more to come: Negotiations are underway with additional artists for this year's Festival.
"As the only multidisciplinary festival in New York, we have two main goals," explains festival director Claudia Norman. "We want to be the meeting point where the community has the opportunity to learn, see and experience—in 12 days—the best of Latino and Latin American culture, and to function as an important platform for artists."
These ambitious goals have made the Festival one of the few that showcases the full diversity of Latino and Latin American performing arts: the African, European, and indigenous influences; the music, dance, theater, film, visual art, and spoken word; the folkloric, the traditional, and the modern; the Latin American, the American Latin, and the global diaspora. It is a mission that matches the diversity of Latinos in the area that surrounds the Festival location. The performances take place at Queens Theatre in Flushing Meadows Corona Park—an indoor theater at the heart of the second-largest park in New York City, the site of the 1964 World's Fair.
Over the last decade, the Theatre and Festival has reached out to these communities around the park, and residents have responded. "Ten years ago, the only Latino program at our Theatre was the Borough President hosting a `Hispanic Heritage event,'" recalls Queens Theatre executive director Jeff Rosenstock. "We faced the challenge of bringing the Latino audience, which represents 500,000 Queens residents—25 percent of the Borough's population—to our Theatre. To do this, we initiated a Latino Festival in 1997 and continued to expand its scope so that today, as we celebrate the Festival's 10th anniversary, we also celebrate that a fourth of the people in the audience at our Theatre's many shows are Hispanic."
As part of the celebration, the Festival regularly includes a Rock en Español or Latin Alternative performance. This year it will feature Latina New Sounds, a showcase of three emerging Latina voices. Splitting her time between New York and her birthplace, Puerto Rico, MiMa's poetic approach experiments with jazz, folk, and Brazilian styles. Mexican-born vocalist Valentina González uses a loop pedal to create layers of sound, where she weaves in Indian music, jazz, flamenco, and gospel. Born in Chile and based in New York, emerging singer Luca Mundaca was raised in Brazil and combines her adopted country's deep melodic roots with a touch of downtown New York.
Since she walked across the U.S. border a decade ago, Cuban singer and songwriter Albita has played for presidents and pop stars. Often described as "part Marlene Dietrich, part Beny Moré," Albita draws on the traditional music she grew up performing and on her deep love for her native land to craft catchy songs with contemporary flair. Dynamic on the stage, Albita's vision of Cuban music lives and breathes, and has won her acclaim from Latino and mainstream audiences and critics alike.
Festival-goers have grown accustomed to return visits by audience favorites from previous years. While last year's event included a documentary film about eighty-five year old Afro-Cuban jazz great percussionist Candido, this year he celebrates his birthday with a live stage performance with a constellation of guest artists including Hector Mantignon, Bobby Sanabria, Guido Gonzalez, Onel Mulet, Andy Gonzalez, Mauricio Herrera (Paulito y sus afros), trombonist Eddie Villegas (Sandoval) and David Oquendo. The queen of Afro-Peruvian song, Eva Ayllón, is a festival regular who returns and will likely play to a sell-out audience once again. She made her debut outside of the Peruvian community at the 2000 festival. Perú Negro—the cultural ambassadors of Black Peruvian culture, music, and dance—return from last year with their cajóns (wooden percussion boxes), quijadas de burro (donkey jaw bone rattles), and high-energy dancing and on-stage antics by their twenty multi-generational members.
Thirty-five years after Colombian salsa star Fruko modeled his sound after the Fania All-Stars, he still enjoys immense popularity throughout Latin America and the United States. In his first performance at the Festival, he is joined by salsa's premiere violinist Alfredo de la Fé.
Along with crowd-pleasing classics, the Festival stage will be filled with adventuresome new music drawing on Latin connections, such as the Multicultural Music Group Orchestra. The twenty-five-piece band explores improvisation across cultures and genres from Africa to Brooklyn, and honors master improviser Eddie Palmieri, who will add his own unforgettable musical spark to the performance. Other special guests include Raymond Santos, Frank London, Olu Dara and Bruce Purse.
First emerging in the late 1960's, Inti-Illimani—also performing this year—is known worldwide for fusing folkloric Andean music with a no-holds-barred nueva cancion aesthetic. Their latest explorations have once again pushed them into new musical territory: jazz traditions and the ties that bind them to South American folk.
Dance is a mainstay of the Festival. And its five-year tradition of commissioned dance continues with the NYC debut of Grupo Krapp, a five-member dance and music company based in Buenos Aires whose name comes from a Samuel Beckett character and whose members test the boundaries between theater and dance (performance presented in association with LaGuardia Community College) This year's festival opens with the passion and intensity of Madrid's Noche Flamenca, which is, simply put, one of the best and purest flamenco companies in the world; equal parts dance, song, and music.
The Festival is rounded out with two family-oriented matinee concerts, one by Foncho Castellar, who will show young and old alike the magic of the accordion and the beauty of Colombian vallenato music, and a second by astute and passionate champion of Afro-Cuban jazz Bobby Sanabria, who will lead audiences on "Clave: A Rhythmic Journey from Africa to the New World."

Last but not least, the Festival will feature a screening of Bolivar soy Yo, a multi-award winning, razor-sharp satire of Latin American politics and contemporary media from Colombian director Jorge Ali Triana (with English subtitles); a comedy by Argentinean playwright Diana Raznovich performed by LaMicro Theatre Company, and an open mic night featuring local Queens and New York poetic talent.
Over the past decade, the Festival has become a vital intersection of the local and the cosmopolitan, the glitzy and the grassroots sides of Latino arts and culture. While establishing well-loved traditions and encouraging celebration, the Festival has also fostered innovation and brought emerging talent to broader audiences. And this year's mix of bright stars and new lights promises to be no exception.
The JPMorgan Chase Latino Cultural Festival 2006 is sponsored by JPMorgan Chase, Delta Air Lines (the official airline of Queens Theatre in the Park), Con Edison and Cingular Wireless. The Media Sponsors of the Festival are Time Warner Cable of New York City and New Jersey, NY 1 Noticias, el diario/La Prensa, and Google. Additional funding for the JPMorgan Chase Latino Cultural Festival 2006 has been provided by the National Endowment for the Arts, New York State Council on the Arts, and New York City Department of Cultural Affairs. The Latino Cultural Festival was founded in 1997 by The Latin American Cultural Center of Queens and Queens Theatre in the Park.
Additional Info

Ten Years at the Crossroads of Latino Culture:Queens Theatre in ...


The Festival in Brief: Who to see when

Three Latina Songwriters Defy Categorization: Queens Theatre in the ...
Top of Press Release