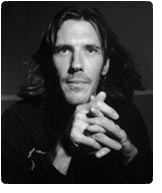 View Additional Info
More Africa in Canada: eccodek's Dub Mixology Moves the Body, Moves the Soul
"I think putting more Africa into something suggests connecting with the root of the matter, finding the deeper mystical history of things, the soul connection," proclaims Andrew McPherson, the man behind eccodek's blend of downtempo grooves, tribal electronica, and world dub. Rising from the underground of Toronto's multicultural musical brew, eccodek's More Africa in Us will reach stores and fans in the USA on August 15, 2006 on White Swan Records.
After a painful breakup, McPherson, who had already established himself as a singer-songwriter, set out to make an album of joy and celebration, purposely diving head first into wires, delays, and microprocessors in search of cinematic, organic, and slightly unhinged dub mixology. "I wanted to be the 'man behind the curtain' on this project," explains McPherson. "I wanted to basically create and control the thing but wanted to be as invisible in the process as I could and just let the beautiful rhythms and stirring vocals seduce the listener and take them wherever they decided."
Along the way, African voices fell into his lap. The first was Rwandan Ignace Ntirushwamaboko, a refugee who narrowly escaped gunmen in his village over a decade ago during his country's genocide. After getting assistance from the Berklee School of Music, Ignace eventually landed in Guelph, the same town as McPherson, 60 miles west of Toronto, and called on McPherson's production skills for an album. When the album went unfinished for personal reasons, Ignace offered up tracks from the masters which acted as vocal seeds for four songs on More Africa in Us.
Several months later, McPherson sat in with the horn section of a local groove band. When they announced a special guest singer from far away, Mali's Samba Diallo took the stage and "proceeded to tear the roof off the place." McPherson quickly wrote three "guerilla compositions" over the next week and invited Samba into the studio. With only ninety minutes together, they recorded the vocals for three more tracks on the album.
Surrounded by African voices, McPherson was brought back to a Wired magazine interview of Brian Eno from several years earlier. Eno said, "Do you know what I hate about computers? The problem with computers is that there is not enough Africa in them." The title for the album emerged, and the metaphor for music-making-as-healing came into focus. "The rule was if you ain't feeling it, move on," recalls McPherson. "So it got made very quickly without too much analysis or abstraction."
"Having just completed a very draining, cathartic solo record documenting turmoil in my life," McPherson continues, "I was jonesing for something to bring me back into my body and away from my head. But also something to remind me of the joy, passion, and power in life… Qualities I've always felt in the midst of African cultures."
After the completion of More Africa, McPherson had a chance to hear Eno lecture nearby. He brought the completed album and went up to Eno to give him a copy. McPherson pointed out that the title was adapted from a comment he'd made in his Wired magazine interview. Eno looked at McPherson seriously and said, "I won't charge you." Pause. "Unless it's good."
If early reaction to the CD is any indication, McPherson should expect an invoice in the mail any day now.
Additional Info

More Africa in Canada: eccodek's Dub Mixology Moves the Body, ...


eccodek's Andrew McPherson Speaks about "More Africa in Us"
Top of Press Release