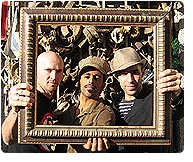 View Additional Info

Dropping Israeli, Middle Eastern, and Balkan Beats All Over America: Dancefloors Quake to Balkan Beat Box on September/October Tour



Blending electronic music, hip hop beats, and hard-edged folk music from the Balkans, North Africa, and the Middle East, the internationally acclaimed collective Balkan Beat Box is out to prove that the entire world is, indeed, a stage—and that we are all gypsies. The band hits stages from the East Coast to the Midwest on a tour this September and October. Time Out NY wrote that their self-titled debut on JDub Records "puts forth the group's infectious formula: an utterly unkosher blend of furious horn lines, dance beats and irreverent lyrics. The review goes on to say, "the group puts on a marathon live show that resembles an electronic gypsy circus."

BBB is a natural reaction of musicians who wanted to erase political borders ("our ears don't have them, why should we?" as one band member put it). A band of New Yorkers, Israelis, Africans, and Bulgarians, led by ex-Gogol Bordello member Ori Kaplan and Firewater / Big Lazy's Tamir Muskat, BBB brings together folk traditions with electronic beats, video projections, and a rotating cast of guests including the Bulgarian Chicks, Victoria Hannah, Jeremiah Lockwood, gnawa player Hasan Ben Nafar, Israeli MC Tomer Yosef, and more.

Ori Kaplan and Tamir Muskat have lived in New York City for the last decade where they led a new scene of underground immigrant-based music (J.U.F—Jewish Ukrainian Friendship and Gogol Bordello), which was based on the idea of taking ethnic music and modernizing it for contemporary audiences. Balkan Beat Box is a progression of this style of music, taking a worldly approach to the music of their ancestors, and evolving it to include not only the region of the world that they personally emigrated from, but also to incorporate the musical styles from their parents and grandparents birthplaces.

As Israelis born to Eastern European Jewish immigrants, Ori and Tamir learned their ancestors' Eastern European music while surrounded by the music of the Middle East. Through their own migration to America, the blend of Eastern European and Middle Eastern music was transformed again. What emerged was a blend of musical cultures—traditional sounds from two distinct parts of the world have been melded together with modern instruments and beats, to create a new musical genre displaying their multinational roots.

Featured players:

Tamir Muskat is the son of a Romanian immigrant. As a teenager, he was already a prominent rock drummer and percussionist. Early on, Tamir started producing Israel's first trash metal records in his basement studio but also began working with Sephardic Eastern singers of Greek and Turkish origin in a highly-ornamented style that is Middle Eastern in nature.

Tamir immigrated to the United States and joined the internationally acclaimed band Firewater as a drummer and producer. With Firewater, he toured the world and made three albums, two of which he produced. Tamir founded Vibromonk Records with Dan Shatzky. Since then Tamir had produced albums with artists from around the world. Big Lazy has written music for various films, and toured with The White Stripes, John Spencer blues Explosion, Reverend Horton Heat, and Tom Tom Club.

Ori Kaplan studied Klezmer clarinet in Jaffa at age 11, yet was exposed to the Arabic culture around him. Each week he would sneak into an Arabic/Turkish nightclub next door to the punk rock club where he played with his band DXM. Ori says, "The energy at the Turkish club was unabashed, on fire… The punk rock club was more self-conscious: youth trying to define itself, emulate the West."

Ori immigrated to the U.S. earning a BFA at Mannes College. In the last decade in New York City, Ori has recorded five releases as a leader for New York's premier downtown new music labels and has played with some of the best NYC bands. Ori received the Jerome Foundation Award for Young Jazz Composers 2001. He joined the acclaimed band Gogol Bordello (Gypsy Punk cabaret) that has spearheaded the Eastern European cultural revolution taking place in NYC. He has played with Firewater since 1998, and has collaborated and recorded with: Susie Ibarra, Speedball Baby, Big Lazy, J.U.F., Victoria Hanna, John Zorn, Vision Orchestra, and William Parker.

Tomer Yosef began his career as a stand-up comedian in the early 1990's. He performed live throughout Israel, appeared on a TV show called "Platefuls" and on a radio show on Reshet Gimel, an Israeli radio station. Tomer moved to New York City and in 2000 produced his first album "Say Something". He has worked as an electronic artist, drummer, and vocalist.

Additional Info


Dropping Israeli, Middle Eastern, and Balkan Beats All Over ...


Tour Band Member Listing
Top of Press Release