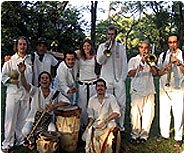 View Additional Info
Goose Feathers from the Bronx and Musical Traditions of Remote Colombian Villages: New York's La Cumbiamba eNeYé Transports Traditions
This is a story of why master musicians in Colombia are playing flutes made from Bronx goose feathers. It's an account of rural people displaced by war, and undervalued Afro-Colombian musical traditions finally coming to light. It's the tale of New York-based ensemble La Cumbiamba eNeYé, whose new CD is called Marioneta (Chonta Records).
Martín Vejarano, co-founder of La Cumbiamba eNeYé, travels to remote parts of Colombia, some only reachable by boat in search of lesser known rhythms and music of Afro-Colombia. While the African-influenced sounds of Cuba and Brazil have received exposure in North America, the Afro-Colombian grooves are still coming to light.
"Colombia is a very, very big country and it was difficult for people from a specific region to exchange information with people from others," says Vejarano. "You had to travel to distant and remote places." Furthermore, civil violence has preoccupied cultural life in Colombia. But there is renewed interest in Colombian music which is, in part, an unexpected positive by-product of the country's ongoing internal armed conflict.
"War can lead to artistic blossoming," reflects Vejarano, discussing the persistent turmoil and violence in many areas of Colombia. "That has happened in Bogotá because the city attracts people from all over the place who are displaced by the war. This gives us a chance to be together and listen to each other." Rural newcomers to Colombia's cities are introducing urban, institutionally trained musicians to their once isolated regional cultures, and often, as in Vejarano's case, inspiring them to visit distant corners of the country to learn more. Many of the areas where music flourishes in Colombia are remote, separated from other regions by mountains, rivers, and dense forests.
Colombia's two coasts—Caribbean and Pacific—have nourished dozens of musical traditions and given birth to some of the great musicians the world has come to associate with the country, such as singer Totó La Momposina, salsa star Joe Arroyo, and vallenato-inspired pop performer Carlos Vives. Flutes or gaitas, which native Colombians once used to elaborate on the calls of birds, combine with European brass instruments, such as the bombardino (euphonium), and the Pacific Coast's rolling Afro-Colombian rhythm.
The gaita flute is made from a cactus, with a beeswax and charcoal powder mixture for the head, and a duck's quill for a mouthpiece. "I make my gaitas myself," says the New York-based Vejarano. "I haven't been able to find a cactus here, so I bring the wood from Colombia. But I get my feather quills from Canada Geese in the Bronx, the last stop on the Six train at Pelham Bay Park. I collect them in the summer when they molt. When I went to Colombia two months ago, I brought as a present for my master: a bunch of feathers. They are making flutes with feathers from the Bronx now!"
La Cumbiamba eNeYé takes its name from the quintessential celebration of Colombia's northwest coast, the cumbiamba, when local people gather in their finest clothes, build a bonfire, and dance the night away to live music. The beat that keeps partygoers moving lies at the heart of La Cumbiamba's music and dynamic live performances. The group, whose core members came to New York from Colombia, got its start playing at outdoor venues around New York City, in the city's parks, plazas and summer festivals, bringing the loose, celebratory spirit of a cumbiamba to the streets of the city. Yet the festivities have a deeper mission, one linked to the musical momentum building in Colombia itself. The Colombian music scene today, both inside of Colombia and in cosmopolitan centers like New York, is flourishing, with young musicians eager to forge a new identity for the country and put it on the musical map.
La Cumbiamba eNeYé's music draws on musical encounters with traditional musicians from rural areas proficient in local music. For Marioneta, Vejarano went in search of musicians along the Pacific Coast, to remote villages where, he says, "The environment is overwhelming, and nature is so powerful."
And so is the music. There, in the town of Guapi, Vejarano met three musicians he had been hoping to track down, Genaro, Pacho and Jayer Torres, who can be heard on Marioneta's final bonus track. These hard-working farmers, whose powerful playing Vejarano likens to that of shamans, come from a musical family, a long chain of people who have been guarding the area's traditions for generations. La Cumbiamba eNeYé works to capture the spirit of the masters the members have met and played with in Colombia, conveying their music's sonic density and cultural variety. "Our goal is to represent the music of the coasts," Vejarano explains. "We make the instruments, and we understand the rhythmic structure of the music. Our goal is not to imitate the masters but to communicate the power of the music in our own way."
Much like the traditional masters who come to Bogotá or Cali fleeing local violence or seeking greater opportunities, La Cumbiamba eNeYé has found creative ways to bring tradition into a new context. The growing interest in La Cumbiamba and Colombian jazz and rock projects in New York has had a positive impact in Colombia. Along with feathers from Bronx geese, New York-based Colombians have brought an increased sense of pride and prestige back to Colombia, the idea that Colombian music has found an audience in New York. This provides further encouragement to musicians in Colombia, who often struggle with class-based prejudices against traditional music and economic hardship, to both push the boundaries and return to their roots.
Additional Info

Goose Feathers from the Bronx and Musical Traditions of Remote ...


Close Encuentros of the Colombian Kind: New York's Chonta Records, ...
Top of Press Release