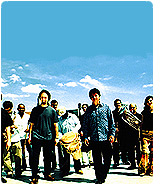 View Additional Info
Close Encuentros of the Colombian Kind: New York's Chonta Records, Musicians, and Friends Improvise and Revive Colombian Roots
A diverse scene of Colombian musicians in New York is emerging, simultaneously reviving roots music and infusing jazz and rock with Colombian sensibilities. Pianist and composer Pablo Mayor would never admit it, but many of the younger players around him see the musician as the scene's unofficial professor. His experience discovering what he calls "the Colombian accent" in his own playing has been pivotal in the scene's rising Colombian identity, and is something he has gently been cultivating in others, to the point of holding a packed annual event called the Encuentro, or Encounter.
"I got into a really good band playing salsa tunes, merengue, and some Cuban styles," Mayor recalls from his early days in Colombia. "I remember playing in a certain way, the Colombian way, a traditional way. But the other musicians kept telling me, 'You can't play that way. It's too square.' I had a complex about this for a while. And it took me a while to get over that and improvise and play with a Colombian accent." This accent—which also became overshadowed in Colombia as salsa and other forms became popular there—began to fascinate Mayor, who decided when he moved to New York that he needed to create a space where musicians could explore the traditions that informed the Colombian way of playing. He longed to create an ongoing conversation in which a Colombian accent would be a major musical asset.
There were already great Colombian musicians all around the New York metropolitan area; from the virtuoso harpist Edmar Castaneda from the tradition of Los Llanos (on the border with Venezuela), to the gentle experimentation of singer Lucía Pulido; from the Afro-Colombian revival of Martín Vejerano's La Cumbiamba eNeYé, to the jazz-rock of Sebastian Cruz and his band Coba; and of course Mayor's own folkloric jazz ensemble Folklore Urbano. But the scene coalesced around the annual Encuentro.
"I wanted to give musicians a place to present the kind of Colombian music they were working on," Mayor explains. "The rules are you have thirty minutes to set up, play, and get out. We have instruments ready there. A group plays, and we help them get the next people on stage." Last year's Encuentro featured thirteen bands and the dance floor was so packed that people were knocking each other over in their eagerness to move to the Afro-Colombian beats of La Cumbiamba eNeYé. Then, suddenly, the crowd fell respectfully silent as singer Marta Gomez took the stage, instantly turning dancers to rapt listeners. The freewheeling performance spirit is matched by an equally improvised and casual atmosphere for listeners: "People can get up and dance, they can sit on floor. They drink, they get food. They go out and smoke a cigarette and come back. It's all very peaceful. From jazz, to vocals, to dance, people like the variety," Mayor chuckles. This year's Encuentro will take place on November 12, 2006 at SOBs.
The intense energy of this unexpectedly large and devoted group of musicians and listeners is captured on Chonta Records, an independent label that aims to document the new vibrancy that has emerged in the dual epicenters of the Colombian music scene: New York and Bogotá. Mayor and fellow musicians in New York's Chonta-related scene are adding improvisation to long-neglected Colombian traditions and engendering new respect for traditional musicians thanks to their diverse artistry and unflagging enthusiasm. Chonta will release a compilation CD featuring NYC's Colombian scene in all of its diversity, including artists not signed to Chonta.
In its first year, the Encuentro hoped to turn a visit by respected traditional master musicians Los Gaiteros de San Jacinto into an exchange of ideas, and while the hundred or so people in attendance loved the flautists and drummers' performance, "they were extremely shy, having been marginalized their whole lives as musicians. But people went crazy when they started to play." The appearance of Los Gaiteros inspired some musicians to continue their research into traditional music, while others continued to push the envelope of Colombian music with newer forms. "This relatively new type of musical exploration has definitely begun to spread from a few small circles of curious Colombians to hundreds of enthusiasts, Colombian or not," notes guitarist Sebastian Cruz.
While the mix of new approaches, old ways and other musical idioms sometimes leads to tensions among musicians, they ultimately prove fruitful. "On one hand, you have in all these New York Colombian bands, musicians who are extremely well educated professionals, and on days when they're not playing with their own bands, they are standing in with Latin jazz greats, rock bands or Brazilian groups," explains Chonta co-founder Robert Kelley. "Then you have Afro-Colombians, the carriers and masters of rhythmic traditions. In many bands, one group of players is speaking one musical language, while the other group is speaking another. Sometimes the ideas don't gel together, but it forces a sort of authenticity. It's a creative friction."
What draws the whole scene together, however, is a shared fascination with Colombian traditions, whether it's expressed as rock vamps based on porros, pasillos and cumbias, or marimba-laced hip-hop tracks. This improvisation on traditional themes links the New York artists on Chonta to friends and collaborators in Colombia, where the music scene is likewise bursting with new talent. As drummer Daniel Correa puts it, "You can just feel you're witnessing the birth of a new generation of artists looking to their roots and their past generations, learning from their own history and making it part of themselves, trying to express their own life experiences, every one of them telling us a different history, with one common element: Colombia."
Additional Info

Close Encuentros of the Colombian Kind: New York's Chonta ...


Goose Feathers from the Bronx and Musical Traditions of Remote ...
Top of Press Release