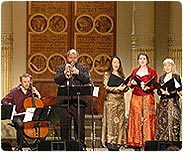 View Additional Info
Old and New World Jewish Music on National TV and DVD: Kitka & Davka in Concert
What is Jewish music? This provocative question is put to viewers at the opening of the made-for-public TV program, Kitka & Davka in Concert: Old and New World Jewish Music. What follows is an exploration of the concept of Jewish music stretching from the time-honored traditional to the creatively innovative, showcasing a live performance of two established San Francisco Bay Area ensembles—the female vocal ensemble Kitka and the jazz-inspired instrumental ensemble Davka, along with guest artist Stephen Saxon—performing together at one of California's oldest synagogues, Temple Sinai in Oakland. The program is being broadcast on PBS stations this winter and is for sale as a DVD at www.forestcreatures.com in December, 2006.
Kitka & Davka in Concert expands the notion of the Old World and the New World to new depths, relying on the geographical connotations of these terms, but also suggesting a vivid musical continuity of tradition into the modern world. Jewish music has historically been shaped—and continues to be transformed—by the unique Jewish experience, characterized by influences from all over the globe as Jews migrated from place to place. Songs sung in Bulgarian ("Hubava Milka"), Ladino ("El Rey de Francia"), Russian ("Yerusholayim Slavni Gorod"), and Yiddish ("Mayn Rue Platz") testify to the geographical diversity of Jewish history. More daring musical renderings bear witness to the contemporary Jewish experience, where jazz-tinged riffs, bold improvisations, and modern harmonies transform tradition.
The program is also a unique opportunity to revel in the vocal and instrumental expressions of the Jewish experience, as performed by these two stellar groups. They first performed together for The Jewish Music Festival of the Jewish Community Center of the East Bay, Berkeley, California in 2002. This wildly successful, sold out event inspired producer Leonard Kurz, of Forest Creatures Entertainment, to bring them together again to create a momentous cultural celebration.
"Culture and music can transcend the boundaries between religions. That's something that we really need for coexistence," states Kurz.
The program begins when Kitka unites eight vocalists and guest percussionist, Kevin Mummey of Davka, to perform some of the most hauntingly beautiful, emotionally evocative presentations of traditional and contemporary Jewish music. Kitka, meaning "bouquet" in Bulgarian and Macedonian, began in 1979 as a grassroots group of amateur singers from diverse ethnic and musical backgrounds, all sharing a passion for the stunning dissonances, asymmetric rhythms, intricate ornamentation, lush harmonies, and haunting beauty of Eastern European women's vocal traditions. Since its informal beginnings, Kitka has evolved into a professional ensemble that has earned international recognition for its artistry, versatility, and fresh approach to folk music.
Then Davka takes the stage with their dynamic instrumental music based on the major musical influences of the modern Jewish world, including klezmer/Yiddish music, Middle-Eastern/Sephardic music, Western classical music, and elements of American jazz and pop music. Taking its name from the Hebrew slang for "contrary to expectation," Davka has kept its audiences expecting the unexpected for nearly a decade. Davka has refined its music into a forward-looking expression of universality; old-world Jewish melodies meld with striking Middle-Eastern rhythms. With this fusion and the groundbreaking combination of contemporary harmonies and daring improvisation, Davka creates inventive and beautiful textures where both playfulness and gravity abound.
The two groups come together for powerful and poignant Sephardic songs joined by guest artist, Stephen Saxon, an accomplished jazz singer, cantor, and trumpet player. The gorgeous vocals and virtuosic musical interplay come together when Kitka, Davka and Saxon perform compelling musical arrangements, including the stirring Bosnian wedding song, "Yo Hanino, Tu Hanina," and the spirited "Las Esuegras de Agora," a Turkish Sephardic song about mothers-in-law. Together, their poignant expression creates an atmosphere marked by creativity, innovation, and tradition. The result of Kitka and Davka performing together live is a harmonious collaboration that represents the transcendent quality of music.
DVD "extras" will include:
-widescreen capability
-Dolby 5.1 sound
-more songs
-more interview

Davka press quotes:
"The wildest, most unhinged drum solos I have ever witnessed... It's a rock show with pyrotechnic grandeur, just without the rock or the pyrotechnics." — Rob Harvilla, EAST BAY EXPRESS
"Davka's four musicians whirl their spells with a supple interplay of violin, cello, bassoon and percussion. Their compositions and improvisations, swirling around a center of enlivened klezmer melodies and pulsing Middle Eastern rhythms, weave a dancing, winding path through the diversity of Jewish cultural and historic experience…" — Jerry Karp, SAN FRANCISCO CHRONICLE
Kitka press quotes:
"Simply amazing harmonies… truly this is the most wonderful singing I have ever heard." — David Crosby, CROSBY, STILLS, AND NASH
"KITKA's songs are hauntingly beautiful, simple, yet otherworldly. The rich sound these women produce resonates as if energized by the universe itself, as if it were calling all live beings and still matter into togetherness and unity." — Ching Chang, SAN FRANCISCO BAY TIMES
Additional Info

Old and New World Jewish Music on National TV and DVD: Kitka & ...


Live Concert Songlist

PBS Station Airdates for KITKA & DAVKA IN CONCERT: Old and New World ...

Kitka Concert Appearances
Top of Press Release