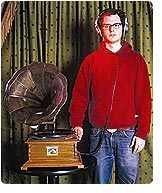 View Additional Info



Dreydls, Jelly Donuts, Wontons, and DJs:  How to Throw a Jewish Alt-Christmas Party





So what's a Jew to do on the most observed of the Christian holidays, when every business but the Chinese restaurants uses the excuse to close down? Growing up in Arizona, Aaron Bisman and Jacob Harris of JDub Records, don't remember any exciting options, much less anything geared towards young Jews. Says Bisman, "My parents lived in Nebraska for a time and, like a lot of Jews, they would go to a movie and have Chinese food. There were things happening, but not for Hanukkah, which often intersects on the calendar with Christmas. We had to make up things to do."

These days, bigger cities throw "Matzah Balls," events with an emphasis on partying and little meaningful connection among attendees. Seeing an opportunity for holiday events with a unique Jewish identity but sans religious overtones, JDub Records and Brooklyn Jews founded Jewltide, an alternative party featuring up-and-coming talent, music, and a new way to celebrate Hanukkah. Now in its fourth year, JDub has expanded Jewltide from its home base in Brooklyn and is taking the party on the road to Washington, Boston, and Chicago.

Bisman launched JDub from a donated corner of NYU's Bronfman Center for Jewish life, while still a music-business student at NYU. At the same time the Center's director Andy Bachman was setting up Brooklyn Jews as an initiative among young families in the Brooklyn neighborhood of Park Slope seeking to forge positive connections in Jewish life with meaning and celebration.

In 2003, JDub and Brooklyn Jews pooled resources to create a new Christmas Eve alternative to Chinese food and a movie. With Bisman and Harris's musical connections and Bachman's neighborhood knowledge, the first Jewltide featured Comedy Central comedians and a pre-superstar Hasidic reggae singer. The event was a sell-out within minutes of opening the doors, and the overflow crowd waiting in the snow was consoled with Krispy Kreme donuts distributed by JDub volunteers. Now in its fourth year, Jewltide expands with a national tour and two special nights at Southpaw in Brooklyn.

For 2006, the entertainment includes JDub artists Golem, with their folk-punk-Jewish-Gypsy-Slavic concoctions; Klezmer hip-hop mixmaster extraordinaire SoCalled; The LeeVees with their pop-rock "Hanukkah Rocks" tunes; DJ Anaan, JDub's Bisman; and DJ Shot'Nez, Ori Kaplan from Balkan Beat Box.

JDub has also teamed up with the Progressive Jewish Alliance and Reboot for Vodka Latka in Los Angeles and San Francisco, a Jewltide-esque party celebrating its 10th anniversary this year. In L.A., JDub artist Golem and Bisman alter-ego DJ Anaan will be joined by Heaping Hanukkah, a performance ensemble featuring celebrity guests including Jill Soloway, executive producer of the HBO series Six Feet Under. In San Francisco, Conspiracy of Beards, an all-male choir with an all-Leonard Cohen repertoire, will join Golem and DJ Anaan.

Latkas, jelly donuts, dreydls, and chocolate gelt will be in great supply each night. The deep fried hors d'oeuvres have an essential oily connection, a nod towards the Hanukkah story in which after the fight for freedom from Greek oppression, oil for the menorah in the Temple in Jerusalem expected to last one night actually lasted for eight. Wontons and eggrolls will be thrown in for the Christmas Eve Jewltide in Brooklyn for good measure.

Ditch the Chinese food and movie theaters this year. If you don't have a tree, you don't have an excuse!

Additional Info


Dreydls, Jelly Donuts, Wontons, and DJs:  How to Throw a Jewish ...


The Jewltide Performers

Vodka Latka Dates and Performers
Top of Press Release