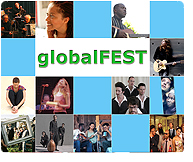 View Additional Info
Surf Rock, Palestinian Ouds, Brazilian and Afro-Portuguese Songs,
African-American String Band Music, and More:

Fourth Annual globalFEST Moves to Bigger Venue & Announces 2007 Line-Up
[purchase tickets]

Roots revival, surf rock, classical ouds, Brazilian and Afro-Portuguese songs. Expect these and many more styles on three diverse stages of the fourth annual globalFEST 2007 (www.globalfest-ny.org), which takes place Sunday, January 21, 2007, starting at . This year the event moves to Webster Hall (125 East 11th Street, NYC) to better accommodate crowds that packed previous venues. The event, which has sold out three years in a row, has become one of America's leading showcases of global sounds, demonstrating the multiplicity of sounds and performance contexts that fall under the 'world music' label. Tickets are available from TicketWeb.com, 1-866-468-7619.

"globalFEST proved it's possible to respect the past without being forced to preserve it forever unchanged," reported the Village Voice in globalFEST's debut year. "In terms of programming, fans can expect the same mix of established names and new revelations as in past years, that all address the unanswerable question of 'what is world music?' in their own way," says Bill Bragin of The Public Theater, who along with Maure Aronson of Boston's World Music, Inc., and Isabel Soffer of World Music Institute, founded the festival. "We launched the event in the wake of 9/11 when international artists were struggling to tour because of the increasingly restrictive American visa process, yet American audiences were expressing more interest in global culture," says Soffer. Bowery Presents joins as a producer in this fourth year as the event expands to a larger venue.

Year after year, the globalFEST producers spotlight underexposed hybrids, roots revivalists, and virtuosic performers from all corners and this year will continue that tradition. Compelling patterns emerge from the festival roster each year.

Two themes recurring from years past are remarkable vocalists and "stars back home." Lenine, though deeply rooted in regional Brazilian forms, weaves together both threads while embodying the Brazilian tendency to reconstitute and fuse popular forms from rock to bossa nova, from hip hop to MPB. Sara Tavares unites her Cape Verdean and Portuguese roots into a more modern songwriter aesthetic accessible to newcomers of world music and with touches of folk and R&B. Mexican-American singer Lila Downs' passionate take on the Oaxacan and Mexican songs she heard from her mother crosses all borders, adding a touch of American folk and rock to her international roots.

This year fans might ponder the Lebanese roots of surf guitarist Dick Dale, whose music influenced two festival performers: Boom Pam, an Israeli guitar, tuba, and drums outfit which reclaims surf rock's Mediterranean roots, and Los Angeles's Dengue Fever, which is as equally influenced by a Cambodian garage rock and psychedelia craze of the 1960s.

The French connection continues as in previous years spotlighting France as a gateway of musical immigrants. Senegalese songstress Julia Sarr and French guitarist Patrice Larose team up to offer an internationalist and modern approach to the singer-songwriter and guitar conventions. Paris-based Le Trio Joubran, three young oud-toting Palestinian brothers, reminds us that world music encompasses classical styles, and classical music can include thrilling improvisation. Babylon Circus plays a Gallic/Mediterranean ska that inherits much from the global punk and new wave movements of the '80s. Early twentieth century music gets a boost from Les Primitifs du Futur, which blends world-musette and Django-style guitar into old-fashion originals (and whose founders include legendary cartoonist R. Crumb).

Roots music is also represented by the African-American string band Carolina Chocolate Drops, which plays an American traditional style that historically created a bridge across between African and European Americans. Meanwhile, Central American cultural ambassadors Andy Palacio and the Garifuna Collective reignite the traditions of a culture that emerged from escaped slaves and whose modern-day descendants are dispersed from Belize to Nicaragua. Vocalist Lucia Pulido and Palenque take on the repertoire of the chirimía, a type of Colombian street band, in their search for a distinct, experimental style that is simultaneously deeply rooted and contemporary.

Not only has the event broadened and deepened participants' appreciation for the enormous breadth of global music, it has opened new opportunities for international musicians in the performing arts field. Scheduled to coincide with the annual Arts Presenters conference (www.artspresenters.org), globalFEST has introduced upcoming stars to hundreds of concert presenters and the general public.

"For those of us located between the coasts, globalFEST offers presenters an opportunity to see a good number of artists in a suitable venue," explains Cynthia Quinn Patterson of the University of Texas (Austin), Performing Arts Center. "We're able to observe audiences as well as the artists, which can be very useful for a presenter trying to understand a new form or culture." Luis Barros, North American manager for Lura (Cape Verde/Portugal), who used last year's festival to secure a major booking agency, says "globalFEST is the artist's ultimate entrée to be exposed to the leading talent agents, influential critics, and talent buyers in North America."

For the fourth year in a row, globalFEST is sponsored by The Cultural Services of the French Embassy, with additional support from the French Music Export Office and Cultures France, recognizing France's pre-eminent role as a hotbed for world music activity. In addition to providing financial support for the festival, artists who have French productions, regardless of their national origin, are eligible for subsidies to support their travel to participate in globalFEST. Emmanuel Morlet, the director of the music department of the French Embassy, says, "We continue to see how globalFEST serves the vital dual function of helping artists develop international careers and introducing audiences to culturally diverse performers."

Boom Pam's performance is presented with support from the Office of Cultural Affairs, Consulate General of Israel in New York. Visa services for globalFEST have been provided by Tamizdat, a nonprofit committed to fostering the free exchange of information and ideas between artists, audiences, and industry, and across cultures.

"globalFest is a vital point of connection between artists and the cultural arts community," explains Scott Southard, president of booking agency International Music Network. "It's one of the few chances to break past the media monopoly's blockade of information exchange."

Note: Artist list subject to change. Chambao has cancelled their appearance.
Additional Info

Surf Rock, Palestinian Ouds, Brazilian and Afro-Portuguese ...


Performing Arts Field Buzz on globalFEST

globalFEST 2007 Sponsors

Performer song lists and personnel
Top of Press Release