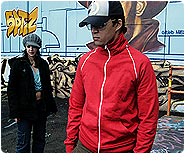 View Additional Info
WorldMusic.NationalGeographic.com releases Big Beats for a Small Planet: Global Hip Hop & Electronica Get GeoRemixed on New, Digital-Only Release
National Geographic Digital Media announces the release of the exclusive, digital-only GeoRemixed: Big Beats for a Small Planet through WorldMusic.NationalGeographic.com. The 13-song collection of previously unreleased tracks and remixes showcases sampled, dubbed-out, bass-thumping beats ranging from Gypsy brass to Maasai rap and Ethiopian hybrids, from Latino-Jewish rhymes to Mediterranean-meets-Caribbean surf rock and Brazilian hip hop. Since its launch last summer, MP3 Web site WorldMusic.NationalGeographic.com has emphasized the diversity of world music, inviting a plethora of hybrids and modern departures from tradition.

"Musical cultures have been cross-pollinating since the earliest days of trade and border-crossing," says WorldMusic.NationalGeographic.com editor Tom Pryor, who formerly edited the hip hop and world music sections at CD Now. "It would be a misrepresentation only to present recordings that preserve or recreate the world's musical traditions. Traditions are always evolving. 'GeoRemixed' is a window into how hip hop and electronica are getting remixed into a spectrum of music across the globe."

African hip hop makes a strong showing on "GeoRemixed." Rap was created in the African diaspora, and many theorize direct connections back to the African motherland. The songs here are rooted in their specific cultures, from X Plastaz' Maasai influence to Bole 2 Harlem's unique celebration of Ethiopian traditions. Dakar's Pato demonstrates lyrical acrobatics in his Wolof language. Meanwhile, Mali's African blues heir Vieux Farka Toure has been remixed by Israeli-Caribbean dub whiz Yossi Fine.
The Latino rap presence on "GeoRemixed" emphasizes hybrids. The German/Chilean Señor Coconut gets a reggaeton treatment. Closer to the home of hip hop comes new music from Pacha Massive, a bilingual mix of dub, cumbia, trip-hop and funk from the Bronx. The bi-coastal, bi-cultural Hip Hop Hoodios throw their post-ethnic mayhem into the mix. Meanwhile, Brazil's Eli Efi and Laylo make their Portuguese-language entry with a call to action for blacks and poor people.
In recent years there has been an explosion of hip hop and electronica from Balkan, Eastern European and Mediterranean musicians. Ukrainian bagpipes, flute and jaw harp get a humorous electronic dose from OMFO. Beats and dub sounds come together with traditional Ursari (Gypsy bear-tamer) music at the hands of Romania's Shukar Collective, who also remix a track of Balkan brass band Fanfare Savale. Tel Aviv's Boom Pam throws in its surf-rock sound on its collaboration with the Jewish Monkeys. Brooklyn-based Slavic Soul Party! finds funkified Balkan brass remixed on its "Teknochek."
"GeoRemixed" is one of many tech-savvy and street-smart facets of WorldMusic.National Geographic.com, which is an extension of National Geographic's century-old tradition of great storytelling that entertains, engages and informs through the media of the day, whether print, film, television or digital media. The site features hundreds of world music videos, podcasts, audio samples, photographs and in-depth editorial content about global recording artists and more than 100 music genres. The site is designed for exploration. The Orlando Weekly wrote that the site "creates an easy pathway for novices to be introduced to something they may have heard about (like garifuna) or listen to music from a specific region or country without knowing any more than 'I like things from Asia.'" It added that the site gives "die-hard aficionados the ability to zero in on precisely what they want, which is often a hopeless proposition at other outlets."

About National Geographic Digital Media
National Geographic Digital Media (NGDM) is part of National Geographic Ventures, the wholly owned, taxable subsidiary of the National Geographic Society, one of the world's largest educational and scientific nonprofit organizations. NGDM publishes Nationalgeographic.com, WorldMusic.NationalGeographic.com and other websites; manages marketing and content partnerships across broadband, mobile, gaming and other consumer digital platforms; and provides video and film footage to commercial, theatrical, education and other digital footage markets.
Additional Info

WorldMusic.NationalGeographic.com releases Big Beats for a Small ...


About the Tracks and Artists
Top of Press Release