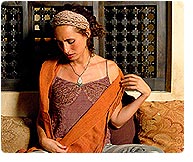 View Additional Info
From Hasidic Brooklyn to Global Psychedelia: The Bottomless Well of Pharaoh's Daughter's Melodies is a Long Hitch-Hike from Yeshiva
Listen to Haran, the latest album by Pharaoh's Daughter, and you hear a musical journey from Hasidic Brooklyn to '70s psychedelia, from an Israeli seminary to smoky bars in Turkey, and street scenes in Morocco and Zambia. Band leader and vocalist Basya Schechter has invented her own identity, still rooted in the words, sounds, and experiences of her childhood, but using her global curiosity to launch a reformulation of Judaic musicality. Haran marries the Hebraic and Biblical texts that orthodox children memorize with a modern, globally-informed Jewish sound.
Though feeling somewhat restricted by her upbringing, Basya retained powerful musical experiences from her childhood: singing for hours after Sabbath meals with her brothers, harmonizing with her father every week to and from synagogue, learning rhythms banged out on her kitchen table by her sometimes-musician father, inventing six-part vocal harmonies with friends during recess at her all-girls Yeshiva.
Though she never had a Western musical sensibility, as a teenager she discovered the music of Pink Floyd, Led Zeppelin, The Doors, and The Rolling Stones. Later she picked up the guitar on a whim, and music composition took over her life and she wrote enough material for three never-released albums. The prolific songwriting found new inspiration when she hitchhiked throughout Turkey and Africa. Everywhere she went she learned new melodies, rhythms, and instruments.
Basya studied marimba in Zimbabwe and learned gumboot dancing from children in South Africa. In Malawi, her fourteen year-old guide taught her a song about Abraham while they were climbing a mountain. In Morocco, she fell in love with the oud. In Turkey, she learned to play the saz, and ever since has re-tuned her guitar to mimic the long-necked lute's resonating, sympathetic strings. Basya was in South Africa when Abdullah Ibrahim, Miriam Makeba, and Hugh Masakela returned from exile under apartheid.
"They were coming back on their own terms," Basya explains. "Mandela was free and they were returning to a country they could feel proud about. The story of their exodus was inspiring. Their sense of yearning and sense of pain and joy were very palpable to me. It was clear they were taking what they knew from their childhood and also being exposed to other disciplines and combining it in a way that was seamless and personal. They didn't just come from somewhere but they went somewhere. This had a big effect on me."
"When I got back to New York, my music started to sound different," explains Basya. "Lyrics in English on my evolving sound usually sounded out of place. Meanwhile, The Jewish Week wrote an article about me leaving the Hasidic community, and Jewish venues started asking me to perform. But I didn't have any Jewish material. I had hundreds of songs without lyrics and tons of memorized texts from childhood. One by one these powerful words landed on this music that had no words before. It was a strange marriage of two parts of who I was."
"By Way of Haran," the album's namesake, invokes the place where Abraham started his spiritual journey, and a place of significance as an early caravan route. "I heard the names of these ancient places throughout my childhood," remembers Basya. "So I hitchhiked to eastern Turkey by myself and came to these places and felt the deep history. Haran represents the beginning of a journey, a crossroads between east and west, the beginning of the Jewish religion, and the beginning of monotheism." The song starts with a strong Turkish theme composed by the late Ismet Siral upon which is added an unexpected bass line and the influence of The Doors. The vocals use the wordless syllables of the traditional Jewish song form called nigun (pronounced nih-GOON).
Many of the songs on Haran come from the diverse repertoire of songs of the Sabbath known as zmirot ("Yona" and "Hashomar") and mystic Kabalistic poetry from the 11th-15 centuries ("Ka Ribon" and "Askinu").
"In some of these words you feel the mystical weight," Basya says "I love to explore that, because it makes me feel connected to a deeper understanding of the world and myself. I've always been connected to a sense of yearning in melody; a sense to get to someplace. Zen is all about being where you are. I come from a very unsettled sense of home; always that promise that something in the future or something that is part of the world that I don't understand is going to give me answers. In melody, I am deeply connecting to who I am now and what I want to be and what I want to express."
What Baysa found was that the connection she needed was across cultures. "I've found inspiration in people connecting to their tradition as deeply as I connect to mine," says Basya. So other songs on Haran are inspired by a range of influences: an Arabic rhythm in a ten-beat meter reminiscent of Oum Kalthoum, a slow African groove in five, a melody by Algerian singer Abdelli. But the presence of the standard drums-guitar-keys of a rock band cannot be missed.
Rock organ meets kemanche (spike fiddle), ethereal keys are the foundation for santur (Persian dulcimer), and the zabumba (Brazilian forro drum) drives accordion. Haran unites all of these elements in a simultaneously fresh and timeless way. But this multiplicity of sounds does not stand in the way of Pharaoh's Daughter's biggest accomplishment on Haran: a bottomless well of melodic creativity. Even if the listener does not fully grasp the spiritual power of the lyrics in Aramaic, Ladino, or Hebrew, the musical hooks resonate on their own journey long after the album is over.
Additional Info

From Hasidic Brooklyn to Global Psychedelia: The Bottomless Well ...


Individual Song Information

The Band
Top of Press Release