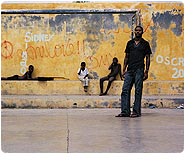 View Additional Info
Cape Verde Has a Fresh New Voice: Singer-Songwriter Tcheka Emerges with his Own Sound
Following the recent eruption of great women singers from Cape Verde, along comes a new sound from a young man named Tcheka. Having penned the opening and closing tracks for Lura's acclaimed debut album, this summer he will tour with the great "barefoot diva" Cesaria Evora, who brought Cape Verde to the world on the waves of her soulful morna. While the world has heard the female voice emanating from the Cape Verdean islands, Tcheka, fed and nurtured by these women, brings a new perspective with his album, Nu Monda (Times Square/4Q Records).

While alluding to the musical traditions of his native island of Santiago, Tcheka's sound is entirely unique to his personal style. As a young boy, he performed alongside his father, a popular violinist at the island's village dances and festivities. But it was the songs of the women that appealed to him. He was enchanted by the beat of batuque, a traditional style rich with collective memory and popular identity, originally developed by Santiago's women to get around the ban on drums by the Church and the Portuguese colonial authorities.

Batuque was first played by women after work in the fields. Sitting in a circle, they tapped on a bundle of cloth, normally made of piled loincloths that they rolled up and held between their legs. The style is still played in Santiago today, though some aspects have been adapted. Women�who no longer wear loincloths�make their drums from plastic bags, tacked and folded in the customary way to produce a wide range of sounds. Young Tcheka heard these rhythms and dreamt of widening the appeal of batuque, turning it into a beat that everyone would love. And so he continued the trend that the women began by improvising and adapting tradition�taking the time-honored rhythms out of the fields and transposing them to guitar.

The island of Santiago is one of ten in the Cape Verdean archipelago, a former Portuguese colony midway between Portugal, Angola, and Brazil, not quite African nor European, but influenced by both. Too far apart for a convenient and safe boat ride and too expensive to fly between, islanders rarely travel from one island to another. This isolation gives each island its own unique musical style and blend of influences. Santiago is considered the "most African" of the islands, and a new, homegrown style is emerging in Tcheka's music�a different sound from the sweet sorrow of Evora's morna, which is related to Portuguese fado and Brazilian modinha.

"Nobody knows where Tcheka's style came from," says Paris-based Jose da Silva, who manages both Tcheka and Evora and has done much to bridge Cape Verdean music with the rest of the world. "His town has one bar and nobody there sounds like Tcheka. It is a mystery."

On Nu Monda, which means "weeding," singer-songwriter Tcheka harvests musical stories grown in the rich soil of Cape Verdean tradition. Similar to Greenland to the north, Cape Verde (named for Cap Vert peninsula in Senegal, 600 kilometers away) is a misnomer. The islands are rough and barren, dusty and windy. In this parched landscape, which has driven a huge portion of its population to emigrate to escape the droughts and difficulties of life, the real richness is in the culture, and the music is an integral part.

In keeping with the African tradition of song as social commentary, each of the songs on Nu Monda tell a tale of life, myth, and memory on Santiago. There are lyrical tributes to romance, old friends, and the trials and tribulations of family and faith, and fables of fishermen who meet the Devil at dawn. There is a sense of mourning for the past as well as optimism for the future. "Rozadi Rezadu" speaks about the famine of 1947 which caused countless Cape Verdean families to flee to save themselves from hunger while the title track talks about farming and the importance of "nu djunta mon" (working together) to uplift the community.

Tcheka was born on the eve of Cape Verde's independence from Portugal (1975), and in an homage to Cape Verde's African mother, Tcheka has adopted the beats and themes of his childhood lullaby to express a new identity that reaches both forward to the future and back to its roots. Once lulled and nurtured by the songs of the women of the fields, he has matured into a pop-griot heartthrob, a handsome young man who generates wild enthusiasm from audiences with good looks and dynamic stage presence, and a new voice for Cape Verde.
Additional Info

Cape Verde Has a Fresh New Voice: Singer-Songwriter Tcheka ...


A List of band members and the instruments they play
Top of Press Release