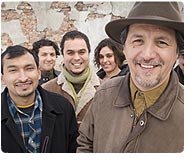 View Additional Info
This Land is Your Land, This Land is My Land: Sones de México Ensemble Rocks Border-Crossing Styles into the U.S.A.'s Soundscape
Sones de México offers a window into the future soundscape of the U.S.A. The Chicago ensemble's new album, Esta Tierra Es Tuya (This Land is Your Land), demonstrates how immigrant musicians outside of their home country can not only preserve traditions but push them in new directions. The CD dips into Mexico's vast and underexposed son repertoire and integrates everything from rock and folk, to Western classical, providing a musical antidote to limited perspectives on Mexican culture. File next to Los Super Seven, but substitute the Texas bent with a little urban edge and humor.

The album includes ear-twisting cover songs likely to intrigue non-Mexican audiences. An Aztec rendering of Led Zeppelin's "Four Sticks" in 5/8 time and a surprisingly synchronous jarocho approach to Bach's "Brandenburg Concerto No. 3 in G major—Second Movement" show the group is not too purist to experiment outside the hallowed grounds of the traditional, and not daunted by musical border crossings in order to prove their point: Mexican music can be as bold as rock and roll and as revered as Bach. Anyway you look at it, mariachi is only the tip of the cactus.

While the politicized title track—adapted from Woody Guthrie—is well-timed for our nation's ongoing debate about immigration, their instrument choices and explorations into underexposed styles are at least as profound in light of the history of Mexican music. During World War II, Mexico's music industry had a golden age. "Filling a void left in Hollywood, mariachi music became the soundtrack for Mexican movies seen all over the world, disseminating the stereotype of the hat-wearing, gun-bearing Mexican hero getting drunk and singing to his señorita while firing his pistol in the air," says Juan Díes, who plays guitarrón (Mexican fretless acoustic bass guitar) and other instruments in the ensemble. Reinforced by political campaigns and the tourism industry, mariachi became a national icon. In the process, the breadth of regional folk styles was overshadowed. In recent years, there has been a revival of Mexican son, which drew artists like Los Lobos back to their Mexican roots and churned new Mexican American artists like Lila Downs who felt a deep connection to the old country.

In the early 1980s, Víctor Pichardo, the ensemble's music director, spent several years touring Mexico as a musician with a folkloric dance company and forming his first band, Zazhil. In his off time, he would go looking for local musicians, documenting what he heard, learning specific regional techniques and styles, and trading instruments and tapes. After moving to Chicago in the early 1990s, Pichardo met Díes (an ethnomusicologist who worked at the well-respected Old Town School of Folk Music for over a decade) and together formed Sones de México Ensemble in 1994. The band has changed over the years, but the two are known to have recruited some of the best Mexican musicians who have come through the region, representing the diversity of regional sounds Mexico has to offer, while updating the sound for the performance stage.

"We tell the story of how deep Mexican culture can go," explains Díes. "Our instrument collection is a graphic depiction of how deep the rabbit hole goes. We play over 70 instruments, to create the variety of styles of Mexican son. Unlike our techno-banda counterparts, we never use synthesizers. Beyond the party culture of spring break and margaritas, there is a cultural tapestry in Mexico that is deep and fun, and as intellectually as complex and fulfilling as anything else."

The band's instrument assortment can be seen on an impressive photo centerfold in the CD liner notes. Pichardo, who is responsible for most of the band's arrangements, says "I like to use different textures found in Mexican music to express ideas that can be presented on any stage in the world and hold its own." Sones de México plays over a dozen regional guitars in a variety of sizes; percussion made from donkey jaw bones, tortoise shells, and deer antlers; and a compelling rhythmic wooden box called the tarima played with hard heeled dancing shoes. The familiar sounds of brass instruments, woodwinds, accordions, violins, and two types of harp made their way into various regional styles.

Mexican son has roots in European, African, and Indigenous culture; roots woven into tangled webs that chronicle the history of the Mexican people. This diverse history provides Sones de México with endless source material for their music.

In terms of European music, the same 17th Century Baroque and 19th Century military band influences that show up around the world have been present in Mexican music: from suites, sonatas and responsorials brought by the Church to waltzes, polkas, marches, two-steps, mazurkas, and schottises that were probably imported by touring zarzuela groups in the late 19th Century. All this resulted in new folk idioms, distinctly soaked in local flavor, that emerged in the hands of new generations of musicians and became part of a new musical language.

Mexico's African influence features instruments like the marimbol (bass thumb piano), the quijada (donkey jaw), and the cajón (a wooden box drum) and a pervasive use of polyrhythms and call and response patterns. "Mexico's African roots came in waves," says Díes. "One of the most recent followed a migration of Black miners who came from a region in Northern Chile and Southern Peru during the California Gold Rush of the 1850s. One of the rhythms they brought evolved into a Mexican style called chilena." This style can be heard on "Yo Vendo Unos Ojos Negros," a traditional Chilean folk tune, and "Eres Bella Flor," an original by Pichardo on the band's new CD.

Mexican music also has an indigenous root, which has survived against all odds. Díes explains, "Indigenous music was forbidden by the Inquisition during Mexico's colonial period (1521-1810). The sanctioned style was the Church music of the Baroque with its violins, harps, and vihuelas. In the hands of Mexican musicians this music was infused with the sentiment of indigenous cultures and spun into numerous regional folk styles." Díes continues, "We like to make what we do entertaining, but not haphazard: there is always a reason for the musical choices we make. For instance, our realization that, despite the mills of time, some Mexican son and Baroque music have remained curiously compatible has led to one of the most exciting musical ideas we have embarked on."

One day when Pichardo was driving a Veracruz musician friend around Chicago, listening to a Bach Brandenburg Concerto in the car, the colleague said, "Hey that sounds just like zapateado (a traditional tap dance style)." Pichardo started overlaying rhythms from Veracruz and it was a perfect fit. The arrangement simply required adding Mexican instruments and an Afro-percussion section, which follows the same rhythm. A brass ensemble featuring players from the Chicago Symphony Orchestra also joined the ensemble. In concert, the band explains the Baroque influence on Mexican music. Their educational efforts—both on stage and in schools—are always present.

On stage, Sones de México has developed a sound that, despite its acoustic folk nature, allows the band to carve a space on festival stages alongside large salsa and rock bands. In an interesting twist, Sones is one of the only Mexican son revivalists to integrate the drum kit into their sound. The drummer, having no models to follow, adapts the dance rhythms and beats of other instruments onto his trap set, which often take the band into new territory. In this sense, the group is following a pattern similar to salsa and mariachi, whose forms changed as they took folk traditions from rural settings to performance stages.

On a daily basis, the band's bread and butter still lies in Chicago's one-million strong Mexican community. Families around Chicago call on the ensemble to play their regional sound at weddings and other gatherings. And Sones de México can fit the bill, playing hours of, say, huapangos for a family from Cerritos, San Luis Potosí (or other specific regional demands from the Mexican community). Chicago, with its one-hundred-year-old history of Mexican immigration and as the city with the second-largest Mexican immigrant population in the U.S., was fertile ground for the ensemble's development thirteen years ago.

During the recent May 1st demonstration for immigrant rights in Chicago, the crowd sang along to the ensemble's Esta Tierra Es Tuya's title track, a bilingual version of Woody Guthrie's "This Land is Your Land." "This is the immigrant's anthem!" one protester told Díes at the march. In the hands of Sones de México the song takes on new meaning in light of today's debates about immigration in the U.S.A.
Additional Info

This Land is Your Land, This Land is My Land: Sones de ...


Five Highlights of Sones de México Ensemble's April/May Season
Top of Press Release