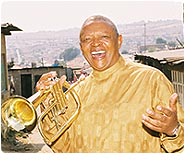 View Additional Info
The Musical Umbilical Cord that Connects America and Africa: Hugh Masekela's Trumpet Grooves on New Double Album and North American Tour
Before jazz had a name and "world music" was a concept, a young trumpet player emerged from another hemisphere and landed alongside some of the greatest icons in American music. Louis Armstrong sent him a trumpet. Harry Belafonte arranged for him to come to New York City to study music. Dizzy Gillespie and Miles Davis took him under their wings. That man, Hugh Masekela, born out of apartheid South Africa, has consistently toured worldwide and his genre-bending dynamism has led to his own icon status. His uncategorizable sound comes to life on Live at the Market Theatre, a momentous, new recording on Times Square/4 Q Records in collaboration with Chissa Entertainment Group, timed for release alongside Masekela's North American tour in July, August, and September.
The two-disc outing includes Masekela favorites "Grazing in the Grass," which, in 1968, was one of the only instrumentals to ever hit number on the Billboard Hot 100 chart; the Fela-inspired Pan-Africanist groove of "The Boy's Doin' It;" and "Mandela," a jazzy reprise of Masekela's historic anthem calling for the release of the ANC leader Nelson Mandela. Two other stand-out tracks of the album are Fela Kuti's "Lady" and O.J. Ekemode's "Ashiko," both representing Masekela's forays into Nigerian and Afro-Beat sounds. Masekela's musical and physical travels found him visiting and residing in a variety of countries throughout Africa, and in Europe and the U.S.A.
After many years spent in exile from the violence and oppression of apartheid-era South Africa, Masekela returned 17 years ago to help rebuild his homeland. Live at the Market Theatre represents Masekela's status as a musical freedom fighter in South Africa while demonstrating what he's known for best in the outside world: his energetic and groove-driven freedom sound.
The Market Theatre is an apt representation of Masekela's commitment to South African identity and Pan-African nation-building. The Theatre itself is one of the most significant cultural institutions of South Africa, having survived through the apartheid regime to today. With origins in liberation theater, it became an incubator for the nation's great playwrights, actors, and other cultural workers. It is there that Masekela's highly acclaimed musical "Sarafina" was born. For its recent 30th year anniversary, Masekela was included in a month-long series of performances representing the defining acts of the South African nation. Live at the Market Theatre was recorded during these celebrations.
"I come from a nation that has fought very hard for its dignity, liberation, and human freedom," says Masekela. "Yet as Africans, we've never been able to project our image ourselves. We've been hoodwinked into thinking our culture is barbaric and savage. A lot of people think progress is what they see on TV. They've been turned into consumers who don't produce anything. But our heritage is our biggest wealth. It's more diverse and richer than anything else we have. And it is the only thing that cannot be taken away from us."
So in addition to continuing a rigorous schedule of international touring, in recent months Masekela has set his sights on transforming the entertainment industry throughout Africa. "So far, it's been foreign owned, even on the ground here," says Masekela. By forming partnerships in different parts of the continent he is on the way to creating an African-owned entertainment network and record company. In addition to the label and distribution company, Masekela and his Chissa Entertainment company also develop screenplays and musical theater.
"I've always been involved with community and I think I owe everything I am to that," Masekela proclaims. "I will never be able to pay even the interest of what I got from them. That is what I am obsessed with. Anything I can do to create platforms for the excellence of the continent to be seen and heard."
Masekela's summer tour in North America brings to life the connection between his African sound and his musical alliance with the original American classical music: jazz.
"We identified with jazz because in those days, jazz showed the excellence of a people who had been enslaved and racially discriminated against," explains Masekela. "Dizzy and Miles were not looked on with love from the Western establishment. They were independent Black people who didn't take crap from anybody. Louis Armstrong, Billie Holiday, and Count Basie represented triumph in spite of oppression. And to a certain extent, America owes its fame to those people. Though they will never be awarded the respect they deserve. They reached all over the world."
"I come from a country that fought for liberation for 400 years without a break," Masekela says. "There wasn't a day in this country when people were not fighting for their country, from 1650 to 1994. When I was growing up, we were able to survive this country because of the inspiration from Black American musicians. There was a sociopolitical umbilical cord that joined us."
Though Masekela's summer tour reinforces that connection when it reaches all major cities and several smaller town in the U.S.A. and three Canadian festivals, in the end it is still about making people feel good. "We're coming there to play and make people happy," concludes Masekela. "They get off and dance their asses off at our shows. They are spiritually uplifted and that's all you can be proud to be a part of. They go out of there way to come to our shows, so you gotta' make them feel good!"
Additional Info

The Musical Umbilical Cord that Connects America and Africa: ...


List of band members/instruments
Top of Press Release