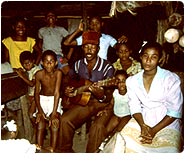 View Additional Info
The Stolen Guitar Returns: Racy Dominican Street Hits Rediscovered on Bachata Roja
One night back in the 1970s, in a small bar in a poor neighborhood of Santiago, Dominican bachata legend Julio Angel nearly lost his guitar. After a long bout of playing music and drinking with his buddy and fellow musician Marino Pérez, Angel finally passed out. When he came to, his guitar was missing. But Angel knew where to look. He went straight to another bar nearby where Pérez liked to hang out, and there was his guitar, behind the bar. Pérez, who eventually died of alcohol poisoning, had traded it for drinks the night before. Nights like that one gave bachateros a racy reputation and kept bachata out of the Dominican mainstream.
The story of classic bachata is about more than barroom shenanigans, however, as heard on Bachata Roja (iASO Records; November 6, 2007 release; distributed by Ryko USA and Warner Digital), a new collection of acoustic gems spanning three decades. Bachata began with the death of a dictator, wrestled with social stigma, and wound up with international fame thanks to an electric guitar advent. But before bachateros plugged in, they performed acoustic guitar music at rural dance parties and in urban cabarets of ill repute. Bachata from the 1960s through the 1980s was sprinkled with risqué double entendres and gentle guitar solos, the songs dwelling on love and the seedy nightlife of the barrios. Marginalized by the Dominican elite, it became the wildly popular soundtrack of the street.
"Like a lot of places in Latin America, we were playing bolero," explains Edilio Paredes, whose impeccable lead guitar is on four tracks on the Bachata Roja CD. "In Colombia it would have their cumbia flavor, but we had our own Dominican flavor. The 45s coming out always said bolero on them. Around 1971 they started calling it bachata. It was kind of competitive with merengue orchestras and I understood straight away they were using this word to make this music sound very low. Guitar music didn't deserve to be treated that way! "
The assassination of Dominican dictator Rafael Trujillo in 1961 led to a minor explosion in guitar music recordings. During his regime, Trujillo had favored accordion-based merengue over other guitar-driven genres, which were associated with the lower-class, rural communities Trujillo despised. The sweet acoustic guitar music of pre-bachata artists like the now 84-year old Puerto Plata—whose Mujer de Cabaret is also being released on iASO Records in November—went unrecorded for years. With the dictator gone, guitar music finally appeared on wax, paving the way for what was to become bachata. One of these early recordings—a 1962 hit by Rafael Encarnación—kicks off Bachata Roja and the history of the genre.
As increasing numbers of migrants from rural areas poured into Dominican cities in the '60s and '70s, the rural approach to merengues, boleros, and other rhythms and genres came with them. Trujillo's legacy, however, meant that rural musicians were shut out from high-paying mainstream gigs and had to earn their livings elsewhere, often in the city's shady cabarets.
"The music itself started to get more aggressive and the lyrics started talking more about drinking and women and prostitution," recalls Paredes. This link to the world of prostitutes, drunks, and brawlers made bachata a kind of 'musica non grata', as did the lyrics that painted vivid pictures of this world.
"There were always fights at these places where we played. We always feared for our lives," explains Paredes. "I remember once a drunk soldier was claiming he recognized me as a hoodlum who was throwing rocks at him earlier that week. These soldiers are dangerous when they're off-duty, so I just kept flattering him and put my arm over his shoulder and held very tight so that he couldn't lift up his gun. Another time we showed up to play at a bar right as a fight was starting and the owner just gave us our money and said, 'Get out of here!' We ran as fast as we could and for years later I would meet people who still had injuries from that brawl. We had some laughs though, on one occasion when we were on stage I heard screaming starting so I just turned to a window, guitar in hand, and jumped out. Well, I was a little chubby then and I got stuck in the window. When I looked back I could see there was no fight at all, just some women having a good time and the whole bar staring and laughing at me stuck there!"
Though some bachateros escaped the stigma somewhat by performing mostly guitar merengues or sticking to rural dance parties, the musicians in the scene built their careers thanks to a single radio station and an informal but effective network of stores that sold bachata records (oftentimes outselling the more accepted "mainstream" music styles).
As the track notes to Bachata Roja reveal, the bachata scene was a tight-knit circle of friends and relatives who played on each other's recordings at a handful of small labels. Their records were sold through mom-and-pop shops. Only one national radio station, Radio Guarachita, regularly aired bachata, part of the station's unique role as a bridge between rural and urban Dominicans. Guarachita is famous for dumping bags of mail on the floor and randomly selecting letters to read over the air, sending the news from the barrios to the folks back home. Though the station owner, Radhames Aracena, was at first not a big bachata fan, he spun many of the tracks on Bachata Roja because he knew it appealed to the street. (Eventually he became a convert himself and started one of the most prolific bachata record labels.)
Bachata's outcast status left musicians like Eladio Romero Santos, Augusto Santos, Juan Bautista, and Leonardo Paniagua to their own devices for decades. Their earthy vibe endeared their music to its many fans "Though bachata was in demand, the media companies on the island were controlled by an elite that thought this music was an embarrassment. That encouraged cottage industries to coalesce around the music. It became popular and lucrative," notes Bachata Roja producer Benjamin de Menil.
After several breakthrough electric hits in the late 1980s, however, the older rootsier bachata fell by the wayside. Bachateros like Blas Durán (track 4) grabbed electric guitars. A new and cleaner bachata with a more romantic image emerged in the next few years propelling the music into the international Latin mainstream to join merengue, son, and salsa.
Yet while new bachateros continue to cover the hits of yesteryear, few people outside the Dominican Republic know the original recordings.
Bachata Roja brings this historic, acoustic, and catchy sound to international ears for the first time.


From a New York Subway Busker to an Extensive Historical Adventure: Producer Benjamin de Menil's Accidental Passion for Old-School Bachata
Producer Benjamin de Menil discovered classic bachata by accident. A chance meeting with a Dominican singer in New York's subway led to a recording session where de Menil was introduced to bachata master, guitarist Edilio Paredes, who played solos on several of Bachata Roja's tracks. Though de Menil knew bachata in its more recent incarnation, Paredes turned him on to the older acoustic bachata of the past. "It didn't sound like anything I expected," de Menil recalls, "and I fell in love with it. Something about the older style has a lot of soul." This launched de Menil's search for the classic recordings, in hopes of crafting a primer to introduce music fans to the roots of the genre. The title of the new album is a humorous reference to a chart-topping modern recording titled Bachata Rosa by Juan Luis 2Guerra, which did not really represent bachata, though it sold very well. "We're trying to set the record straight about what the original bachata sounded like. The real bachata."
The search was fraught with surprising difficulties. Bachata musicians would often re-record their own hits for different labels with only slight variations, as a way of earning more money. De Menil hunted down the original recording of each track, once even remastering a song from a pirate cassette. "In recent years, the only place you could find most of the old stuff was with music pirates. Now they've been cracking down on piracy, and it's almost impossible to find these recordings."
"Old-school bachata is still played by a few groups in New York," de Menil notes, "and it still has an audience." Thanks to the efforts of de Menil and other acoustic bachata fans, the music is poised for resurgence. Like Angel's guitar behind the bar many years ago, classic bachata has been waiting patiently for rediscovery.
Additional Info

The Stolen Guitar Returns: Racy Dominican Street Hits ...


Bachata Roja Lyrics & Translations
Top of Press Release