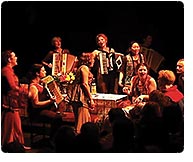 View Additional Info
Singing Shapeshifters in the Shadow of Chernobyl: Kitka Ignites the Embers of a Disappearing Song Ritual
Beware of the mesmerizing songs of the siren-like beauties that inhabit the streams and lakes, the forests and fields. In Slavic folklore, these restless spirits called Rusalki—thought to be women who have died unjust or untimely deaths—will draw unsuspecting innocents to their doom. Found from the Balkans to Siberia, Rusalki spawned weeklong rituals meant to appease these powerful shapeshifting spirits whose influence would otherwise lead to crop failure, birth defects, and other calamities.
Now, Kitka—the nine-women strong San Francisco Bay Area vocal ensemble—draws on the power and mysticism of these spirits in The Rusalka Cycle: Songs Between the Worlds, an album being released nationally on November 13, 2007 and a full theatrical production on stage in San Francisco on January 4-6, 2008, and in Albuquerque (as an official selection at the Revolutions International Theater Festival) on January 26, 2008. Since their grassroots beginnings in 1979, Kitka has gained an international reputation for bringing a fresh contemporary perspective to the sumptuous harmonies, striking dissonances, angular rhythms, and resonant strength of traditional Eastern European women's vocal music. But the Rusalki have pushed them in new directions.
Just as folklore would have predicted, the music of the Rusalki haunted the members of Kitka, bringing them deeper into the ritual song tradition and challenging them to break new ground as their 25th year as an ensemble approached. "We wanted to make a piece that really stretched us as performers, something theatrical and risk-taking, something that took our audiences on a total sensory and emotional journey," explains Shira Cion, a longtime singer with Kitka. "We realized that these entities were more than just characters in fairy tales, but very real forces in the collective consciousness of many rural Slavic villages. There was such rich folklore and imagery surrounding the Rusalki, and there were powerful songs that refused to leave our minds' ears."
Even the forceful Balkan chest-singing past of Kitka was not powerful enough to tame this project alone. They recruited Ukraine's inexhaustible singer, song catcher, actress, and Mariana Sadovska to create an original score and serve and the project's music director. As a composer and vocal performance artist Sadovska breathes vigorous new life into the fast-fading folk traditions of her native Ukraine. Having spent more than fifteen years collecting archaic songs and rituals in remote rural villages, Sadovska insisted that Kitka find a way to visit Ukraine to experience Rusalka Week rituals in the few villages where they are still practiced.
With Sadovska as their guide, Kitka set out for Ukraine, to witness and participate in Rusalki rituals for themselves. They, along with stage director Ellen Sebastian Chang, flew to Lviv and spent weeks living in rural villages with song-bearing babi (grandmothers), friends with whom Sadovska had been cultivating relationships over many years. Sadovska also arranged performances, gatherings and song exchanges with many of Ukraine's greatest folk singers and ethnomusicologists as part of the Rusalka-seeking journey.
"For the beginning of Rusalka week, Mariana brought us to Svarysevichi, a tiny Ukrainian village not far from the Belarusian border," recalls Cion. "As the sun rose, we joined our hosts, covered in green leaves, in a slow procession, punctuated by songs, toward the cemetery. Once we reached the graves, the interwoven sound of a dozens of individual laments—some freshly grief-stricken, some obligatory, some verging on humorous—rang through the early morning air."
In other villages, Kitka gathered songs and oral histories from several small groups of elder women, many of who are refugee-evacuees of the Chernobyl disaster, and who are among the few surviving practitioners of Ukrainian Rusalka rituals. The irony of their personal connection to both the Rusalki as nature spirits and one of the greatest environmental disasters infused the project with an intense poignancy, urgency, and depth.

During their travels, Kitka, Sadovska, and Chang were repeatedly reminded of the environmental damage wrought by the Chernobyl disaster. "The reality of Chernobyl was a constant subtext," Cion explained. "We couldn't drink the water. We read many health advisories about what safe or unsafe to eat due to radiation levels. Our village hosts would bring out bowls of succulent berries, or dumplings covered with fragrant wild mushrooms, and it was so painful to look at this lovingly prepared food and know it contained invisible poison."

The presence of radiation became intertwined with the eerie image of the unseen Rusalki and their role in ecological balance. "Even before we went to Ukraine, the women in Kitka were always saying that they were interested in the environmental aspect of the Rusalka," Sadovska notes. "It was impossible not to address the subject. Ecology, after all, is so often in the hands of women."
Kitka's stage director Ellen Sebastian Chang has spent much of her work-life in cross-cultural collaborative projects. Having recently directed Gamelan Sekar Jaya on the creation of two interdisciplinary projects with traditional Balinese master artists, she warned Kitka that when dealing with "supernatural" subject matter, the group should be prepared for unexpected occurrences in their lives.
The rehearsal period in Ukraine and in the U.S. was much like boot camp with long hours of exhausting, but also exhilarating, work that brought together movement, ensemble trust building, voice, breath, focus, and storytelling. Until the Rusalka project, Kitka's rehearsals, while very disciplined, were pretty sedentary. The Rusalka Cycle rehearsal process was much more multi-dimensional and athletic, and its intensity both broke down the singers' defenses and built their strength. Each singer experienced amazing personal and artistic breakthroughs as a result of the process.
"And indeed Ellen was right," says Cion. "The deeper we went into the material, the more intensely we trained, the more bizarre, scary, and miraculous things started to happen. Madness, near-blindness, hallucinatory fevers, heart attacks, broken bones, pregnancies, psychic visions and more all touched the project at various points along the way. We really felt like the Rusalki were there, messing with us, tricking us, and charming us. In forming the piece, we tried to weave all these wild experiences in to the storyboard of the show."
The theater piece, which does not rely on a narrative, but moves through a dreamscape of Rusalki-related songs and images, echoed the group's transformation in Ukraine, as well as the Rusalki's shifting forms. "The Rusalka Cycle is essentially a piece about transformation, and the power of song to instigate transformation within and between people, cultures, and the worlds of the dead and the living, the seen and the unseen," says Cion. "This piece has certainly transformed Kitka as an ensemble. We hope that the songs invite the reckless spirits of the Rusalki into the imagination of each listener, opening portals into haunting and beautiful realms between the worlds."
Additional Info

Singing Shapeshifters in the Shadow of Chernobyl: Kitka Ignites ...


The Interplay of Destruction, Exile, and Renewal: Kitka's Shira Cion ...
Top of Press Release