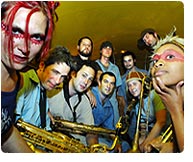 View Additional Info
The Bus, The Bribe, The Shrine: Aphrodesia goes to Afrobeat Mecca on Lagos by Bus

Lagos By Bus USA Tour: July 20 – August 8
Watching a large van of gesticulating American musicians in hot pursuit of Nigerian soldiers is an uncommon site in the city of Lagos. But the members of San Francisco band Aphrodesia had no choice. The band's new album, Lagos by Bus, (Cyberset Music)—which uses Afrobeat as a backbone but also draws on Afro-Cuban music, Ghanaian Highlife, and jazz—is named after this harrowing experience. Unlike most of the current wave of Afrobeat bands in the U.S., Aphrodesia does not simply pay tribute to Fela Kuti, the father of Afrobeat, but seeks to create original music, with a diverse set of influences. They also have the rare trait of being led by, not one, but two women vocalists, whose hard-hitting songs alternate from chant to melodic song and tantalize the dance floor. And this time they went back to the source. Audiences will have a chance to hear this unique take on Afrobeat as Aphrodesia launches the Lagos by Bus tour, July 20 through August 8 hitting the Northeast, Midwest, Colorado, Idaho, and Oregon.
The trip to Africa gave Aphrodesia new inspiration for their latest album. A series of poetic and humorous hand-painted signs on stores all around Nigeria became the lyrics for "Holy Ghost Invasion," which practically wrote itself. "Bus Driver" is an anthem to world unity while paying homage to the man who gave them the strength and the ability to get around Africa. Other songs draw on Afro-Cuban and Zimbabwean music, and many of them alternate between firsthand experience and socio-political messages. The album takes listeners for a ride of chance meetings and pan-global inventiveness with both political edge and danceable immediacy.
The American band had always talked of going to the origins of Afrobeat and Highlife together. Thanks to an invitation from Ghanaian band the African ShowBoyz, whom they met and played with at U.S. festivals, Aphrodesia decided it was their big chance to go to the well. By the time of the car chase, they already had a grueling day getting across the border from Benin to Nigeria.
"We had to bribe our way through the self-appointed gatekeepers, who sit there with two big oil drums and a big pole across the road," explains band co-founder and bassist Ezra Gale. "We would pay and they'd lift the pole and then we'd drive 40 more feet and there'd be another guy." This went on for most of the day with a lot of waiting in between. When they finally made it across the border, Nigerian soldiers stormed onto the bus demanding passports. "What happened next was like something out of the A-Team, speeding after them on a highway, motioning them to pull over."
"At one point, they had us lined up outside the bus and we're thinking, 'What's going to happen?!'" says Lara Maykovich, vocalist, songwriter, and the other band co-founder, who had spent two years in Ghana in the late '90s learning many of the melodies and rhythms the band has built into their repertoire. "We finally got them to pull over and told them we were a band. We got our passports back by trading cassettes for them!" laughs Gale.
They hadn't planned to press cassettes for the trip until trumpet-player Todd Grady coin­cidentally sat on the airplane by a Ghanaian businessman who had a cassette-pressing plant. The tapes came in handy on several palm-greasing occasions. The trip was full of chance meetings.
Prior to leaving for Nigeria, the band sat at an Internet café in Accra, Ghana. They still wondered how they could connect with Femi Kuti, the son of Fela, with the hopes of playing at his new music club, The Shrine, named after his father's legendary club and furnace of Afrobeat. A man sitting next to them struck up a conversation and ended up giving them the number for Femi's sister Yeni, who runs the club. They called her right away and she said, "Oh yes, I have heard of you guys. Why don't you come over and play next Saturday."
"We got there and Femi was just the picture of hospitality," remembers Gale. "Though we were late because of crazy Lagos traffic, he insisted we sit down for a big chicken dinner and relax. Besides being completely exhausted from the armed soldiers and border stuff, the audience was standing around looking at us with folded arms. Three or four songs into the set, Femi joined us on stage to play, and as soon as he did, that was like the seal of approval we needed and everyone loosened up and had a good time, with Femi going off into the crowd to dance with them."
While the adventures were thrilling, the trip to Africa is not unexpected for a band whose cofounders have been exploring gritty music from all corners for their entire adult lives. From 1996 to 1997, Lara Maykovich lived in the small Ghanaian fishing village of Kokrobite, where she was taken under the wings of a family of singing sister-wives who had been abandoned by their husband. "The town had no electricity or running water, so every night there would be a circle of candlelit tables where people would sell different things," recalls Maykovich. "There was this woman with a gorgeous voice who would sing as she fried up and sold omelet sandwiches. I would go every night and it grew into this singing circle with all of her sisters and daughters teaching me to sing in Ga and Hausa." When Aphrodesia went back to Kokrobite earlier this year, Maykovich found out that one of the granddaughters had been named after her.
Maykovich also traveled to Cuba in 1999 to study Afro-Cuban traditional music, whose influence can be heard on "Agayu," which praises the spirit of the volcano. "I went to Matanzas, which is the spiritual mecca of Cuba," Maykovich explains. "A lot of the old traditions came from there. I went every single night for three weeks. Since I already had learned some of the songs before I got there, the ceremony leaders would not let me off the hook. Even if I didn't know the songs, I had to pretend to know them. I became instantly employed! When I first started singing these songs, particularly the orisha and nature spirits, I felt like I didn't actually seek it out. They found me in a way. I just felt like it was part of my creative payback. I know this sounds totally wacky, but these nature spirits claimed my voice."
Around the same time, Maya Dorn, who shares songwriting duties in the band, went to Cuba and the two continued to share their love for Cuban music and dance. "I had already been writing songs and I shied away from the scene at first because how could I write songs in another language?!" remembers Dorn. "I thought, 'I'm not going to get involved. But the seed had already been planted. And when we all went to Cuba, we were infused with this passionate desire to explore more about Afro-Cuban music." Dorn's prior songwriting has brought some structure to the band's writing, bridging their diverse influences into accessible sounds.
As a music journalist writing for newspapers and magazines, Ezra Gale says "All this Afrobeat and Afropop and traditional African stuff invaded my stereo system and wouldn't leave." When Maykovich and Gale met they began arranging music in Gale's backyard studio "shack." As their arrangements became more complex, trying to recreate the multiple layers and interlocking guitar parts of the Afrodiasporic sounds they loved, the band went from a foursome to needing a horn section, another guitarist, and then a percussionist. "Before we knew it, we were an 11-piece band," says Gale.
"A lot of the parts are very simple," explains Gale. "But the parts together are intricate and hard to play together. When we train a substitute guitar-player, everything will go fine one-on-one, but when we try to put it all together, within the larger context it can be hard to see where things fit in. If you are missing any parts it doesn't sound the same. The sum is greater than the parts."
With such a diverse array of influences, Aphrodesia's sound represents the next generation of the American Afrobeat movement, where respect is paid to various music forms, but with fluid migrations between genres and cultures, all with the intention of making people move: heart, soul, and feet.
Additional Info

The Bus, The Bribe, The Shrine: Aphrodesia goes to Afrobeat ...


Aphrodesia Band Members Talk about the Songs on Lagos by Bus
Top of Press Release